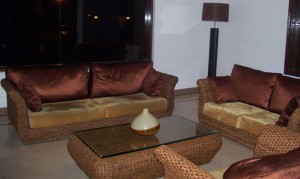 Decorating your holiday home with the right type of furniture is costly and time-consuming as well. But at the same time, it is rewarding as the right set of furniture can create a perfect ambience for your travelers.
Selecting the right furniture requires proper planning. You have to consider many factors like your needs, lifestyle of your visitors, existing decoration theme of your holiday home, furniture colors-textures-patterns, and importantly, your budget.
You would need to do your own research and refer to books and material on furniture. Here in brief, are a few things you would need to keep in mind:
Your style and preference: First of all, ask yourself what style you prefer and what you don't. There is a wide variety available, from casual, comfy-looking wooden furniture to contemporary furniture with sharp, metallic features, to traditional antique options.
Theme of each room: Your holiday home consists of several rooms like a kitchen, one or more bedrooms, a hall, perhaps a balcony, and so on and you would have to consider the theme of each room separately. You may select a casual-style dining room but at the same time choose some great-looking traditional furniture for your sitting room. Whatever you choose, your travellers must comfortable.
Also keep in mind, that you cannot buy everything at once; there may be some things that you already own. Ensure that the new things that you buy, match what you currently have, in terms of color, texture and style. You could even repair and polish your old furniture so that it looks good when placed next to the new items that you buy.
Lifestyle of your target visitors: Consider the profile of your likely guests and accordingly select furniture that would suit their requirements and taste. For example, if your target customers are mostly European, find out the type of furniture they would find comfortable and appealing.
Convenient for guests: Fashion is not everything and the furniture you choose should primarily be convenient for your guests to enjoy their holiday. Small or big – make a list of every necessary piece of furniture like dining sets, bar-stools, or sideboards. Do not miss out essential items of furniture and make sure they are placed where they should be.
Online Shopping: It is a smart idea to shop online. Surfing the net will give you an idea of the latest trends and certainly help you to find the best furniture in the market at the best prices. It will also be easier to find out specific shops and furniture that suit your requirement and preferences.
In conclusion, shop around, bargain, look for the best products and the value that they can give you. Make sure that the furniture you select will last long and be easy to maintain. And a final tip: don't spend money like it's going out of style.
To get more information & assistance, please submit the form below and our specialist will get in touch with you at the earliest.