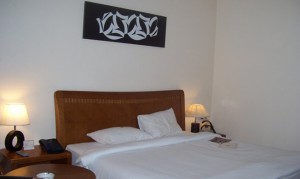 You have tons of decorating ideas for your holiday home, but alas, there is only limited space! No matter how you arrange your furniture, the rooms still look cramped. Then you wonder how your visitors would feel in this space! Such a situation can definitely be frustrating for you as holiday home owner.
But don't give up yet. Believe me, being a little bit creative is enough to make your holiday home look and feel positively bigger without knocking out the walls. So let's begin…
Colors:
Colors have a direct relation to the perception of space. The number one rule is to use light colours and avoid the darker ones. While choosing the paint colour for your walls, always go for light tones in pastels, neutrals or whites. It is also better to use a single colour on all walls. Alternatively, stripes can be used effectively to make a room look taller (vertical stripes) or wider (horizontal stripes). But a word of caution, the colours should not be contrasting.
When it comes to the ceiling, white paint is most recommended, although you can also use the same light shade of colour used on your walls, for the ceiling as well. And do not forget the flooring – use only light colored wood, tiles, or carpets.
Rearranging furniture:
Rearranging your furniture can create more free space. Color again plays a key role – for example choosing a few pieces of furniture of the same colour as on the walls can make a huge difference.
Always place large pieces of furniture against the walls so that you get more open space in the middle.Avoid very big or tall pieces of furniture as they can make the room look smaller and the ceiling feel closer. Whenever possible, opt for scaled-down furniture but do not crowd the room with too much of the same. What really helps to create space and also reduce clutter, is space-saving multipurpose furniture.
Now let's look at how lighting can be applied cleverly
Lighting:
Lighting makes a huge difference to a small space. It can open up your small room by creating a perfect space illusion. But for that, you must choose the right lighting options. In a less spacious room, small-sized lamps can provide enough light. So, bicycle lights, camping lanterns, candles (in the evening), high output LED lights, for example, can work quite well. It is better to avoid floor lamps as they occupy too much space.
It's also important to allow as much natural light as possible into the room. So, make full use of your windows, especially if you have full-height glass panes. You can also hang a large mirror facing the window so that more sunlight is reflected wit the room. It will also add beauty to your décor.
And now a final word: no tips will help if your interiors are dirty. It's best to then start sprucing up your rooms before rearranging anything else!
To get more information & assistance, please submit the form below and our specialist will get in touch with you at the earliest.