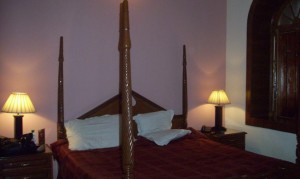 Painting is every house's need. New or old, a building needs painting on a regular basis, and as a holiday home owner, you probably need to do it more frequently than others. But it is a messy job and for it to be effective, it demands your time and attention. That's why you need to be careful while getting your holiday home painted; you must choose the right colours, the right combinations and the right techniques.
The first step is to visit your local paint store and collect fan decks, which are small books of all colours available by paint manufacturers. Now choose a colour and then think of the existing interiors in a particular room. Will the colour that you are considering fit the furniture, cabinets, and window treatments? Will it make the room look larger or smaller? Do you want the room to look brighter? Once you have considered the room's existing features and your specific requirements, you can now smartly narrow the options and choose the colour that will best suit a particular room.
Of course, choosing the right paint colour for your home is a matter of personal taste. But at the same time, it's equally important that you have a purpose behind choosing a colour. Different colours evoke different emotions and moods. For example, a bedroom painted with soft colours like blue or green in a muted shade will certainly have a calming effect. On the other hand, for the kitchen, you could select a type of glossy paint which is easy to clean. For dining rooms and halls, where you want people to feel welcomed, warm, advancing colours are preferable.
It is a smart idea to paint one room blue, another light yellow, and the next offwhite but while doing this consider the overall effect. It should not look odd when the doors are open and you can see all rooms at the same time. While painting indoors, also consider sight line from room to room. For example, if you want to paint the bedroom blue, you could paint the adjacent one greeny blue but not lavender. Harmony in colours is very important, especially when you are painting a smaller house. This, however, does not mean that you can't be bold – you can paint the wall that could be seen from the bedroom greeny blue and the remaining walls lavender.
Once you decide your colour, you may think you're all set, but hold on. It's better to be a little cautious. Before you start painting, it's wise to buy some samples of your chosen colours and paint about four square feet of the wall to get an idea of the new paint effect. Alternatively, you can also stick non-absorbent white paper onto the wall and paint on it so that you can easily remove the paper when you try something new the next time. These days there are also some computer-based virtual painting programs which could be very useful to preview colour effects and combinations before you spend a lot of money on paint.
Which type of paint should you select? This basically depends on a number of factors. First of all, the material that you are painting should be considered. For example, there are special paints designed to work with white cement-based wall putty. Secondly, think about the expected level of exposure of the paint to moisture. You must not use the same type of paint for your bathroom, kitchen or basement. And finally, no matter how many different types of paint you require, go for the best quality paint for each of them. Usually, the better quality paints are costlier, but never hesitate to pay that extra money. Also make sure that you are choosing the right painter.
While it comes to exterior house painting, selecting the right type of paint and its quality is more important. It should be kept in mind that exterior painting, unlike interior painting, involves paint scraping tools rather than paint brush. In other words, it is very important to make it sure that the paint surface is not dirty, wet or loose and there is no old flaking paint. Otherwise you cannot expect a lasting result.
The location of the property should be yet another determinant while choosing exterior paint colours. If the property is not facing the sun, for example, you should use bright colours like yellow or orange to make the building look brighter. It is also wise to go with an exterior paint scheme that fits well with the interior paint scheme and the natural scenery around.
Painting a house is a daunting task but it could be an opportunity to transform your holiday home, attract new customers, and create a lasting impression in their mind. So, take a walk around your property and if you sense the need for repainting, do not procrastinate. Just go ahead, colour your world.
To get more information & assistance, please submit the form below and our specialist will get in touch with you at the earliest.