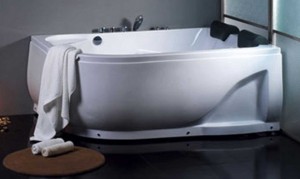 What could be more annoying than expecting a soothing bath, but walking into a tacky bathroom?These days bathrooms have evolved with the times. Installing a bathtub is no longer a statement of luxury, it is a feature that many owners deem important. However, many people don't pay as much attention to bathtub accessories, which can really add the finishing touches to a wonderful bathing experience.
Here's a list of bathtub essentials:
Bathtub pillows:
They are available in many shapes, sizes and materials but while purchasing one always opt for the best quality. Pillows that are made of durable plastic or vinyl exterior are most recommended as they are likely to withstand extreme hot or cold water. At the same time do not ignore comfort. Therefore, it is better to look for a foam pillow which is comfortable enough and sits well according the bathtub's size. The pillow should be placed firm so that it cannot slide around while someone is relaxing in the tub. And finally, once placed in the bathtub, the bath pillow can easily develop mildew. So, don't forget to wash it regularly.
Bathtub armrests:
They are fitted in such a way that the person bathing can rest his arms completely on the bathtub armrest, and can completely relax. For optimum comfort, select armrests that offer comfort, are easy to fix and made of high quality stainless steel to avoid catching rust. As the armrest serves as a support for users when sitting or standing, it needs to be fixed very carefully. Also ensure the armrest has a protective rubber cover to prevent users from getting hurt and to avoid getting surface scratches.
Bathtub safety bars:
They provide support while getting in and out of the bathtub. Although seemingly simple, like the armrest, safety bars are an inseparable part of a bathtub. These safety bars are essential when senior people visit your holiday home.
Bathtub caddy:
This is very similar to a tray placed in front of the user while seated in the bathtub, and where bathing essentials are placed. It allows the user to relax within the tub that much more. How? Instead of standing up each time or turning around to locate your bath sponge, now you have everything within reach. Moreover, your caddy can create a wonderful relaxing experience, as you now have a place to keep aromatic candles, a glass of wine and even a book. Your caddy will truly offer a brilliant experience to your visiting guests.
Bathtub seating:
These will allow you to sit at an elevated height in the bathtub. They can reduce the risk of falls for frail adults. While purchasing bathtub seats, do not forget to measure the inside width of the bathtub and ensure that the legs of the bathtub seats fit the tub floor. The height of the seating should be adjustable so that all visitors – children, adults or elderly – can use the seats comfortably.
Shower curtains and bath mats:
The best part about shower curtains is that the investment is minimal and moreover, they can create a fabulous ambience in your bathroom. So select high quality shower curtains, which will cost a little more but offer better results. Like shower curtains, non-slip mats look great and at the same time are very useful.
While the above list does give you an idea of the accessories available, this list is certainly not final! These are only a few, which I feel, are essential in terms of their utilities. As a holiday home owner you yourself can make the list longer, depending on the diverse requirements of your many visitors.
To get more information & assistance, please submit the form below and our specialist will get in touch with you at the earliest.