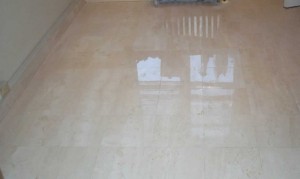 When it comes to choosing the right flooring solution for your holiday home, it is difficult to pick what's best. There are numerous options and whether your preferences lean towards marble, ceramic, wood or vinyl – each available in a variety of shapes, sizes and colours – choosing the right flooring solution can be a daunting task. Simply because once set in place, flooring is extremely difficult to change.
Here are some guidelines before making your choice of flooring:
Marble:
The natural beauty of marble is unique. Marble tiles are also perfect for warm and tropical countries like India as stone is a bad conductor of heat and remains cool in summer.
But a marble floor demands special care because of its light colour. In a kitchen, the floor can easily catch stains while in a bathroom it can take on any colours of dirt. So, if you choose marble tiles, regular cleaning is a must. As a holiday home owner you will find it difficult to prevent stains and dirt, yet, a marble floor can certainly be amazingly attractive. But a word of caution again – quality of installation is of paramount importance when it comes to marble floors. It is advisable that you get it done by experts to ensure a smooth finished look as well durability.
Ceramic Tiles:
Unlike marble, ceramic tiles offer you a low maintenance flooring solution that is still attractive and durable. Also, if your holiday home is located in a cool place, ceramic flooring is highly recommended as it can help to keep the house warm.
There are primarily two types of ceramic tiles – matte and gloss – the first type is always glazed and the second may or may not be glazed. The unglazed type of matte tiles is ideal for floor covering as it is less susceptible to scratching and less slippery as well. On the other hand, glossy tiles are ideal for bathrooms and kitchens. However, you can use any of these types when it comes to decorating walls.
Although ceramic tiles are really tough, proper installation is a must to ensure that the floor becomes a virtually water resistant surface – if not, the floor may not last long, especially in bathrooms and kitchens.
Wooden Flooring:
This has always been a favorite since wooden floors are earthy, elegant and add significantly to the design elements in your home. There are mainly three types of wooden flooring: natural hardwood, mechanically-engineered flooring, and laminated hardwood – all types capable of creating a warm feeling with clean lines. But each of them has its own pros and cons.
Natural solid wood flooring is the best choice but has maintenance issues in case it gets wet or scratched. Such flooring is absolutely avoidable in the kitchen or bathroom. Mechanically-engineered flooring is more water and scratch resistant but the beauty of natural wood is present here, only to some extent. This type of wooden flooring can be used in any room of the house. Laminated hardwood is easy to install but it is not hard wearing, and therefore, an appropriate choice only for rooms where there is less traffic.
Vinyl flooring:
There are many pluses to vinyl, it is probably the most economical way to cover your floor, it is hard wearing, easily washable, and comfortable for your feet.
But its negatives include its susceptibility to damage from sunlight and heavy objects. So consider where the vinyl flooring will be laid. Make sure sunlight doesn't damage it and place a layer of cardboard between a heavy object and the vinyl flooring. However, it is still tough to prevent some indentation.
The bottom line: Choose a flooring solution that looks good, lasts long and can be cleaned easily since flooring is a big investment and one of the things that you need to get right the very first time.
To get more information & assistance, please submit the form below and our specialist will get in touch with you at the earliest.