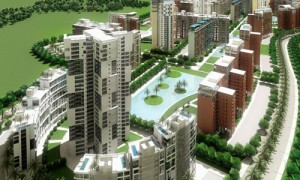 In continuation with its endeavor to develop premium landmark developments across India, Tata Housing Development Company Limited, India's fastest growing real estate development company, recently announced the launch of 'Amantra', an exclusive luxury residential township with 14, 24, 29 and 34 storey towers. Designed by world renowned architectural firm HOK of USA, Amantra is no ordinary address.
Spread majestically over 22 acres of sprawling land, the master plan is envisioned in a way where nature's boundless beauty meets every luxury one can imagine. Amantra will be the tallest residential structure in Kalyan and is also a green haven with 80% open areas. It offers an elevated jogging track on the 14th floor. The lush green landscaped gardens ensure design excellence in its functionality and aesthetics, making it the best in class.
Announcing the launch of "Amantra", Mr. Brotin Banerjee, MD & CEO, TATA Housing Development Company, said "Over the last few years, this location has been witnessing unprecedented growth due to its proximity to important business hubs, swiftly emerging as one of most coveted location near Mumbai. But yet it was missing a world class premium lifestyle address, which is now fulfilled with Amantra.
He further added, "As a quality conscious and responsible real estate development company, we believe in creating homes based on an in-depth understanding of consumer needs and preferences. We are committed to offer our consumers a unique and differentiated product that would provide them a great lifestyle while at the same time the project would abide by the tenets of sustainable and green developments under the guidelines of IGBC."
Amantra's masterplan incorporates an interesting interplay of high and mid-rise towers that weave in the elements of nature – the pre certified green buildings that will have cool air funneled to your homes, east – west orientation to maximize light and energy, a majestic 14 floor elevated jogging track, verdant landscaped gardens, south facing sun shading fins to keep the heat out, an azure blue infinity pool and lots more.
Strategically located on the Thane- Kalyan Road, on the NH3 highway, this exclusive residential property provides high speed access to airports, business centers, shopping malls, schools, healthcare facilities, entertainment areas and many other important destinations.
Amantra offers approximately 2,500 apartments including 2 BHK and 3 BHK homes starting at a budget of approximately Rs 40 lakhs with a minimum size of 927 sq.ft.
Tata Housing is the developer of the project and Eco Homes is the owner of the land. MMRDA has issued the locational clearance for this project and we await the commencement certificate for the same, which is in process and expected shortly.
Booking Process: Consumers can contact the Tata Housing Sales Team on 1800-266-6666 and book the apartment with an initial payment of Rs. 2.5 lakhs. For more information one can contact:
Mr. Vikram Kharvi, Manager – Marketing Communications, Tata Housing Development Company Limited (Mobile: 9930143550, email: vikramkharvi@tatahousing.com).
Project Status:
This article was last updated on 30th October, 2020.
To get more information & assistance on Amantra, Mumbai, please submit the form below and our specialist will get in touch with you at the earliest.