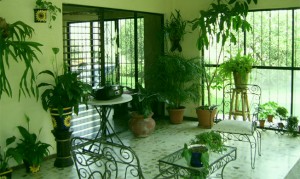 Adding indoor plants is one of the best ways to add warmth and life to your holiday home décor. But growing them takes a lot of commitment. You must nurture them properly, decide the amount of light they require, and find out where and how they will grow best.
But we are missing a point here! To begin with, the very first decision is choosing the right indoor plants for your holiday home. You would have to figure out which plants are hardy and which need extra pampering. Then you need to check how much free time you or your staff have, to invest in plant care.
Here are a few guidelines to select indoor plants:
1- The indoor environment of your holiday home: Figure out the available sunlight, shade, open air and indoor temperature of your holiday home. Then check which plants would fit into your existing parameters. For example, plants like Aspidistra and Sansevieria grow well in shade (away from windows) but at the same time require some sunlight. Some other indoor plant varieties like Chlorophytum and Cordyline, require sunlight but get affected by extreme temperatures in summer. Consider such environmental factors before you choose the indoor plants.
2-The size and shape of the plant: This is important as far as the home decor is concerned. Imagine how a large plant will look on the windowsills or a small plant in a large empty space. Here are some tips about some typical plant sizes and how to use each of them effectively:
Vertical Plants: Some upright plants grow vertically and when you have a mixed group of them, it is a smart idea to arrange them in such a way that they graduate down in small increments. It will result in a pleasing outcome.
Plants in one container: For a great look, group a number of plants in a single container but don't forget to cover the pot with sphagnum or Spanish moss for a finished look. Also, never let the plants overpower a wall. Limit their heights and fullness and if there are a number of plants together, keep them on the same watering schedule.
Climbers: Climbers are popular and are extensively used for decorating bare walls, to add freshness to lounge-rooms or kitchens, or as a smart solution to block out unsightly views from a balcony. Most climbers are suitable for growing indoors – in pots, on trellis or around windows. However, they need a support to cling to, or else they need to be tied to something. Some climbers can climb on their own, so you can select the type you like.
Rosettes:

These

grow in a circular pattern, take up less space and flourish with limited resources. Some cactii, for example, are shaped in rosettes and popular varieties of rosettes are Bromeliads, Hens and Chicks, Earth star and Moses in a Cradle, among others.
Live Grass: The best thing about grass is that it can enhance almost any decorating style and what's more unlike other plants, they grow quickly. Plant the grass today and within 7-10 days it will be ready. Choose an attractive container that fits your style and soon enough you'll have fresh green grass in your indoors.
Besides the above, you are sure to find a number of plants growing well indoor. But keep in mind that different plants complement different furnishing styles. So, whatever indoor plant you choose, should go well with your home decor. Choose wisely and avoid clutter.
And the last tip – don't hesitate to experiment with your indoor plants; it's the best way to find the best look.
To get more information & assistance, please submit the form below and our specialist will get in touch with you at the earliest.