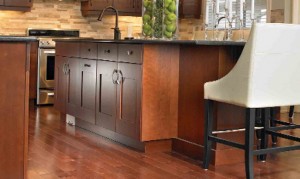 Wooden flooring has never gone out of fashion. Despite other flooring solutions in the market, wood has always retained its glory, thanks to its great look, unique pattern and texture, durability, and maintenance benefits.
But choosing the right wooden flooring involves some precautions, especially when it comes to where the flooring is going to be. You must choose the right type of wooden flooring that suits the environment it will be in. Otherwise, the investment might not pay off. That is why it is important to have some basic idea about different types of wooden flooring before you go for one.
Let's find below which type suits what, their pros and cons, and where to lay them:
Laminate flooring:
This is defined as "multi-layer synthetic flooring". Covered by a photographic image of wood (also stone or tile), this type of flooring is comparatively cheap; in fact, it is almost half the cost of real wood flooring. Another benefit is that it is scratch and fade-resistant – a quality that also makes it a perfect choice for spaces like living areas and playrooms.
However, there are two major problems you find with laminate flooring: first, moisture can easily make them swallow, which in turn can't be repaired; secondly, poorly-laid laminate flooring can be a sure turn-off for your holiday home visitors.
Mechanically-Engineered Flooring:
This type of wooden flooring consists of several layers of wood glued together. Mechanically-engineered flooring is more attractive than laminate flooring, and more resistant to moisture than solid wood flooring. It possesses the naturalness of wood to a decent extent and the original finish can be easily restored when it becomes worn. Another positive is that you can easily find a great variety of sizes, colors and styles of engineered flooring.
However, this flooring type is lot dearer than laminate and less glamorous than solid wood flooring.
Solid Wood Flooring:
As far aesthetic aspects are concerned, the third type of wooden flooring – solid wood – is undoubtedly the most sought-after. It looks fabulous and perfect for hallways and living rooms where you can show it off. In fact, you can lay it anywhere with a relatively constant atmosphere.
However, solid wood flooring is very costly. Another big problem is that natural wood expands and contracts in response to temperature-changes. It is why most builders avoid laying solid timber floors over cement floors.
Having said that, wood floors, whether laminate, engineered or solid, can add great value to your holiday home decor. With all the three types widely popular these days, it depends basically upon your budget on what to choose. Also be sure that the type of flooring solution you go for fits the place where it is going to be.
To get more information & assistance, please submit the form below and our specialist will get in touch with you at the earliest.