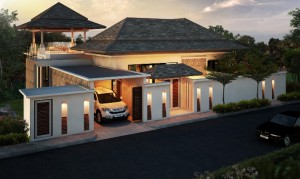 Perry Group International (PGI) gives a unique opportunity to intending holiday home buyers with the launch of its new luxury development in the popular holiday resort of Krabi, Thailand. Surrounded by lush tropical flora and panoramic ocean views, The Pelican offers 96 thoughtfully designed one to three bedroom apartments ranging from 80 to 180sqm.
Located just an hour's flight from Bangkok, Krabi is serviced with daily direct flights to and from cities throughout Asia, Austria and Europe.
The Pelican is a new development directly on Klong Muang beach, Krabi. It is next to several five star hotels such as, The Sheraton, The Sofitel, Nakamanda and Ritz Carlton Reserve.
Situated in an area tipped to become an up-market holiday destination, the project is just a short drive from the popular beaches of Ao Nang and Tubkaak. And is just a 35 minute drive from Krabi International Airport. The Pelican, covers an area of 33 Rai (over 5 hectares).
Some of the ground floor apartments have a garden and private pool. The penthouse apartments have the addition of a roof top pool, covered sala and gardens. All apartments are sold complete with furniture and kitchen appliances.
A full range of services will also be available for owners and guests. These will include; a shuttle bus to the airport and nearby beaches, library, business centre, cafe and pool bars, freeform swimming pool and fully equipped gym. A 24-hour concierge service and broadband Wi-Fi will also be available.
Meanwhile in an exclusive interview to Holiday Home Times, Andrew Ngamsappasilp, Executive Director tells us more about The Pelican Krabi project and also on what makes Krabi a reality investor's paradise.
Excerpts of the interview…
Can you tell us a bit about your group and your previous projects? Who are the promoters,and so on?
Andrew Ngamsappasilp: We are a developer. Most of our projects are building housing and condominium projects.
Tell our readers something about your new project—The Pelican Krabi.
Andrew Ngamsappasilp: On the west coast of Krabi, The Pelican is surrounded by a lush, green tropical forest that forms part of an expansive 33-rai area ideal for integrating nature into a truly luxurious lifestyle. It is close to several luxurious five-star hotels such as the Sheraton, SOFITEL, Nakamanda, and Ritz Carlton Reserve.
Future developments will include both villas and resort hotel offering residents a full range of facilities that take elegant living to the next level.
Comprising four4 different zones, The Pelican will be the largest new and used residential development in Krabi and will include:
Luxury freehold condominiums

Luxury pool villas

Hotel (future development)

Beach club
All properties will provide stunning views of the mangroves with varied activities, and full functional facilities which include a beautifully crafted pool overlooking the ocean and five-star amenities.
Each penthouse incorporates a large rooftop, and one can engage in family activities all next to a 'Sala' and private infinity edge pool. Designed by renowned architects, each unit has been carefully crafted to make maximum usage of space yet never compromising on aesthetics nor the commitment to environmental sustainability.
Meanwhile, the condominium complex includes 96 thoughtfully-designed units with 1 to 3 bedroom units each in sizes 80-180 square meters, penthouses, rooftop garden and individual plunge pools.
Guest services include shuttle bus services, library, business center, coffee and beverage bars, pool side bars, a free-foam swimming pool, a fully-equipped gym and fitness center, 24-hour concierge guest services, broadband Wi-Fi throughout the property, 24-hour CCTV security, etc.
What are the choices of properties you are offering in The Pelican Krabi? How many units have you sold in this project and what stage of completion is the project?
Andrew Ngamsappasilp: There are luxury residential condominium and pool villas. We have already sold 96 units and 40% of the total condominiums have been sold.
How accessible is the project for residents? What is the best way to get there?
Andrew Ngamsappasilp: By air, we have direct flights from Scandinavian countries, Singapore and Malaysia. But if you wish to enjoy the scenery, you could rent a car in BKK and drive to Krabi. It's around 800 kilometers of great countryside.
How long do you anticipate the possession of this project will take?
Andrew Ngamsappasilp: Condominiums will be ready within the 2nd quarter of 2012, the villas by the 4th quarter of 2012, and the hotel by the 4th quarter of 2014.
Can you give us some salient points about the architecture and the floor plan of the units? What was your thought process while designing the same?
Andrew Ngamsappasilp: The architect has designed the perfect combinations of visitor needs; top leather sofa, jacuzzi bathtub, large balcony for sun bath, beach club house for dining spot, spa, tennis court and 5 star concierge, 24 hrs services.
What is the clientele you are looking at to buy a property here?
Andrew Ngamsappasilp: A majority of the visitors are Scandinavian. Australians and people from all over the world also want to live in Krabi beachfront property. They ideally look for options for retirement or a vacation home.
What are the amenities/ services you will be offering within this project?
Andrew Ngamsappasilp: Five star hotel services. Everything a 5-star hotel has to offer including, shuttle bus services, library, business center, coffee and beverage bars, pool side bars, a free-foam swimming pool, a fully equipped gym and fitness center, 24-hour concierge guest services, broadband Wi-Fi throughout the property, 24-hour CCTV security, etc.
What are the resorts or hotels in close proximity to your project?
Andrew Ngamsappasilp: SOFITEL, Sheraton, Ritz Carlton and many more five-star hotel are on the same road next to each other.
Will you be providing any rental to the owners when their properties are vacant?
Andrew Ngamsappasilp: Absolutely, we do have Jones Lang LaSalle to manage our facilities and rental management program.
Is there any service like key holding or providing a caretaker if an owner uses his property as a vacation home for guests in order to earn some money?
Andrew Ngamsappasilp: Yes, Jones Lang LaSalle will take care of it.
Do you see investing in second homes as a good option from the perspective of financial returns? What kind of appreciation can an owner expect if he were to invest in your property over the 3, 5, 10, 20 year horizon?
Andrew Ngamsappasilp: The returns in Krabi are excellent. Not only is there a 7% average property increase per year, you will also receive rental return profit which will run from 5% – 10% per year. We have investors from all over the world who buy property here in Krabi. Recent developments indicate that Krabi city is the next best thing where investing in property is concerned. The highway, expanding airport runways, bridges, international hospitals and international schools are already here.
Project Status:
This article was last updated on 30th October, 2020.
To get more information & assistance, please submit the form below and our specialist will get in touch with you at the earliest.