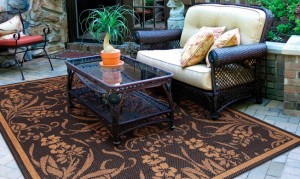 "It's much easier for me to make major life, multi-million dollar decisions, than it is to decide on a carpet for my front porch," Oprah Winfrey, the famous TV host once said. That's true; blame it on too much choice, but selecting a carpet can be a bewildering task.
Place a carpet on the floor and see the difference it makes! Carpets can brighten a dull room, making it feel warmer and cozier, and even larger and moreover, your carpet should enhance your existing decor.
There are a number of carpet styles such as modern, Persian, floral, natural and many more for you to consider.
With some smart tips below, finding a carpet will be easier:
Colors:
When it comes to brightening up a space, nothing works like soft colours and simple patterns. So it's a smart idea to lay a carpet that is light colored and simply designed, on top of your existing dark colored flooring – no matter whether it is made of wood, marble or granite. On the other hand, if you want to make a space cozier, a dark coloured carpet with dense patterns will work great.
Location:
Go wrong here and the carpet can make your room look dull and cluttered. The rule of thumb is that small carpets should be selected to highlight smaller pieces of furniture, while large spaces like dining rooms and lounge areas require a large carpet.
Shape:
As far shape is concerned, pick a carpet – round, oval, square or rectangular – that suits your room.
Focal Point of room:
It also pays dividends to choose a carpet depending on the focal point of your room. Since a carpet can immediately draw attention to a certain area, it is important to decide the focal point of your room – the furniture, the fireplace or the carpet itself. Once you decide this, you can now move forward to choose the right design and colour.
For example, when the furniture is the desired focal point, a carpet with little or no pattern is likely to complement the surrounding. Similarly, when you want to draw your visitors' attention to the fireplace, a carpet that has a subdued all-over pattern will work well.
Complementing existing room decor:
A carpet can uplift a room only when it complements the room's existing decor, style and colour scheme. Choosing a wrong carpet style can easily break the smoothness of the room's decoration. Similarly, the colour you choose can also influence the mood, tone and function of a room.
Concluding, I would like to remind you that the above tips are only a broad view of what is known to work while choosing a carpet for your home – there is no exact science. But one thing is certain – carpets – if chosen carefully – can really transform a room and work best for your holiday home decor.
To get more information & assistance, please submit the form below and our specialist will get in touch with you at the earliest.