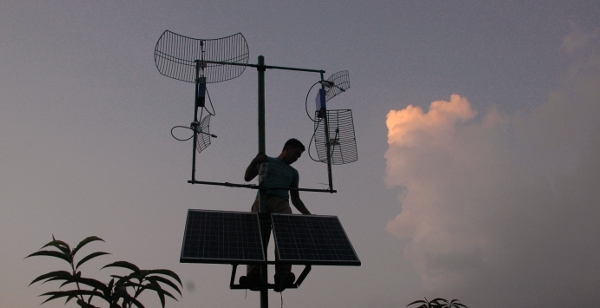 We always tell our owners to have an internet connection in their holiday homes, so that guests can stay connected with the world even when they are holidaying. However it is easier said than done when it comes to getting an internet connection in the mountainous region of Uttarakhand and Himachal.
In our pursuit to help our owners who have holiday homes there and want to get a good internet connection, we visited these locations and met residents to know about their experiences and to find out which is the best company providing reliable and most importantly good speed internet.
State-owned BSNL is perhaps the single most player as an internet provider in both Himachal and Uttarakhand. Having said that, most of the residents we met were complaining about the downtime of its services owing to the difficult terrain and other issues. But residents have found a good alternative and all swear by its good services and speed – AirJaldi.
So what's AirJaldi? Started as a social, non-profit enterprise established in Dharamshala, Himachal Pradesh, that provides affordable, wireless broadband connectivity at reasonable rates. The organization is the brainchild of Yahel Ben-David, an internet pioneer from Israel, and Michael Ginguld, an Israeli engineer with a masters degree from Harvard, who are the co founders of AirJaldi. Today, concentrated in the Kumaon, Kangra and Garhwal regions, AirJaldi is making internet happen in the picturesque, but tough terrains of these areas.
WHAT IT DOES:
In simple terms, AirJaldi purchases huge bandwidth from ISPs like AirTel and distributes it to its clients, offering speeds ranging from 256 kbps to 6 mbps with capability of offering speeds as high as 60-70 mbps. Upstream links from multiple large internet providers are carried to a local Network Operation Center (NOC), at times across many Kilometers. The NOC has monitoring tools allowing efficient, secure and reliable service. From the NOC, connectivity is extended through small, environmental-friendly wireless relays to clients near and far. Distances between relays range between a few hundred meters to 50 Km. or so. The wireless relays are solar powered and mounted on small poles. Residents who takes a connection connect to relays through Customer Premise Equipment (CPEs), which are made of small and powerful routers. Each relay is built to reach specific clients but at the same time, each client is also potentially a relay to other clients.
INTERNET SPEED AND PRICING:
Ideally if there is no coverage of AirJaldi internet in the area, it requires a minimum of five houses to set up their equipment. Although if you want to go alone, you would require to bear an initial investment of INR 50,000 for relays, satellite coverage equipment including a roof-top tower.
However, if connectivity already exists, then one needs to pay a one-time installation charge of INR 10,000 to 15,000.
Now for a 512 kbps connection, the monthly charge is about INR 1,100 and a one mbps connection would cost around INR 1,645. This excludes taxes that might be applicable.
WHOM TO CONTACT:
For more details or to get a connection one can contact: +91-9882268068 (Dharamsala), +919411139134 (Gharwal), and +919639118102 (Kumaon). You can also mail them with your at support@airjaldi.net