Systems and infrastructure electronics in the hospitality industry are a significant investment for property owners. Typically, these systems are designed for large hotels, and are neither required nor cost-effective for homestays. However, many homestay owners aspire to become hoteliers, and India desperately needs new investment in mid-range hotel properties. This article, therefore, is for those property owners aspiring to scale up their operations.
Door Locks
The average homestay/B&B door lock tends to be a padlock, usually with an abnormally heavy key or key-chain combo to prevent guests carrying off the key by mistake. This is a simple solution – padlocks are cheap, and duplicate keys can be made very easily. This, however, makes it insecure. A guest could easily copy the key, and that would leave all future guests vulnerable to theft, especially if the homestay is not staffed around the clock.
It is important as a property owner that your guests' valuables are safe. Any incident of theft could easily affect your reputation, and therefore future bookings. Word-of-mouth plays a big part in generating business for homestays, so your guests' perception of security is important.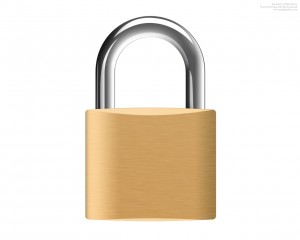 A relatively simple way to work around this would be to have a set (at least 5) padlocks per room, and rotate them at every guest change. While this reduces the chances of someone using a copied key, it does not eliminate it completely.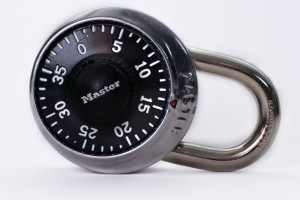 Using a combination door lock – one that has three or more dials with numbers – is a tempting option, but in my experience I've always had these locks fail on me sooner or later.
Electronic door locks reduce this problem, but are more complex to install and manage. There are a variety of electronic door lock systems, differing in how they manage access.
Keypad Door Locks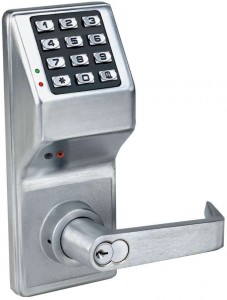 The simplest for a homestay or small hotel to implement are the keyless locks, which have a number pad to enter a code to gain access. These locks fit into the normal door lock fixtures, so it's easy to replace existing locks. Many of these support multiple user codes, which means that you can have codes for your housekeeping staff that you don't change with every room changeover. Make sure that you do change the guest code at every check-in, and use a random, unpredictable, number each time. If you find it difficult to make up random numbers, open an (Microsoft Excel) spreadsheet, and copy and paste in this formula into a cell to generate a 4 digit code.
=RANDBETWEEN(1000,9999)
For a 5 digit code, use 10000 and 99999 and so on.
Biometric Door Locks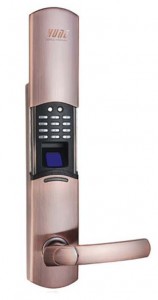 These are new systems that allow guests to scan their fingerprints to unlock their rooms. Avoid these locks, they are complicated to setup and use, and fail frequently.
Keycard Door Locks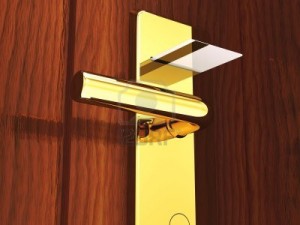 The most common electronic door locks are the key-card based locks. Upmarket hotels have been using these for over two decades; but now they are relatively affordable and easily available. However, there are different systems associated with these that one should understand before implementing them in one's property.
The primary difference between various key-card systems is the technology used. The earliest key-card systems used a thick plastic card with holes distributed randomly in a grid. Inserting the card into a lock allowed light to pass through the holes, and unlock the door if the pattern of light was the one matching the lock. These lock systems are sold cheaply now, but do not buy them – getting replacement key-cards involves going back to the vendor, and you cannot change the lock code in case a guest leaves with the key.
The most widely used key-card system is the magnetic stripe card. These are programmable, so you can have a bunch of blank cards and update them with the room's unlock code when you need them. They are also reusable, cheap, and less prone to failure. However, you may need to find a hospitality systems vendor to provide you these locks, as they are not easily available in retail.
Magnetic stripe cards can be cloned, or copied, easily, so it is important that the code used for a room is changed each time a guest checks out. This brings us to the connectivity of the door locks.
Offline vs Online
Electronic door locks can be offline or online. Offline door locks are not connected to any central system. Programming these locks must be done at the door, and this can be a technically-involved transaction. These systems are cheaper to implement and maintain – all you have to do is to ensure that the door lock battery always has sufficient charge. Online systems are those in which the door lock is connected to a central server. This has obvious advantages – key codes can be changed in seconds if a guest reports loss of key-card and the property manager can monitor guest entry and exit centrally to schedule housekeeping – but it is complex to implement as all doors need to have concealed wiring running to the locks. Online electronic door locks also require uninterrupted power, so an UPS with backup long enough to ride out all power cuts in your area is essential.
Next week, we look at other hospitality infrastructure, such as room occupancy monitoring for housekeeping and power saving.
To get more information & assistance, please submit the form below and our specialist will get in touch with you at the earliest.