[wzslider]
Maharaja Environment Technologies, a Mumbai based company has been in the business of building eco-friendly wooden log houses. Their technology transfer and partnership with a 2-decade-old Siberian company makes them the No. 1 manufacturer of log houses in India. Recently we had the opportunity to speak to their Sales Manager, Akash Upadhyay, where we tried to understand what these wooden log houses are all about, the pricing and why these houses are indeed an investment worth giving a thought.
The interview…
Please give us an introduction to your company.
Our company Maharaja Environment Technologies Company Pvt. Ltd. is based in Mumbai in India and is the leading Modular Wooden Log Houses Construction Company in the country. We are the pioneers in this segment to have introduced Russian Log Houses Construction Technology in India.
You have entered in a partnership with the largest woodworking company in Central Siberia in Russia. Please tell us about that and how it helps your operations here?
Our Russian manufacturing facility has 20 years experience in Wooden log house construction in Russia and abroad. In Russia, especially in Siberia the skills in wood processing and wooden house construction are passed from father to son over many generations. Over the centuries, the Siberians have achieved perfection in woodworking which corresponds to the stringent European norms. Our association with them roots from this fact. We have over the years acquired these technologies which we now employ in the log houses we build.
Our Russian wood processing plant is capable to manufacture from 50 to 100 Modular wooden houses sets per month. Our Modular wooden houses are manufactured and finished in full conformity with approved by the Client design-project for fast and easy assembly on site.
Is there any place where clients can see and get a feel of these wooden log houses in India?
Yes, the unique techniques and overall appearance of our wooden log houses can be seen in our running construction sites near Mumbai.
How many of these houses can your company construct, say in a month?
Our wood processing plant is capable to manufacture up to 50 Modular wooden house sets per month. We are currently working with fixed designs and ready to work out unique designs of wooden houses. However we do offer modifications and alterations to these designs based on our client's specifications.
How long does it take to complete an average size wooden log house?
Building a wooden log house is fast and easy. Usually it takes six months from the order finalization up to the final finishing of the assembled wooden log house. This is mainly because our houses do not require any additional finishing of the walls, both the outer and the internal ones.
Can you brief us what a wooden log house will look like?
In addition to the log wood exterior and internal walls, it will feature wooden flooring, wooden ceiling, tiling material, wooden doors, windows and wooden ladders. Basic protection for fire-resistance and bio-resistance is done with usage of impregnation of Russian origin which is 100% eco-friendly material. On the finishing part, we apply PU polish for water resistance and a shiny look. We also give a choice of polish colors to our clients.
Do you follow any norms or do you provide any warranty to the wooden log houses you build?
Of course! All our woodworking corresponds to the strictest European norms and are of very high standards as those build in any part of the globe. You will not find any difference in quality between a house we build in India to that you get to see in say Siberia, etc. We give five years free warranty. The life of our wooden log houses assembled in India is more than 80 years. So one can safely say that it is absolutely a lifetime investment.
You said earlier that you have preset material for home owners to choose from. At present what are the different types of wooden log houses do you provide in India?
Currently we have three types of wooden log houses in India depending on the wall material one would like to use.

The first one is 45mm square kiln dried solid log houses, that is 45mm thick wooden walls for both external walls and internal partitions. This includes extra class Siberian pine and larch wood. These are largely for single story cottages up to 1000square feet area.
Then we have 200mm solid round logs. This is the most experienced technology of log house construction where only the bark is removed and prefabricated corner interlocking is done. The walls are 200mm thick and these extra class Siberian pine and larch wood can be used to build single story small cottages up to ground+3 huge buildings.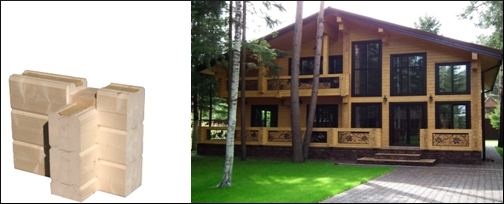 Our third type of wooden log houses are built with 120mm glued and laminated square logs. Here kiln dried lumber pieces are glued, pressed and laminated so that the wood do not crack and are perfectly tightened and fitted. The walls, both external and internal partitions are again 120mm thick wooden walls. These extra class Siberian pine and larch wood can be used to build single story small cottages up to ground+3 huge buildings.
What about the costing? How much will these wooden log houses cost?
Well, prices will vary based on the specifications and customization a client would want. Although we can only give the exact figure once we get all the specifications, to give you a rough idea, the first type of wooden log house will cost about INR 1700 per square feet, while the second type of log house will cost around INR 2200 per square feet and the third type of wooden log house which we had discussed earlier will cost something around INR 2600 per square feet. There are certain additional costs too like a 5 percent VAT, etc.
What are benefits of these wooden log homes? Why according to you should one actually opt for in the first place?
There are numerous benefits of going for a wooden log house. First of all, its short onsite construction time. A wooden home of up to 100 square meters can be delivered in just 4-6 months, with on site construction time as little as just 15-20 days. Secondly they are environment friendly. The assembly process is designed in such a way that there is minimum or no impact on the surrounding flora and fauna. The construction of Wooden Homes is pollution free and leaves behind no solid or liquid waste associated with brick and mortar construction. All materials used are from ecologically renewable and sustainable resources, from the most reputed company in Russia, properly certified for correspondence to the strictest European norms, thus making Maharaja Wooden Log Homes most Eco Friendly. Third, is that it is energy saving. Not only is the assembling process significantly energy saving but in its lifetime also, Wooden Homes consume very little energy to cool during summers and heat during winters, leading to high energy efficiency and significant financial savings. Fourth, wooden log houses have a fabulous world class appeal. These houses have been very popular in Western countries for a long time. In India too, wooden homes are the leading choice for infrastructure as well as tourism development. If you visit any place in Himachal Pradesh or the upper reaches of Uttarakhand, most houses in tourist destinations are actually wooden log home. Even tourists love these homes than the regular cement and brick houses. Last but most important is the fact that these homes are safe, sturdy and highly durable.
If anyone wants to inquire about your wooden log houses how can he get in touch with you?
We are based in Mumbai, and I can be contacted at +91-9619916393. We have more information on these houses on our website, so if they want to know more they can definitely go there.

To get more information & assistance, please submit the form below and our specialist will get in touch with you at the earliest.