Japan had never been the traditional destination for expat second home buyers till the last decade. Never the less some of the country's touristy locales have recently seen a lot of activity in the vacation home segment in the last decade or so and due to various reasons including, a stable economy, no property acquisition restrictions for foreign nationals, etc. Japan is witnessing a marked interest from buyers now.
In this article we will give you an overview of laws around buying a property in Japan and also a couple of options to choose from. But first about buying a holiday home in Japan:
PROCEDURE OF BUYING A PROPERTY IN JAPAN:
Contrary to popular misconceptions, there are no buying and selling regulations for foreign buyers of property in Japan and mostly all properties are freehold.
Because of language and other legal issues, it is a good option to hire the services of a real estate agent who can also act as the buyer's translator. Negotiations and private survey may begin once property has been chosen. An offer or a letter of intent can be signed with the seller/ developer, which however is not legally binding.
Before the deal, a Juyoujikou- Setsumeisho which is similar to a Property Disclosure Statement needs to be drafted by the real estate agent. The purchase contract is drafted once a deal is settled. After this, a 10 percent deposit is to be paid before the contract date.
The title of the land/ property is transferred during the closing of the deal. Both parties should have certificates of their seal impressions. Stamps are obtained, and government fees and taxes are paid to register the title.
The whole process of registering the property has six procedures, which can be completed in around 14 days. The final settlement usually takes place at the buyer's bank and is handled by a judicial scrivener. The buyer will transfer the remaining balance to the sellers account and the title of the property will be transferred to the buyer. On completion the seller delivers all the keys to the property and the transfer of ownership is complete. Ideally no lawyer is required to buy a property in Japan, although it is advisable to hire one.
TRANSACTION COSTS AND TAXES ON BUYING PROPERTY IN JAPAN:
Acquisition Tax: Buyers of residential property are subject to one-time acquisition tax of 1.5% of the government valuation of the land and 3% of the value of the building. The government valuation is usually about 60-80% of the market price of the property. This tax is paid to the local government and is usually due within six month of the purchase.
Registration Tax: The transfer of a property incurs registration tax. Currently the tax is 2% of the government valuation of land and 1.3% of the value of the building. Registration Tax is also payable on mortgages at a rate of 0.4% of the loan amount.
Stamp Duty: Stamp duty is levied on the sale contract and mortgage agreement and varies on the contract type and amount.
Judicial Scrivener Fees: The Judicial Scrivener acts like a solicitor to settle and register the property transaction. The fees vary depending on the size and complexity of the transaction.
Agents Fees: The real estate agent fees are set at 3.15% of sale price.
CONDOMINIUM OPTIONS TO BUY IN JAPAN:
Let's take a look at a couple of Condominium developments that are for sale in Japan. Sumitomo Realty & Development Co. Ltd., the only major Japanese developer with sales office in Singapore, has been kind enough to provide us with these options for our readers:
Minami Aoyama Masters House (Ideal for Investment/ Second-home):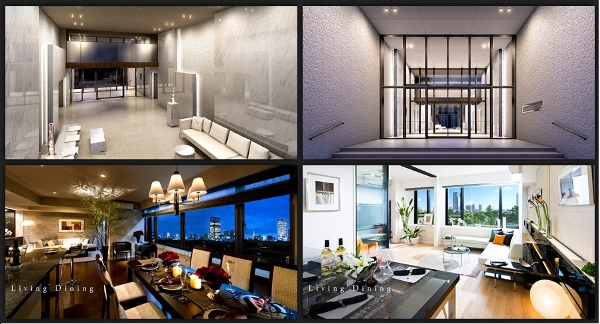 The condominium is located in Aoyama, an area well-known for its stylishness and prime location. The charms of Aoyama vary from the various stylish shopping zone, popular sights to the educational institutions along the main street. A short walk takes one to a quiet resident street, the historic Meiji Shrine or Omotesando area. This stylish new face of Aoyama is set to complement its surroundings and give its residents a reason to be proud to live in.
Location: Minato-ward, Central Tokyo
Prices: From USD 393,112.40 to USD 3,216,374.18
Unit sizes: 30.19 square meters to 187.91 square meters
Status: Completed in February 2012.
Concieria Nishi Shinjuku Tower's West (Ideal for Investment/ Second-home):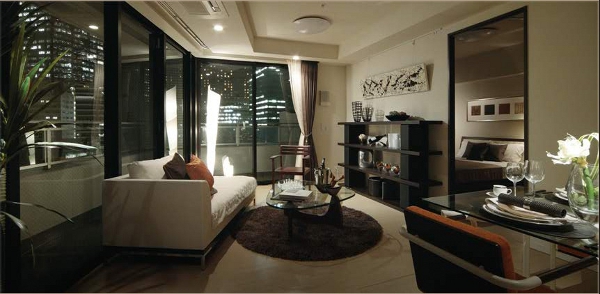 A new landmark of Shinjuku in metropolitan Tokyo, Concieria Nishi Shinjuku Tower's West, with 44 stories above ground, is the highest residential building in Shinjuku. The property boasts the private open space for public use and is filled with green and variety of common facilities. It also provides space for shops, offices and a clinic between the 1st and 4th basement, independent from the residential floors. This soaring is seen as fulfilling one's urban lifestyle in the heart of Tokyo.
Location: Shinjuku-ward, Central Tokyo
Amenities: Rare property with facilities available like, swimming pool, hot spring house, gym, guestroom, music room, etc.
Prices: From USD 652,668.78 to USD 1,500,683.71
Unit sizes: 59.93 square meters to 113.00 square meters.
City House Nakajima Koen Residence (Ideal for Second-home):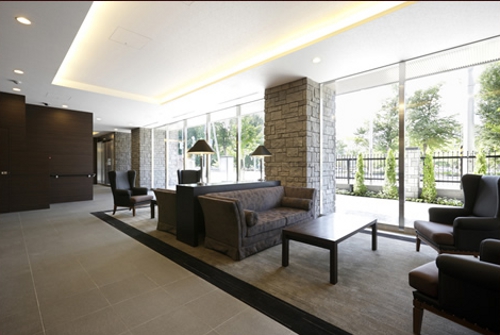 Just a minute's walk to Horohirabashi subway station and six minute's train ride to subway Sapporo station, City House Nakajima Koen Residence has been created in order to be blessed with this great location advantages. The entrance hall is open to the Nakajima-Koen Park via a wide glass wall that one gets the feeling that the entrance hall is a part of the park. In approximately 100 square meters of relaxing space, one will feel hospitality of extra quality produced by the four-seasonal colors in the park and time of ease.
Location: Sapporo City, Hokkaido.
Status: Completed in September 2009
Prices: From USD 434,487.10 to USD 629,708.70
Unit sizes: 80.30 square meters to 100.72 square meters.
City Tower Osaka Tenma The River & Parks (Ideal for investment/ second home):
Built at a total area of 10,642.35 square meters, it is the largest scale among that of more-than-20-floor buildings, which have built since 1995 in Osaka city. The 45-floor skyscraper containing 649 dwelling unit development is located beside an open waterside and the tower is designed in order to be a city landmark, which continues to be the envy of many. In order to emphasize the towers symbolic, it is designed with a contrast of glasses and black lines on its external appearance.
Location: Osaka City
Prices: From USD 354,535.69 to 662,630.72
Unit sizes: 60.08 square meters to 96.83 square meters.
To get more information & assistance, please submit the form below and our specialist will get in touch with you at the earliest.