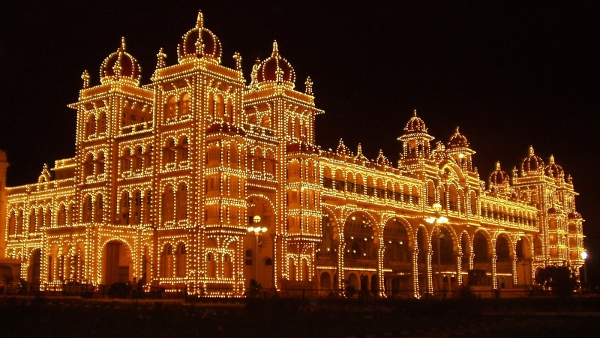 Before the IT companies started moving into the city, property rates in Mysore were still unattractive for developers to consider launching gated communities and concentrated more on offering individual plots at low prices. The demand for residential property in Mysore is a spillover effect of Bangalore with most IT giants setting up base here. With large scale industrial growth came an influx of tens of thousands of employees giving an impetus to residential real estate sector of Mysore and pushing the city's municipal corporation to issue as many as 100 licenses to builders for commercial and residential projects to keep up with the demand from professionals who wanted a base for their to-and-fro trips between Mysore and Bangalore.
And that's not all! Mysore also known as the retirement destination sees a huge floating population of tourists in the weekends who eventually convert from being just visitors to buyers of second homes. Mostly working in Bangalore, a second home in Mysore means not only a weekend getaway, buy also capital gain.
Recently, dwelling on Mysore as a real estate investment destination in general and particularly for buyers looking for a second home, V.K. Jagadish Babu, MD, Sankalp Group, one of the top developers in Mysore said: "Bangalore has started to choke and the next alternative for the residents there is to move to Mysore. So the overflow from Bangalore is one principal factor. Also, software professionals working in Bangalore are looking at Mysore as their second home option. On weekends, we have a lot of Bangaloreans coming here for leisure."
"Another reason that is turning Mysore into a real estate investment destination is its relatively cost-effective options. While property here is relatively low in price, the medium and long-term returns will be healthy," Mr Jagadish Babu added.
So where do one look to buy a property in Mysore?
Ever since the IT boom hit Mysore, the city's arterial and peripheral roads, especially the Outer Ring Road have witnessed maximum development. A 200 square yard plot in Vijayanagar that was available for Rs. 1.5 lakh five to six years back is now priced at around Rs. 6 to 7 lakh.
The areas like Kuvempu Nagar, Vijayanagar, Nivedata Nagar, Dattagalli and Jayalakshmipuram were the initial areas of Mysore to witness good growth with developers launching their projects here and in the initial years where appreciation has been highest. Properties here are available from INR 2,500 to 4,500 per square feet depending on the amenities offered.
Meanwhile, as these areas which were once seen as investment options for second homes became prime first home residential areas, secondary locations like Koodanahalli and Nanjangud, where villas are available for INR 3,000 to 3,500 per square feet started to be developed.
Today, if a buyer is looking for a property that will not be his first home the suburbs at a rate between INR 1,500-2,000 per square feet offer good options. These areas on a radius of 14-18 kilometers from the city including the Mysore-Coorg & the Mysore-Bangalore highways, Elivala, Srirangapatna and Hunsur offer excellent investment options for second/ holiday homes. Developers in these areas are coming up mostly with integrated townships which when complete will be self-sufficient communities. While developed properties in these areas are available below 2,000 per square feet, villa plots are available between INR 500 to 700 per square feet.
Property appreciation in Mysore:
While property prices in Mysore have appreciated four-fold in some neighborhoods Siddhartha Nagar, Gokulam I and Jayalakshmi Puram, etc. in the last two years or so, realtors are hopeful of a three-fold increase over the next year.
Going by the current and past trends of the property market of Mysore, a 10 to 15 percent appreciation can be easily expected. In fact good appreciation in realty prices in Mysore is not unheard of. Players in the real estate sector who are dealing with properties in the suburbs area are forecasting a three-fold appreciation to one's investment here once the entire developments near completion and units are handed over to its owners.
So why can buyers expect such good appreciation?
Bangalore may be the capital of Karnataka but Mysore attracts a lot of buyers because of its quaint charm, magnificent palaces, beautifully laid-out gardens, imposing buildings, broad shady avenues and sacred temples. Situated at an altitude of 763 meters and surrounded by hill ranges from north to south the City of Palaces is located about 140 km from the Silicon Valley of India (Bangalore) and with the upgradation of the airport and completion of the Bangalore-Mysore Infrastructure Corridor project the demand for land for residential properties will grow exponentially.
Speculators are bullish also because the city is already well connected with Bangalore by a four-lane road and regular trains and with more companies obtaining licenses or are in the process to have a set-up in Mysore a lot of development is going to take place here. Additionally, the Mysore Urban Development Authority (MUDA) is trying to enlarge the city in a planned manner – a major factor that will see a surge in people opting to buy a property here.
Leaving you with some of the projects currently being developed in Mysore. Browse them and contact the developers directly for offers and discounts. And don't forget to tell them that you heard about their development from us:
To get more information & assistance, please submit the form below and our specialist will get in touch with you at the earliest.