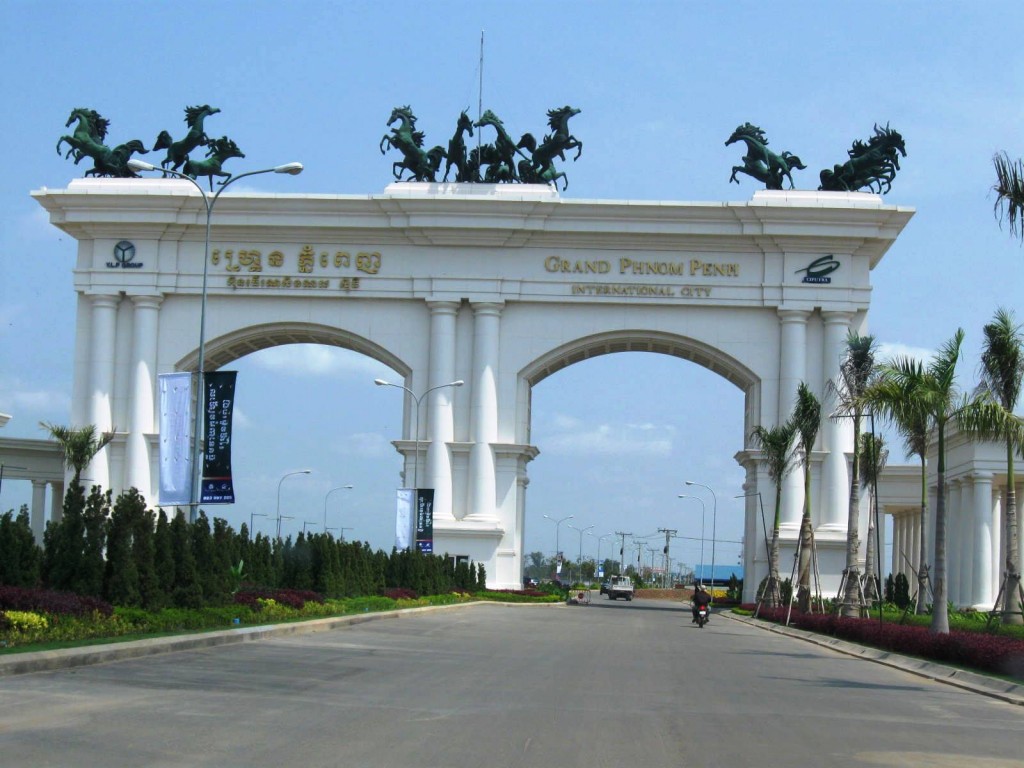 Cambodia's pre-2008 robust economic growth coupled with the capital city, Phnom Penh's overtly populated boundaries made it necessary for the government to go with the decision to develop its suburbs on the model of satellite cities that could easily attract for domestic and more foreign buyers looking for a cheaper yet more fulfilling retirement in a country bordered by Thailand, which is already a No. 1 retirement destination is Asia for Westerners.
But in 2008, when Cambodia was embroiled in the global financial crisis, housing prices plummeted and work at many of these Phnom Penh's suburban developments came to an abrupt halt. But the economy is again growing fast and new property projects on the outskirts of the city are beginning to show signs of life. And of these, three satellite cities – Diamond Island satellite city in Tonle Bassac commune, Grand Phnom Penh International in Sensok and Camko City near Sensok are today again back to reckoning as good places to invest.
In this article we will take a look at these three satellite cities – their current status, prices of properties and most importantly is it worth investing in the first place.
Grand Phnom Penh International City: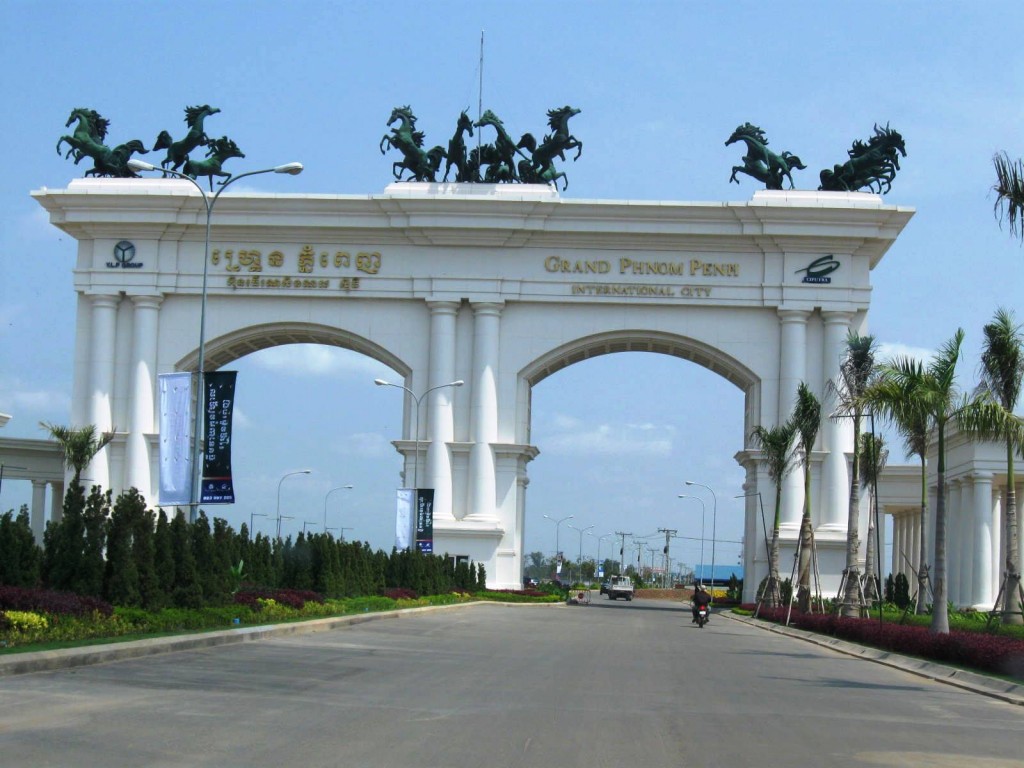 Developer: Cambodia's YLP Group and Ciputra Group of Indonesia
Projected cost: $600 million
Area: 8,000 hectares in Kmounh commune, Russei Keo district, northwest of Phnom Penh
This is one of seven satellite city projects scheduled for completion in the next 10 to 15 years. Among the largest already open, the Grand Phnom Penh International City, is located in the former wetlands north of the city. Colonial type residences with the European city names, wide, clean streets, clusters of houses and an 18-hole golf course; residents enter through a Brandenburg-esque gate, topped with leaping bronze horses.
At about 12 percent of the city's total land, the projects cover together nearly 8,000 hectares. They include the Overseas Cambodian Investment Corporation's (OCIC) 75-hectare Koh Pich project, where the yellow villas of Elite Town are taking shape. Koh Pich also features a driving range, Elite Golf, the colossal and grand Koh Pich City Hall and a new development named, La Seine, after the river running through Paris. There is even an adventurous plan to build the world's second tallest building.
A 20-minute commute from central Phnom Penh, the project, a joint venture between YLP Group—a company controlled by the wife of former Royal Cambodian Armed Forces Commander-in-Chief Ke Kim Yan—and Indonesian company Ciputra, is ambitious.
Current Status: So far, only about 100 families have moved in since the project was approved in 2006. The city will ultimately include 4,500 houses, a water park, a school and a shopping area, covering 260 hectares in all.
Property prices: Properties at Grand Phnom Penh cost between $80,000 and $600,000 for the most expensive villas. The other house models in the city named Florence, Veneto, and Versailles after some of Europe's most beautiful towns and cities come with a price tag of $150 million or more.
Camko City:



Developer: World City Company, of South Korea
Projected cost: $2 billion
Area: 119 hectares in the Boeung Pong Peay Development Zone, Russei Keo district, north of Phnom Penh
Completion: 2018
Meanwhile, the ambitious, $2 billion CamKo City is a different story altogether. Stalled midway through construction in 2011 amid a financial scandal among its South Korean investors, some apartment blocks and villas though have been completed, the legal battle between the developers still continues. Just five months back the dispute that waged on for years between its developer, World City and construction firm Hanil Company ended after a court ruled to sever a contract between the two parties. Although construction at this satellite city in northwestern Phnom Penh, has resumed after at least one sentence connecting the mega-project's chief executive with a Korean banking scandal was dropped in 2012, be wary of investing here.
Koh Pich or Diamond Island City: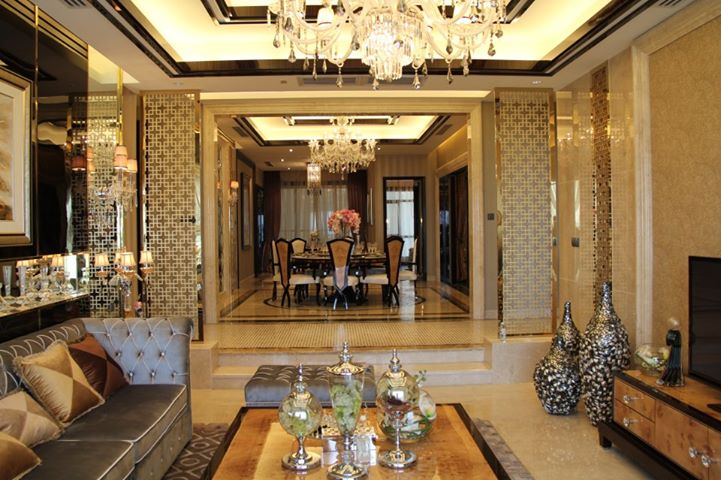 Developer: Oversea Corporation Investment of Cambodia
Projected cost: $300 million
Area: covers 100 hectares along the Tonle Bassac River in Chamkarmon district
Completion: 2017
Koh Pich or The Diamond Island is an ambitious plan spread on 75 hectares of the isle in the Tonle Bassac River, of Chamkarmon district, separated from Phnom Penh by a narrow channel and two small bridges. The development of Diamond Island epitomizes the changing face of Phnom Penh. Today, after several land reclamation projects, this gated community on the island's southern tip, will soon feature condominiums, a shopping mall, and even a hospital. Developers envision Diamond Island becoming a city within a city; a place for the affluent to live and play.
Today, Koh Pich is one of the premier addresses in Phnom Penh, and will become the consumer precinct for the city if developer Overseas Cambodia Investment Corp (OCIC) has anything to do with it. Now on sale is their latest development, Diamond Island Riveria, an ambitious, luxury condominium and commercial project.
Diamond Island Riviera provides its buyers with completely furnished apartments in a luxury development estimated to cost US$700 million and occupying 330,000 square meters. The complex includes five high rise condominiums, three of which have already broken ground, and car park that will hold 2,000 cars. The development includes panoramic views of three rivers; Mekong, Bassac and Tonle Sap Rivers.
Facilities for residents include a club, horizon swimming pool and all the five star touches you would expect from a development such as this. There is 24 hour security, including a sophisticated surveillance system, fingerprint identification and property management that promises to be like staying in a five star hotel.
Elaborately furnished, this development has used Chinese influence in its interior designs. Lavish chandeliers, mirrors and wood are used to give the apartments a rich and decadent feel. Some of the apartments will even include gold foil ceilings and marble inlay floors.
Pricing: Prices range from US$270,000 to US$900,000 and each has their own elevator.
Far from the Chinese row houses and bustling streets that define Phnom Penh city, these satellite cities, interestingly today, represent a new way of living in Cambodia, more like suburban America. These gated communities that have emerged in recent years along main roads out of the city and in other pockets of affluence is Phnom Penh's suburban dream. Only time will tell whether they will be realized. As for now, despite a few hiccups, they seem to be on track. Have more information on these satellite city developments? Do share with us at editor@holidayhometimes.com

To get more information & assistance, please submit the form below and our specialist will get in touch with you at the earliest.