This week, we look at kitchens – how the spaces in your dream kitchen should be planned.
Planning a kitchen is all about ergonomics. If you are an enthusiastic cook, you'll know exactly what you need, and the kitchen can be designed specifically for you. This means that counter heights, storage heights and so on will be designed for you, but may not be comfortable for others. If your kitchen is for a homestay where your guests expect to be able to cook, you should go with standard heights and dimensions. These are what we'll look at in this story.
Counter frontage
When designing your kitchen, you should keep in mind the minimum counter frontage for combined work centres.

The standard depth of a counter top is 24 inches. More than this would make top storage inaccessible, and less would mean that standard equipment would not fit. For activities like kneading dough, a central island that's deeper would be ideal.
Clearances
In kitchens, clearances matter not only between counters and opposite counters / walls / appliances, but also between open doors and the opposite side. The minimum you should provide for between an open door and the opposite counter is 40 inches.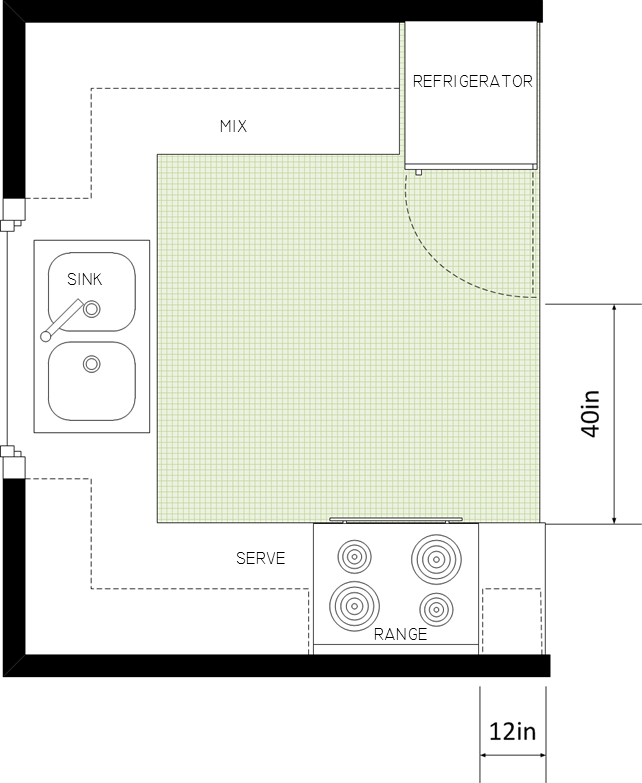 If there's no open door, then you should provide 48 inches.
On either side of the gas range, a minimum of 15 inches on one side and a minimum of 12 inches on the other are essential.
Standard Heights
The standard heights for kitchen elements are as illustrated below.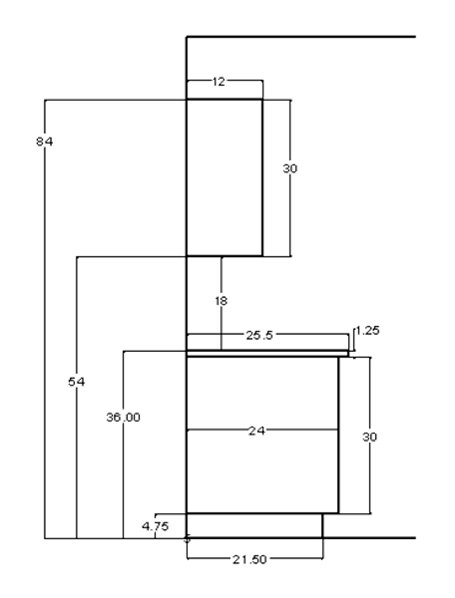 Typical space layouts
Kitchens are typically laid out in one of four standard plans.
The unbroken U
The unbroken U is the most efficient plan for several simultaneous activities. As there is no kitchen cross-traffic, it offers uninterrupted working spaces for one or two people.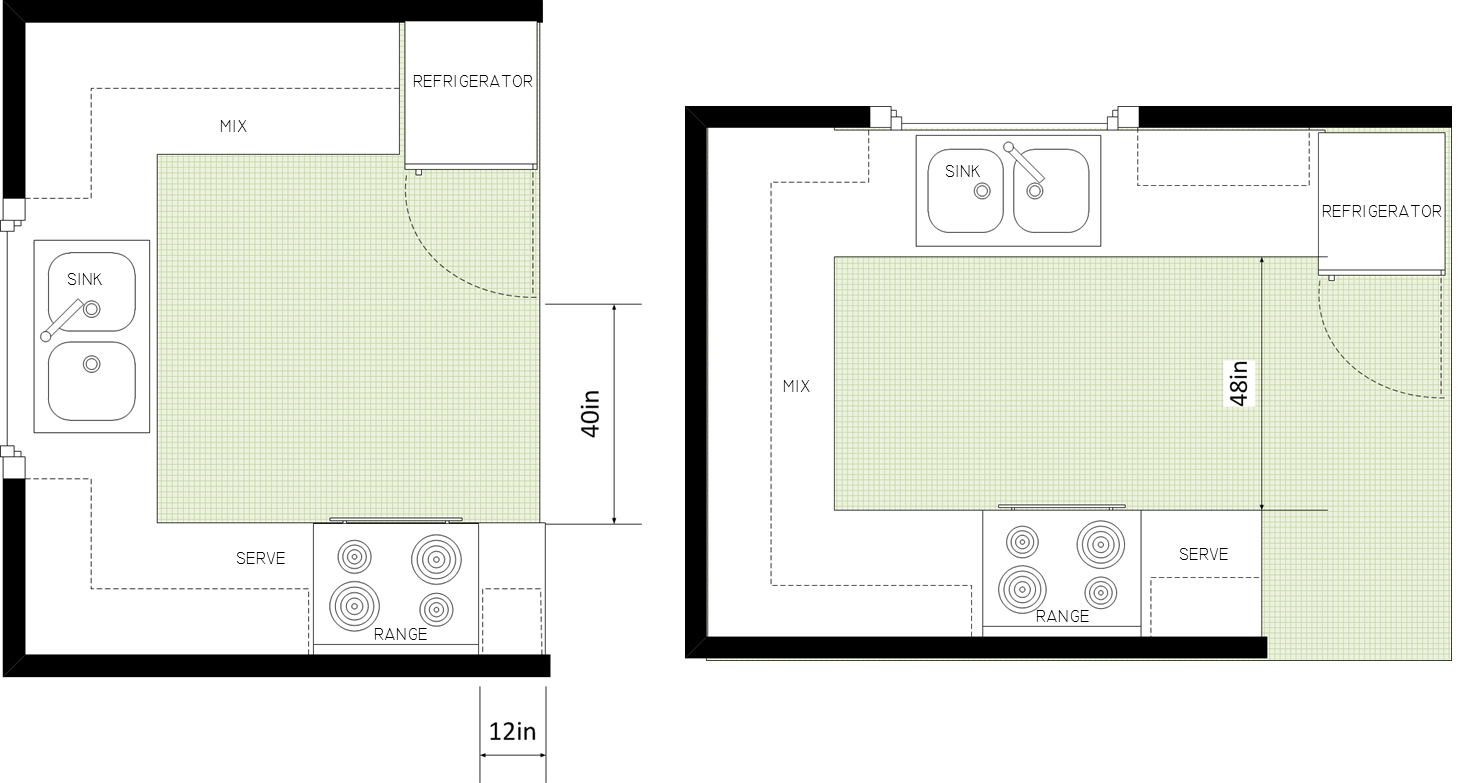 The broken U
Due to constraints of apartment design, most kitchen layouts do not permit an unbroken U. Instead, the second door (to balcony, patio, or utility area) creates a break in the U, resulting in a layout like this. The through traffic makes for less efficiency in the kitchen.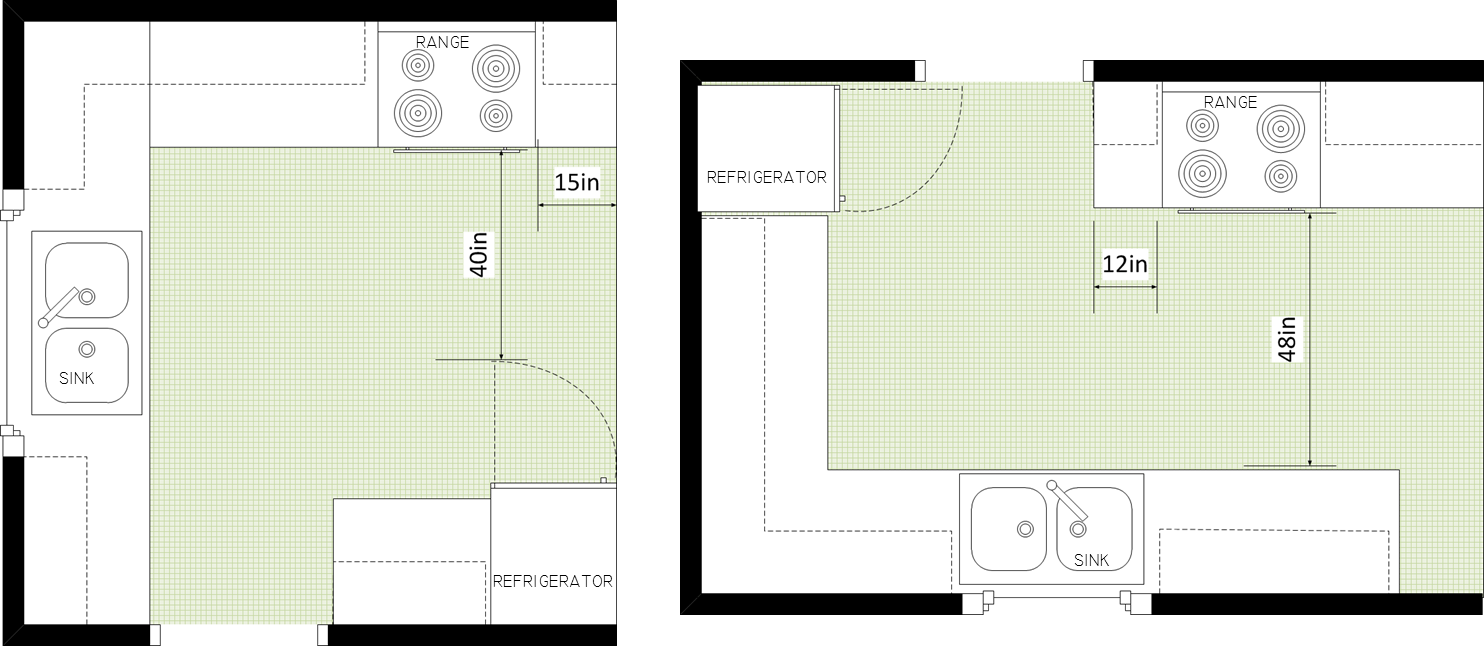 The L, with or without a breakfast counter
The L shaped kitchen allows for a breakfast counter, making it an attractive plan, especially for open-plan living.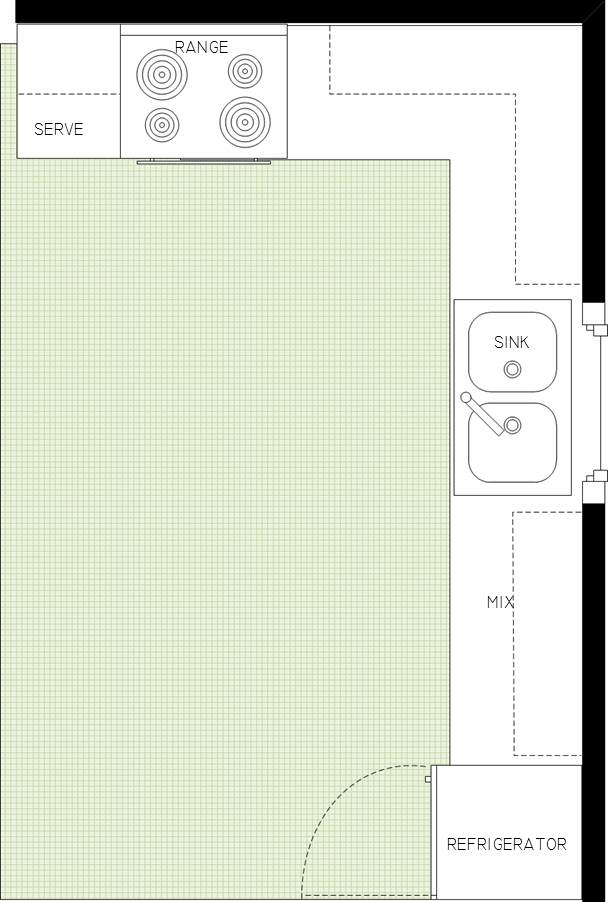 The Corridor Kitchen
Big-city living comes with smaller apartments, and some are too small to have a proper kitchen. Many of these apartments come with corridor kitchens, which are a variant of the broken U.

Storage Units
Kitchens require accessible storage for food and utensils, for equipment and for accessories. Accessibility is important, so deep storage units are counter-productive. Both aesthetically and ergonomically, single depth storage units are more attractive. However, deeper storage can be used to store less-accessed items at the back.
Kitchen equipment should ideally have pre-defined locations with adequate power outlets. Less-used items may be stored under the counter and taken out as required.
A well-planned kitchen is a joy to see and work in. Have fun designing your kitchens!