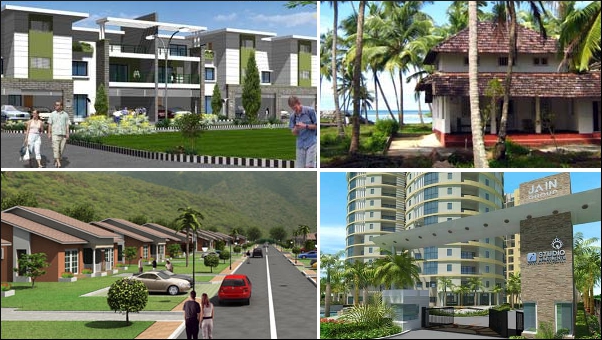 Rising disposable income and the desire to get away from the frenetic pace of city life is opening up new windows of growth for the holiday home segment. India's many tourist destinations have seen a mix of young people looking for vacation homes in places where one can either have an occasional vacation with friends and family or to start a holiday home rental business or even to spend one's sunset years.
Developers too has realized the potential of this niche segment and are today offering a wide array of property options for the buyer to chose from.
Row houses: In many gated communities developers are offering row houses which can be a good option for buyers whose budget doesn't permit a stand-alone villa. One can enjoy most of the benefits of a stand-alone villa like a small backyard or a front lawn. Many developments, based on area and demand, are offering single-storied or a multi-storied structure (duplexes or triplexes). For instance, Omega Promoters Pvt. Ltd's Omega Retreat in Lonavala is offering 3 BHK row houses in their project which is spread over more than 7.5 acres of lush green land.
As far as ownership is concerned, when you buy a row house, you do not own the land beneath your home, or the backyard and lawn, despite the fact that you may be required to contribute to the maintenance of the common areas.
For buyers looking at less exterior maintenance, better security, and availability of community amenities, row houses score a couple of points over a stand-alone villa.
Apartments: Today, many vacation home buyers are opting for apartments too. This trend is more or less prevalent in places nearer to religious/ pilgrimage spots or where prices of other options are very high or where there are restrictions in buying land or other kinds of property. For instance, buyers ideally look for apartments as a holiday home in religious places like Rishikesh, Haridwar and Vrindavan. Like, in Haridwar, Arrow Infra Ltd, a Hero Group Company's Haridwar Holiday Homes project is offering studio, 1BHK , 2BHK, 3 BHK, 4BHK apartments for holiday home buyers.
Even in India's premier holiday home destination, Goa, serviced studio apartments are gaining popularity amongst young working couples.
In places like Himachal Pradesh, Uttarakhand and the North-east, buying a house or a plot requires taking permission from the authorities and the process is lengthy and cumbersome. So, most buyers prefer to buy an apartment instead.
Farm houses: Buying a farm house as a vacation home is everyone's ultimate dream. A costly proposition to say the least, farm houses have always been a holiday home buyer's first choice. If one is looking at large groups to holidaying together and to do a little bit of farming as a hobby, farmhouses can be a good option. Today's farmhouses don't necessarily mean acres and acres of farmland and a palatial house in the midst of it. An acre of nicely manicured greenery and a well designed villa and plenty of open space to host parties is all you need! Delhi, Haryana and Chandigarh in the north; Karnataka, Kerala and Goa in the south and West and West Bengal (mostly in Darjeeling) and Assam in the East are some of the destinations where buyers ideally look to buy a farm house.
Retirement homes: With families getting nuclear, even young couples are planning for their retirement. Many developers have made considerable inroads in this niche segment offering an array of facilities that are required once you have retired. Aamoksh One Eighty Pvt. Ltd's Anandam Retirement Community in Kodaikanal at Bahri Beautiful Country is a good retirement home option.

Beach houses: India's coastline is home to some of the most beautiful beaches. And bordering these beaches are some of most beach house developments from both reputed and new developers. While in most locations, prices of beach houses are over the roof owing to several reasons like shortage in supply, a beach house can be the best bet for a holiday home. Many places in Maharashtra, Diu, Goa, Kerala, Vizag, give the intending buyer a wide option of beach houses to choose from.
To get more information & assistance, please submit the form below and our specialist will get in touch with you at the earliest.