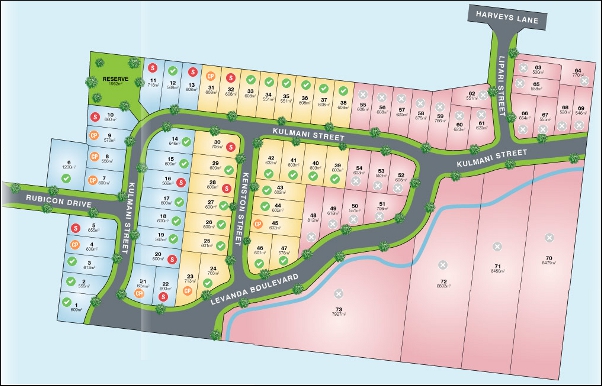 Bendigo has long been a tourist destination in Victoria, ever since the Gold Rush over 150 years ago, people have flocked to Bendigo. It is home to some beautiful historic buildings and is growing a reputation as a gourmet food mecca for the region. In recent years, it has also become a popular destination for people seeking a tree-change or retirees. With a relaxed lifestyle but close proximity to Melbourne, Bendigo is an attractive place to both visit and live.
Location:
Bendigo is a major regional city in Victoria, and easily reached by car or bus via the Calder Freeway or on V Line train from Spencer Street in about 90 minutes. It is approximately 150 kilometres from Melbourne. The closest international airport is Tullamarine Airport which is approximately 140 kilometres from Bendigo.
The Development:
Rubicon Rise is a new development by Birchgrove Property. It is a new estate in North Bendigo, and designed to be a private estate, but still convenient to central Bendigo. It is a very affordable development, which allows people to build the home of their dreams in this peaceful environment.
Offerings:
Rubicon Rise currently has two stages of development. Stage One includes 22 lots, 10 which are still available. They range in size from 555 to 1200 (with a house) square metres. Prices of available lots ranges from $114,000 for land only to $280,000 for a property with a house.
Stage Two of the development is also now available and it has 18 available lots ranging from 551 to 703 square metres. Prices range from $114,000 to $120,000.
Prices include:
Fixed Site Costs

Increased Ceiling Height

40m2 reinforced coloured on sealed concrete driveway

50m2 Tiled or Carpet Call Classic 1050 Timber Laminate flooring to nominated areas

100m2 Carpet Call Aladdin/Lipson/Racecourse Carpet to nominated areas

Remote Garage Door including 2 transmitters and wall mounted control

Bonaire Ducted Gas Heating

Bonaire Evaporative Cooling

BAL 12.5 Bushfire Construction Requirements (as required)

900mm Technika Stainless Steel Cooktop with Oven & Rangehood

Technika Stainless Steel Dishwasher

Caroma Bathroom Fittings & Dorf Tapware to Bathroom, Kitchen & Laundry

Dowell Windows (including fly screens), Corinthian Doors & Gainsborough Door Hardware

Haymes Paint System Throughout

Rheem Gas Boosted Solar Hot Water Service

Dual Termite Protection Package with Lifetime Warranty

Guaranteed Site Start.
About the Developer:
Birchgrove Property has developed residential estates in Bendigo and regional Victoria for 40 years. They are based in Bendigo and have helped shape the growth of this vibrant town. They currently have several local residential developments underway and recently completed the Ascot Park Estate in Bendigo and Epsom Village Shopping Centre.
Contact:
Birchgrove Property can be contacted via their website or by phone +61 3 5442 6464

To get more information & assistance on Rubicon Rise, Australia, please submit the form below and our specialist will get in touch with you at the earliest.