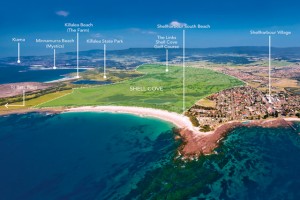 New South Wales' South Coast is one of the most beautiful and idyllic stretches of coastline in Australia. It has not only four spectacular beaches at its doorstep, but also nearby Killalea State Park and Bass Point Coastal Reserve.
The Development:
The Shell Cove development is a land and residential development that is focused on building a community feel. With shops, cafes, a championship golf course and planned 300 berth boat harbour, Shell Cove offer a great lifestyle for those who live within the development. The focus of the development has been on building infrastructure for residents and a focus on family security. The site includes a community centre, a medical centre, primary school and preschools, walking and cycling tracks, with family being very much at the heart of the development plans.
For golfers The Links Shell Cove is also located within the development and includes a club house, pro shop, restaurant and hotel. The Shell Cove Boat Harbour is currently planned, and promises to be something special, having just won the Concept Design Award at the 2012 UDIA NSW Australia Bricks Awards for Excellence. Whilst the Boat Harbour is an attraction for naval enthusiasts, the planned development will also include entertainment facilities, restaurants and a shopping centre.
An effort has been made to ensure that the site is environmentally sustainable, and that it blends in with the local environment. Efforts have been made to remove polluting sources in the local region, construct compensatory wetlands at nearby Myimbarr and implement initiatives to improve water and power usage on the development site. The Golf Course has been built with storm water recycling facilities and roads designed to maximise solar orientation and reduce energy use. These initiatives will all contribute to the longevity of the region and the ongoing quality of life for residents.
Outside of the development, Shellharbour Village is a short walk or drive away, and has shops, cafes and restaurants. There is also a salt water pool and the popular Shellharbour South Beach.
Offerings and Pricing:
At present, Shell Cove is a land only development, offering a variety of land sizes and prices. There are currently 4 land releases available, each with a different location so that you can choose the type of lifestyle you are after.
The Shallows Precinct is elevated and located near the planned Boat Harbour and Killalea State Park. Land releases start at $270,000 and go up to $380,000, with plot sizes ranging from 416m2 to 977 m2. The area is surrounded by bushland and cycle paths but is still within walking distance to the local primary school.
The Links Land release is located close to the golf course and parks, making it perfect for families. Plots start from $245,000 to $320,000, with reasonably large lots from 510m2 to 859 m2.
At the time of writing the Vines Land Release and Horizons Land Release both had only one plot left, priced at $280,000 and $255,000 respectively.
Location:
Shellharbour is located 20 kilometres from Wollongong and is easily accessible to Sydney and Canberra by train and bus. It is close enough to Sydney to provide the luxuries of a large city if you require, but far enough away to really feel like you are on holiday.
About the Developer:
Australand Holdings Limited is a diversified property group listed on the Australian Securities Exchange. They have been involved in property development in Australia for over 80 years.
Contact:
The developer can be contacted at by phone on +61 2 9767 2000. Invariably you can email the sales team at: info@shellcove.com.au

The last word:
Given the wide range of facilities available on the property, and the future planned developments, this project offer reasonable value to someone who is looking at a long-term investment in the New South Wales South Coast. The facilities available within the development all contribute to a a relaxed and comfortable lifestyle, and provide plenty of opportunity to enjoy the natural environment. Unfortunately the development does not offer house and land packages at this time, which would certainly add value to potential investors, particularly those located overseas. However the land release does offer purchasers the flexibility to build the home of their dreams on one of the land plots available.
To get more information & assistance on Shell Cove, New South Wales, please submit the form below and our specialist will get in touch with you at the earliest.