Last week, we looked at Modern (which is actually very old) and Contemporary styles of interior design. In this story, we'll look at a style which evokes instant nostalgia – the Retro style. The retro style started in that age of new ideas – the '60s and the '70 s. Coming from that era where authority and convention was challenged, retro has a playful approach, laden with humor, re-evaluating form and the interplay of colors and prints. Geometric shapes, lines, plaid and the Pop Art innovation of illustrations printed directly on furniture and soft furnishings define this style.
In the '70s, designers discovered ethnic influences, and this, blended with all the exciting counterculture influences of the day such as beatnik, boho chic and hippie added another dimension to the kitsch of the '60s. Color palettes rarely seen in the west earlier traveled with the hippies from their haunts in North Africa and India, and the glitter and glam of the rock world and the discotheque brought in the bling.
So how would you go about doing up your homestay in the Retro style?
A quick tip – A lot of items in Ikea's current catalogue are classic Retro. So if there's an Ikea store somewhere you're traveling, it could be a one-stop-shop. If you're not, it looks like India'll have Ikea stores soon anyway.
The color scheme:
Most people think of Retro as primarily orange. While it's true that orange is an important color in the Retro palette, it's not essential that all Retro be orange.

Retro can be blue …

… or in beige.
Wall Treatments
Walls are bright, bold and assertive in Retro decor. Look out for fabulous wallpaper, something that stands out. Don't be afraid to make a statement. Original art on the wallpaper is also a retro thing – so go ahead and experiment.
Lighting
Simple drop lights, like the Ikea lights below, are all that retro interiors need. Go for the subtle, understated, light fixture, and avoid the elaborate ones.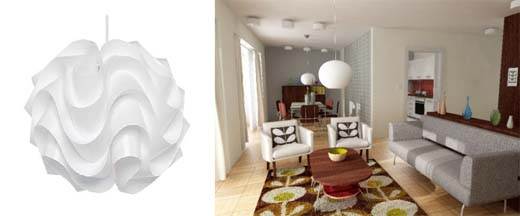 Furniture and Fabrics
Retro interiors are a riot of big patterns, so feel free to mix and match fabrics – upholstery to sofas, scatter cushions and curtains. Lots of patterns in a room creates excitement, but be careful to link their tones so that they fit the color palette.
Polished steel and tubular chrome furniture is very retro, as are beanbags.
In short, Retro is a fun style that should bring back the days of The Beatles and The Who. So, go ahead and experiment!
To get more information & assistance, please submit the form below and our specialist will get in touch with you at the earliest.