The Feelture Porchland 6 is a 500 Million Baht development located in Na Jomtien soi 4 not that far from Sukhumvit Road of Pattaya. Spread across a total area of 4 rai, this is Porchland's sixth development and thus aptly named The Feelture Porchland 6.
Launched at the end of 2012 and scheduled to be completed early 2014, The Feelture will feature two eight storyed buildings and will have a total of 301 fully furnished condominiums. The Feelture has 8 different unit types varying in size from 36 to 59 square meters and are being sold fully furnished, including built-ins, electronics, air conditioners and loose furniture. Meanwhile, the demand for condos in Pattaya can be judged by the fact that in less than a month of the launch of the project, the developer had already sold over 130 units.
Location:
The development is located at Soi Na Jomtien 4, just a kilometer away from the Jomtien beach and tourist attractions in the vicinity including the Floating Market, Underwater World, and Nong Nut Garden, etc. In addition to Porchland Group, there are two other big developers – Tulip Group, Nova Group – who are present with off plan developments which give an idea of the growing popularity of the area.
Amenities:
Two lounges

Restaurant

Secure key card access

Sky bridges connecting the two buildings

Jacuzzi

Swimming Pool

Sport club

Landscaped garden

Parking Lots

Kids' play area

Jogging tracks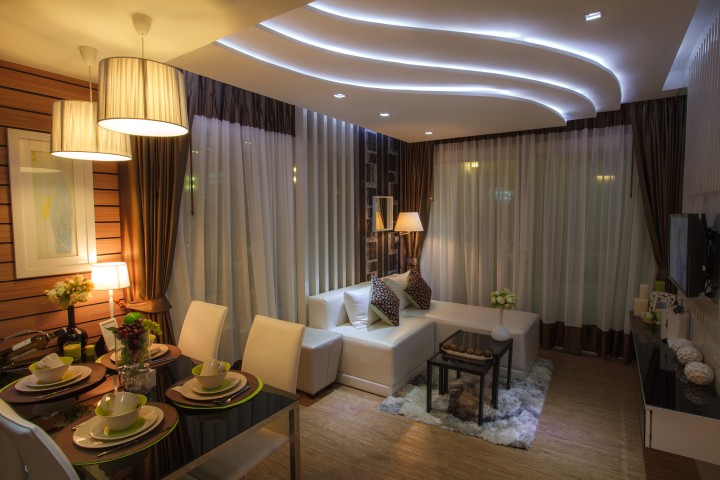 Offerings:
Type A: One bedroom (36-54.5 square meters)
Type B: One bedroom (37.5-63 square meters)
Type C: Two bedrooms (57.5 and 59 square meters)
About the developer:
Before Porchland Group started as a developer in Pattaya, they were primarily building contractors who undertook a lot of work for other developers' projects in the city – whether it was Hyde Park, Park Lane, The View, Atlantis, etc.  After gaining experience doing construction for other companies, plus the fact that they had started to purchase their own land plots, it was a natural progression for them to redirect their efforts into real estate development.
The company started by building a 22-unit commercial property, which proved to be a hit, and they continued that momentum by purchasing more land and aggressively targeting the residential market, which led to more success in the form of projects such as Porchland 2 and 3. The Blue Residence was also another very successful endeavor and they were able to close sales of the whole 300 units in just over two months.
Porchland's success in its many developments can be put down to quality of the construction and materials used and also the uniqueness we offer in terms of interior designs, which are different from other projects on the market.  The company tries to combine beauty with functionality, which is more than one would find in general offered by other developers at the same price tag.
Pricing:
Prices of condos at Feelture Porchland 6 start at THB 900,000 (USD29,075.63).
Contact:
For more information one can contact their sales team at: 082-3776661, 082-3776664 or email them at: thefeelture@porchland.com. You can also visit their website, www.porchland.com, for availability of units and construction updates.
Project status
This article was updated on 23 October 2020
To get more information & assistance, please submit the form below and our specialist will get in touch with you at the earliest.