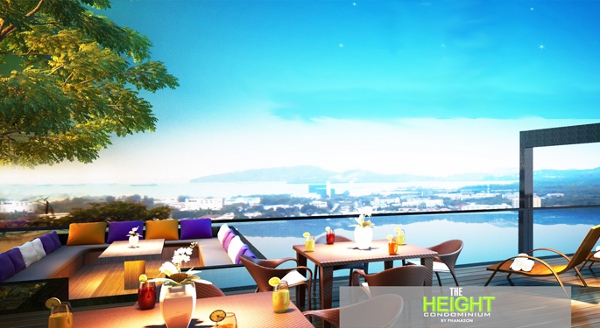 Phuket-based developer, Phanason Group has recently launched a medium-rise development in the island – The Height condominium, offering 301 condo units on 14 floors.
The Height will be a modern tropical condo development designed predominantly to meet the needs of people who don't want to stay far from the modern amenities and the nightlife of the island. The development offers units with high-end design, facilities and rooms with sea-views and city-views even as the project's selling point – the 40-meter-high tower will claim a noticeable spec on the city's rapidly changing skyline – is finding a lot of buyers with many units already booked in the first few weeks of its launch.
To be developed on a plot spanning 2,920 square meters, The Height condominium will offer 301 units on 14 floors (the full-function rooftop counted as the 15th storey). Units will range in size from 27 to 48 square meters, and come in three types – one-bedroom, two-bedroom and studio units. The majority of condos will be sized 27 square meters, while the 15 large condos will be a spacious 48 square meters.
The tower's rooftop is highlighted by a helicopter landing pad and an infinity edge swimming pool, promising a 360-degree view of the city and a picturesque sea-view to the east.
Clearing of the plot has already commenced and the project is scheduled to be completed within the three years. Meanwhile the list of amenities include, round-the-clock security with a manned/ CCTV security system, a fitness center, swimming pool, and ample car parking which, will be available on the ground floor as well as two floors of underground parking.
Location:
Just at the foot of Tor Sae Hill, off Suthat Road (Montri Road), The Height condominium development is just 1.4 kilometers from Ocean Plaza and Robinson Department Store and a stone's throw away from some of the island's best dining places and shopping arenas.
Pricing and offers:
The 27 square meter condos start from a million baht, while the 48 square meter condos are priced from 2.2 million baht. Meanwhile, to lure early birds, the developer is offering some considerable sign-on incentives.
Contact:
For more information, contact the Height sales office at +66 (0)76217395/6 or email them at info@phanason.com. Latest offers and construction status of the project is also available on their website, www.phanason.com.
To get more information & assistance, please submit the form below and our specialist will get in touch with you at the earliest.