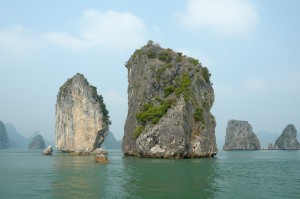 The provisions for purchasing property rights or leasing a property in Vietnam are directly tied to an individual's right to reside in Vietnam. It is therefore important to ensure that you can meet the requirements of obtaining a Residency Card in Vietnam before looking at purchasing land rights there. If you wish to work in Vietnam, you will also need to obtain a Work Permit. In this article we outline the necessary requirements for both Work Permit and Residency Cards.
Obtaining a Work Permit:
A work permit is issued to foreigners who can show a level of proprietary knowledge, special skill or a executive level skill that is not readily available in Vietnam. The permit must be sponsored by a company or entity that is registered and recognized in Vietnam.
A permit is valid for up to 3 years, but may be less depending upon the length of time of the assignment contract. A Work Permit can be renewed up to three times.
It is worth noting that Vietnamese law requires that at least 20% of managers, executives and specialists of foreign companies must be Vietnamese nationals, which in turn restricts the number of Work Permits that a Vietnamese business can sponsor.
For the purpose of obtaining a Work Permit, a manager and executive is defined as someone who:
Directly controls a foreign enterprise located in Vietnam;

Is subject to general guidance only by shareholders and the board of directors of the enterprise; or

Who does not participate directly in the provision of services.
A specialist is defined as someone with adequate experience in management, business administration, or product development. This also includes people who are highly qualified or experienced in research, equipment management and technical knowledge.
In order to be eligible for a Work Permit, you must meet the following requirements:
Be over 18 years of age;

Have good health that also meets the specific demands of their role;

Must not have record of a criminal or national security nature, and also must not be currently facing criminal prosecution or serving a criminal sentence; or

Must be a specialist, manager or executive as per the definitions outlined above.
A Work Permit will be cancelled when the term of the contract ends.
In some cases a foreign national is not eligible for a Work Permit, but can work in Vietnam on a business visa under specific circumstances. These include:
People who intend to work for less than three (3) months or to resolve emergencies;

Members of a limited liability company that has two or more members;

Members of the board of directors of a shareholding company;

Owners of a single-member limited liability company;

Employees that promote and market services belonging to foreign service suppliers; or

A practicing lawyer certified by Vietnam's Ministry of Justice.
A Work Permit costs approximately US$20.
Obtaining a Temporary Residence Card:
Generally a foreigner with a Work Permit must also apply for a Residence Card. This is usually issued for the length of time of their contract. You can apply to obtain a Temporary or Permanent Residence Card if you meet one of the following requirements:
A member of a Limited Company in Vietnam which was set up with more than two members;

The owner of a One Member Limited Company in Vietnam;

A member of Board of Directors in a Vietnamese Joint Stock company;

A lawyer who has been granted a law work permit in Vietnam;

An employee with a related work permit and are working in a Vietnamese enterprise or Representative office of a foreign Country in Vietnam;

An expert or student who is working or studying in Vietnam on national projects signed by ministries and approved by the government; or

A family member of someone who has been granted a Vietnam temporary or permanent residence card.
A Vietnamese temporary resident card can allow you to live in Vietnam from one to three years. It also means that you do not need to renew your visa every 3 months. The fee for a Residence Card can be up to US$100.
Obtaining a Permanent Residence Card
Permanent Residency in Vietnam is open to foreigners only in very limited circumstances. To be eligible to apply, you must meet one of the following requirements:
Be a suppressed person who fights for the freedom and independence of the Vietnamese race, for socialism, for democracy and peace and for science;

Be a person with distinguished services that have contributed to building and protecting the Vietnamese Fatherland; or

Be a spouse, child or parent of a Vietnamese citizen residing permanently in Vietnam.
The Permanent Residency Card is valid for three years and makes entry in and out of the country relatively easy. At the end of three years, the card can also be renewed. The fee for a Residence Card can be up to US$100.
The circumstances in which you can obtain a Residency Card in Vietnam are quite limited, particularly when compared to other countries in the region such as Thailand. However, if you wish to purchase property rights in Vietnam or lease a property you will need to satisfy the requirements of and have a Resident Card. You can find more information on how to obtain purchase land rights or lease a property in Vietnam in our article here.

To get more information & assistance, please submit the form below and our specialist will get in touch with you at the earliest.