A recent survey on residential projects in Phuket conducted recently has shown that there are currently 23,340 units available on the island. The survey on Phuket real estate was conducted by Government Housing Bank Real Estate's Data Center whose Director Mr. Samma Keetasin, told a media house that there was a total of 9,940 house units, 1,280 bungalows, 4,430 National Housing Authority condominium units, 720 National Housing Authority house units and 6,970 condominium units across Phuket.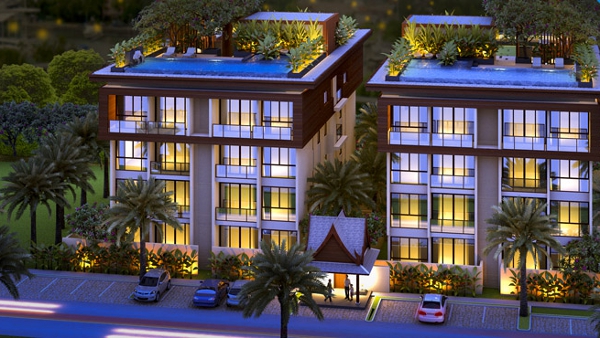 Phuket's surging real estate market can be attributed to the fact that it is not influenced by Thailand's economic situation and instead it is influenced by the world economy and tourism. There is always a huge floating population in Phuket around the year and a large number of people come to work in Phuket. Because of these reasons the island has a huge demand for housing for three categories of people – the temporary tourists looking to buy vacation properties, locals and foreign nationals who decide to reside in the island for a longer period of time.
Based on the available developments and demand from buyers, Phuket offers its buyers:
CONDOS: Owing to the rules for foreign nationals buying property in Thailand, condos are always a more popular choice. Condos are springing up in many parts of the island, and most of them offering rental guarantees of 6 percent, for three years in some projects in Patong and nine years for another project in Karon. The condominium market of Phuket can be segmented into three distinct groups – those with an asking price of anything below THB50,000 per square meter (US$1,580) representing 45 percent of the total market; properties priced between THB50,000 per square meter (US$1,580) and THB100,000 (US$3,161) also accounting for 45 percent of the market and the above THB1000,000 per square meter (US$3,161) group which presently has a total group share of five to seven percent. Meanwhile in the Phuket resort condominium market, 84 units were sold in Q1 of 2012. Sales were concentrated in five projects where the main sales were one bedroom units with average prices of THB 5.9 million (US$186,888). There are about 3,700 completed resort condominiums in Phuket.
TOWNHOUSES: Townhouses have regained their status as the most popular type of residential units in the island, making up around half of the new offers during the month of July. A total of 6,689 residential units worth 20.21 billion baht from 36 projects were launched last month, of which 3,296 units were townhouses, 2,282 condominium units (34%), 769 single houses (11%) and the rest other types of developments.
VILLAS: It is not a recent trend that villas were always the most favored property type in Phuket. But recently Phuket is continuing to attract holiday makers from all over the world who prefer to rent private villas preferably in the various Phuket beach resort developments instead of staying in hotels. In the first half of 2012 the Phuket villas market witnessed a great deal of activity with several developers in the island saying that buyers have showed renewed interest in their villa offerings. Recent inquiries have been made for the northern part of the island from mostly Europeans and Russians.
If you are looking to buy a property in Phuket click here for information on some of the best developments in the Island.
To get more information & assistance, please submit the form below and our specialist will get in touch with you at the earliest.