When a traveler is looking for a property where he can holiday, he would not be looking for just a room with a bed in it. For him this is the time to relax and indulge himself along with his family or friends. Plus, most renters want the conveniences of his own house and even more in a holiday home. So he would give more importance to the amenities a holiday home owner is offering. Before I go into how you can attract travelers with the amenities you have in your holiday home listing, let's take a look at the top amenities that travelers usually look for or search in search engines and those that influence their decision-making.
Swimming pool: This is the top amenity that travelers search for when they are looking for an accommodation.
Jacuzzi: Another amenity which travelers love is a Jacuzzi. Many travelers book a vacation rental property only when there is a Jacuzzi. So having one in your property can increase your bookings manifold.
Pet-friendly: Travelers who travel with pets will invariably look for only pet-friendly holiday homes. This segment of travelers is quite large to be ignored. Although this is not a part of the amenity list, I have mentioned it here to drive home the fact that a bulk of travelers actually search for pet-friendly homes only. So if you can make your vacation rental pet-friendly without having to change a lot of things, it gives you the opportunity to cater to this segment of travelers too.
Hot-tub: Homes with a hot-tub have chances of getting more bookings than those without. Many travelers shortlist vacation homes to stay based on whether the property has a hot-tub or not.
Internet: Today providing Internet, preferably with a Wi-Fi router in almost a necessity in a holiday home/ home. Travelers ideally love to stay connected with the world even when they are on a vacation.
Other amenities: Other top amenities which travelers look for in a holiday home are satellite TV, pool table, lawn and fire-place. So having a couple of them will ensure that you are able to cater to a larger traveler base.
ATTRACTING GUESTS WITH YOUR AMENITIES: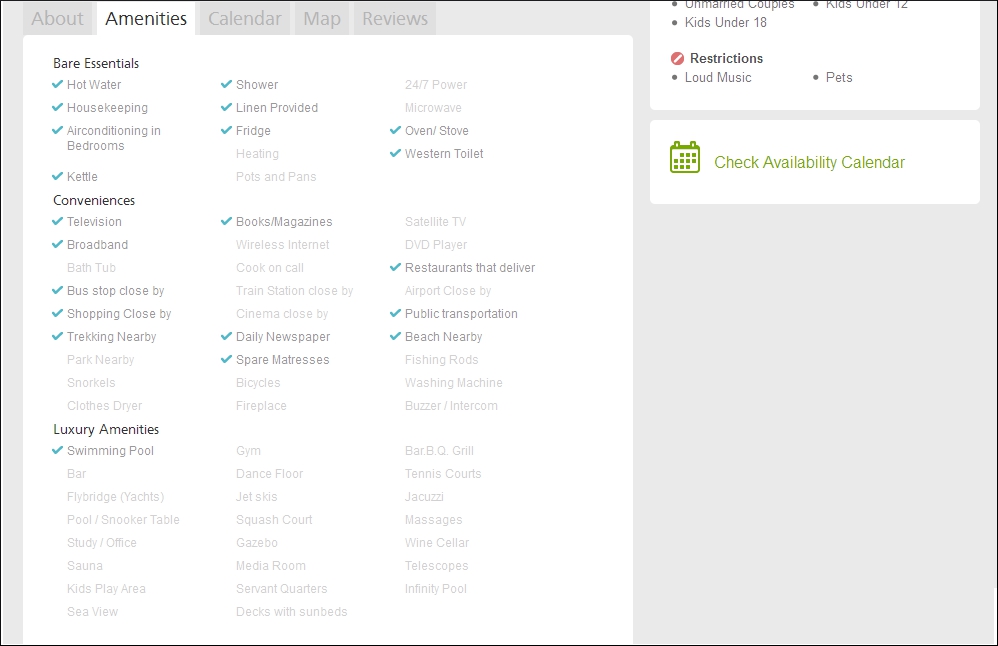 Many a time, owners argue that despite having most of these amenities mentioned above still they are unable to garner much interest from travelers. The fact which owners need to understand here is that just having these amenities is not enough. You need to tell travelers about them. If you are not writing about them in your holiday home listing then how do you expect them to know? So here's what you should do:
When you are writing the description of your holiday home listing, include amenities in your description. Write about them in detail. Owners ideally argue that there is a separate section where you have check boxes for things that you have on your property. But you never know which sections of the listing potential renters will read and which they will skip over. So the fool-proof way is to mention these amenities in the description too. And also don't forget to mention them in multiple places of the description.
Better still, you can mention these amenities in the description in a tabular format which will attract maximum attention of the renter.
The trick here is to spell out everything you have in your property whether it's a pool, tennis courts, hot tub, full kitchen, or Internet. When travelers see these amenities in the description of your listing, they go to the section where the amenities are listed just to confirm. In most situations they have already decided to book your home.

Don't overlook anything. You might have a pool table, which you might feel is not worth mentioning, but for many travelers this might be a major attraction. Ideally amenities tell travelers about the extras and plus side of your house, so why ignore their importance.
To get more information & assistance, please submit the form below and our specialist will get in touch with you at the earliest.