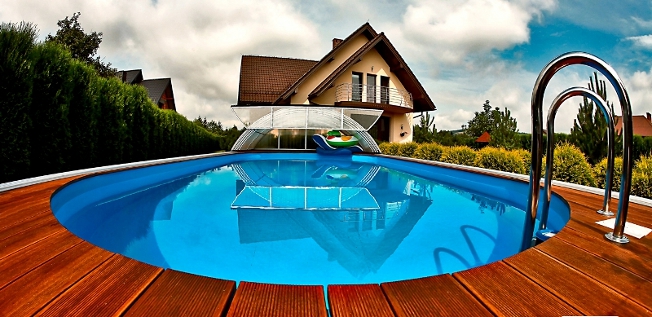 From standard amenities, such as air conditioning, telephone, and washing machine to Jacuzzi, gazebos and barbeques (BBQ), travelers search a wide range of amenities before settling to book a holiday. Because of the wide array of amenities travelers look for, it is sometimes challenging for holiday home owners to know which amenities will add the greatest appeal to their holiday homes and would give them an edge over their competitors. Whether it's a fully stocked kitchen or wireless internet, guests want all of the comforts of home plus a few little extras to make their vacation a memorable and relaxed experience.
Based on our daily interactions with travelers, we have prepared a list of the top 10 amenities, offering which, could mean more inquiries and subsequently more bookings.
Pool: Typically guests look towards having some fun during their holiday and what better way can it be than to take a plunge in a pool?
Jacuzzi: By searching for 'Jacuzzi' the traveler might actually be meaning a whirlpool bathtub or a jetted bathtub. So if you have a jetted bathtub consider checking off both the hot tub and Jacuzzi check boxes in the amenities section of your listings.
Hot Tub: Though a mere necessity for holiday homes in the cold climes, hot tubs today have become a must-have amenity even in other places too, where guests can soak in the warm water and relax their muscles. For owners of holiday homes in destinations with longer winters, a hot tub can increase your off-season bookings too.
Internet: Guest even on a vacation will like to be connected with friends and family, be it to update their status or upload images on Facebook or check their emails occasionally. Thus wireless internet has become the preferred amenity they look out for. If you are not offering a WiFi connection, it can be a good move to get one.
Pet Friendly: Today guests traveling with pets is a huge segment that you can't ignore anymore. The benefits of accepting pets are many. Not only will you be reaching out to a larger market, you can also include some guests during the off-season. Contrary to what most owners conceive, actually allowing pets involve less hassles than one thinks.
TV: Many guests love to just laze around and watch the re-runs of their favorite sitcoms and games – not surprising that 'TV' remains a very popular search term amongst travelers. So when you are adding the list of amenities you are offering in a listing, howsoever inconsequential it may seem to you, include more details about any high-end televisions you may have, or keywords like 'Cable' and 'satellite TV' if you have. These keywords also rank highly in searches of travelers.
Tennis: Being a popular game, travelers ideally search for it. In most cases you might not have a tennis court in your backyard, but it is good to add some information on the nearest court where a guest can play – may be inside your gated community or in the locality.
Pool Table: Since the rules of the game are easy most guests like to try their hands on the game. Plus when the weather is not conducive outside pool tables can be a good source of entertainment.
Fireplace: If your holiday home is in a cooler climate, travelers will look forward to cuddling up by the fireplace after a long day outdoors.
Barbeque (BBQ): No matter what type of outdoor living area you have, you can easily grab the attention of travelers with a barbeque (BBQ). Who won't love to savor some smoked steak with a beer on a late Sunday afternoon?
WHAT YOU SHOULD DO – TIPS TO HOLIDAY HOME OWNERS:
Interestingly for many owners, they are aware and are offering these amenities, but still aren't able to attract much inquiries because they are not adding them in their list of amenities in their listings. For most vacation rental listing websites, unless you fill out the amenities section of your ad by checking all the relevant boxes, your property won't appear in the search results when travelers try to find a holiday home to rent. Owners must understand that while these amenities might not sound as exciting to you, they are actually important to be mentioned in your listing. Otherwise, travelers may not find your home when searching, or may just assume you don't have something they are looking for.
Meanwhile if you are considering adding new amenities to your holiday home, these top requests from travelers can be a great starting point. And once added don't forget to update all your listings so that travelers are aware of everything you have to offer.