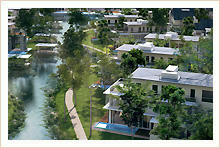 The Residences at Putra Heights was awarded the Best Villa Development in Malaysia at the South East Asia Property Awards in 2012. Taking a look at this luxurious and modern development it is understandable to see why it has received such prestigious accolades. With a reputation for developing innovative properties with a focus on sustainability.
Located just 30 minutes from KLIA, and with access to 6 main expressways, The Residences are close enough to Kuala Lumpur to commute if required, but far enough way to make a great second home or retirement location.
About The Residences
The Residences is part of a broader development project called The Glades. Set on 58 acres, this project is designed to make the most of the natural surroundings, whilst also providing the best of community amenities and services for its owners. The development is comes with a wide variety of luxury comforts including unlimited internet access including 2 years complimentary broadband, video phone that has free connection to main guards.
Security is an important feature of this gated development, that also has electrified fences and guards just a phone call away. A central monitoring system, home alarm and CCTV monitoring, all ensure that you are safe and secure within the confines of the community.
With 80 villas available all located on a land area of between 5,800 to 9,500 sq ft, The Residences aims to provide comfort and quality in a private and secure setting. The development is tropical inspired with a contemporary twist, with each villa containing the luxuries you would expect from a prestigious development. Each bungalow has three storeys, a private swimming pool, roof top terrace and of course its own elevator to ensure easy access. The homes are also fitted with an integrated home automation system, air conditioning.
Villas in The Residences start from US$1.3 million (RM 3,888,000) onwards.
Other properties available within the The Glades development include:
The Encore which are semi-detached villas;

The Ensemble with Bungalows and Villas including their own courtyard, starting from just over US$700,000 (RM 2,174,000);

The Mews which are townhouses starting from US$460,000 (RM 1,425,000); and

Condominiums at North and South Brooke.
Sustainability is a key feature of the project, which has ensured that natural lighting and ventilation is maximized wherever possible. Other key sustainability features include tinted windows to reduce heat, rainwater harvesting, solar water heaters and a centralized waste management system.
For those who like to get outdoors, the development has over 5 kilometers of landscaped walkways, open parks and plenty of natural grass. They have designed the property to encourage residents to walk rather than drive. You can wander down to the waterfront clubhouse which is open only to residents, who can enjoy its facilities which include a 50-meter infinity pool, sauna, gym, yoga deck and tennis courts. There will also be a restaurant, BBQ area and viewing deck.
A retail village called the Glades Plaza is also underway with hand-picked operators to service the day to day needs of residents and their guests. This will include restaurants and cafes, a laundrette, grocery store and pharmacy. There will also be 24 hour medical assistance available from the Sime Darby Medical Centre. These facilities will be available to residents with a subsidized management fee.
About The Developer:
Sime Darby Property Division is an award winning developer who has undertaken significant projects in Malaysia, Singapore, Australia, Vietnam and China. Their focus is on building sustainable communities, and they seek to be the premier community developer in Malaysia. Their standards are high, with customers offered security and quality, in their lovely new home.
Contact:
To find out more about The Residences or the Putra Height development, please contact Sime Darby Property:
Phone: +60351017888
Email: crm.property@simedarby.com
To get more information & assistance on The Residences, please submit the form below and our specialist will get in touch with you at the earliest.