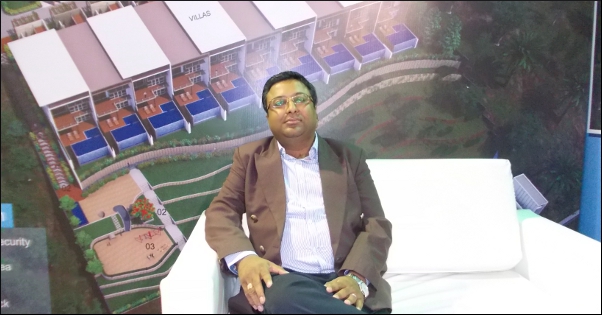 When we talk about holiday home properties in Goa and the locations where one should invest, we always tend to zero in on North Goa, which is relatively a more happening place, owing to some of the most touristy beaches, colorful bazaars and a vibrant nightlife. But for those looking at a much quieter holiday, all the while, remaining close to the beach and amidst a greener surrounding, South Goa beckons them. There are a couple of very good beaches, including my favorite – the Bogmallo beach – which vacationers enjoy and is also a good location to invest on a holiday home. So, for intending buyers looking to buy a property in the much quieter, but equally beautiful locales of South Goa, we spoke to Mr. Suresh Goel, the Senior Manager- Marketing and Sales, about his company's apartment and villa project located just a couple of kilometers from the coastline.
The interview…
Can you tell us a bit about your group and your previous projects? Who are the promoters etc?
We are a Bangalore-based company and in our decade-long operations we have forayed into real estate development, education, SEZ development, infrastructure, township development, facilities management, embedded technology and aero accessories businesses. Our businesses have presence in several metros including Bangalore, Hyderabad, Kolkata, Vizag, Pune, Goa and Jaipur to name a few. The company was formed by Mr. Bijay Agarwal, who is the group's Chairman and Managing Director. He has been associated with the real estate business for more than two decades. We are also the recipients of the CNBC Awaz CRISIL – CREDAI Real Estate Award, 2010 for the Best Luxury Apartment in Bangalore and Best Commercial Complex of India.
Tell our readers something about your new project in Goa.
Our latest project in Goa, Water's Edge is a combination of 2, 3 BHK apartments and 4 BHK villas. The development is located in South Goa on a hilltop overlooking the Zuari River. The project is being developed in a total area of 4.7 acres and was launched just two months back and construction has already started.
How many units have you sold in this project and what stages of completion are the past projects in?
The project has been launched recently and we have sold quite a number of our units.
Most of the developers we get to see have their developments in North Goa which is the most touristy and happening region in Goa. So why would someone want to buy in South Goa?
No doubt, North Goa is a more happening area in terms of beaches, nightlife and availability of dining options, more and more people are looking to settle in the quite areas of South Goa instead. Firstly because it gives them an option to stay away from the regular touristy activities, North Goa being just 45 minutes drive from here, whenever they want to enjoy they can always go there easily. Secondly, South Goa though is relatively quieter has some very beautiful beaches and options for dining.
How accessible is the project for residents? What is the best way to get there?
The development is merely 5 kilometers from the airport, 7 kilometers from Vasco city and 3 kilometers from the Bogmallo beach.
How long do you anticipate will the possession of this project take?
The project will be completed by June 2014
Can you give us some salient points about the architecture and the floor plan of the units? What was your thought process while designing the same?
The project architect of Water Edge is Kabir Hira from Bangalore which specializes in commercial and residential developments, individual homes, restaurants and bars, and interiors. The gated community will comprise of 2BHK apartments of 1645 to 1710 square feet, 3BHK apartments of 2360 to 2415 square feet and 4BHK villas measuring 5590 square feet.
What about the pricing?
The apartments are priced at INR 4850 per square feet and the villas are priced at INR 7800 per square feet.
What is the clientele you are looking at to buy a property here?
We are looking at Goans living abroad and buyers from metros like Mumbai, Bangalore, Pune and Delhi who are looking for a second home in Goa
What are the amenities/ services you will be offering within this project?
Apart from a Valet parking and bell desk, our list of amenities/ facilities include a clubhouse with indoor game facilities and steam bath, a swimming pool, gymnasium, children's play area, video door phone, landscaped gardens, etc.
What are the resorts or hotels in close proximity to your project?
There are several resorts and hotels near the development like the Bogmallo Beach Resort, Best Western Devasthali, etc. Then there are numerous hotels in Vasco which is just seven kilometers from here.
Will you be providing any rental to the owners when their properties are vacant? Suppose an owner uses his property as a vacation home for guests to earn some money, is there any services like key holding or providing a caretaker?
As of now, we haven't decided on this. Probably after the completion of the project we will take a decision on this.
Do you see investing in second homes as a good option from the perspective of financial return? What kind of appreciation can an owner expect if he were to invest in your property over the 3,5,10, 20 year horizon?
Definitely. If you look at the property appreciation trend of Goa, you will see that it has been phenomenal. A buyer can expect anything between 40 to 50 percent appreciation on their property within three years. If the owner is ready to wait, he will definitely get even more returns on his investment.
Project Status:
This article was last updated on 25th Oct 2020. The updated phone number is 91 8390000623 and the updated email is connect@sattvagroup.in
To get more information & assistance on Waters Edge, Goa, please submit the form below and our specialist will get in touch with you at the earliest.