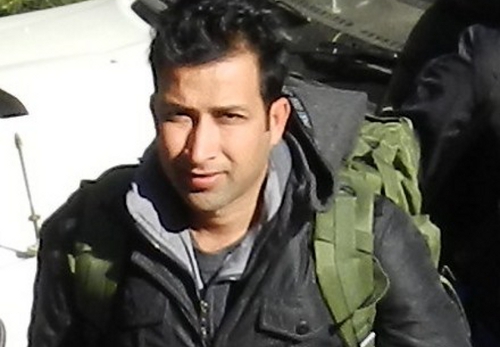 Yet another case of a youngster throwing up a flourishing corporate career and giving in to the lure of the road less travelled. Meet Vikram Singh Panwar, who, after doing his PGDM from IIM-Ahmedabad, stepped into the corporate world. But, before long, the charms of nature beckoned and stepping out of the rat race of the concrete jungle, he set off to meet his destiny in the hills near Dehradun. In an exclusive interview, he tells Holiday Home Times why and how this transition happened.    
Tell us something about your personal and professional background.
I have been involved in academic and professional pursuits of diversified nature guided more by choice than by design. After doing my graduation (BSc) in Nautical Sciences from Training Ship Chanakya, Mumbai I sailed for couple of years on Norwegian Ship. During this sailing stint I have a distinction of circumnavigating the globe. In 2010, I did my PGDM from IIM Ahmedabad, worked with a leading steel company (Ispat Steel) and an IT startup before starting my own venture.
However I left my plush appointment to work closely with nature and people by forming a social enterprise, The Road less Travelled Ventures (TRLTV). TRLTV endeavours to promote alternate tourist destinations by designing attractive experiential tourism packages through the partnership of local community. Blue Canvas Resort, Chakrata is a fruition of our one-year effort of promoting Chakrata as an attractive tourist destination. The Resort is based on an unconventional concept of "Less is more" which endeavours to provide best of travelling experiences through development and sharing of community resources.
Why did you decide to settle in Dehradun?
Dehradun was always my preferred option for a start-up. The place has immense potential for promoting outdoor activity based tourism. Major advantage is its surface and air connectivity being well connected with road, rail and airways at all times.Dehradun provided an ideal platform and test bed for launching my concept of promoting 'lesser known destinations' being  located in the foothills of the Garhwal hills which is an ideal gateway to various exotic destinations  like Chakrata,Har Ki Dun, Dayara Bugyal, Valley of flowers and many more such  less travelled destinations.
The idea was to start from Chakrata and then subsequently move on to other destinations close to Dehradun.Chakrata is an unexplored paradise housing some of the most exotic locations amidst thick Deodar and Pine forested area. A huge potential exists for development of adventure, cultural and recreational-based tourism. The area provides immense possibilities for undertaking activities like trekking, skiing, rock climbing, rappeling, river rafting, etc. round the year. Further, barely being three hours away from Dehradun, the accessibility is not at all an issue.
When did the idea of the Road Less Travelled hit you? What do you do exactly?
I have always been a keen traveller. During my tour to various places, I realised that there are a number of places in our country which have seen rampant rise in tourism and at the same time there are other places having huge tourism potential, but untouched by tourists and tour operators. The existing tourism destinations have become overcrowded, an exact replica of the city life from where people are trying to escape from. These places have lost their local character and has imposed huge load on the existing infrastructure turning the places into concrete jungle.
The road less travelled is a common man's effort to develop the lesser known destinations in a sustainable way through involvement of the local stakeholders. We have planned to establish base camps and homestays with minimum disturbance to the local character of the place by preserving local culture and natural resources. Of late, occupation of huge agricultural lands in the name of sustainable tourism development is taking place which is displacing the local populace from their own roots. Most of such resorts aim at creation of luxury islands in the midst of the villages by occupation of huge chunks of agricultural lands in the garb of development of sustainable tourism. Our first camp (Blue Canvas Resort – Chakrata) is established on only a few hundred square metres taken on a yearly lease with no permanent construction yet it boasts to offer facilities comparable to many good luxury resorts. This has been achieved through development of community resources and involvement of local community.
What were the major challenges you faced coming from a corporate background and setting up an outdoor activity company?
The major challenge was acceptability of our 'Less is More' concept by the local stakeholders, financial institutions and the government officials. Early success of our Blue Canvas resort in Chakrata has validated the viability of our concept and removed the ill-founded pessimism from the environment. Many financial institutes and government bodies have now offered to come up in support of this concept. On the personal front, I have absolutely no qualms to take on my new ' Avatar'  as after slogging on the Corporate run of the mill jobs,  it was finally a dream coming true which is in line with my aspirations.
How would you compare the life of an adventure sports organizer with that of the corporate life before you started your company?
The outdoor activity venture conceptualised by us  include a wide range of outdoor activities like trekking, Mountain biking, rappelling, flying fox, rock climbing, river crossing, rafting, kayaking, camping, caving, Para sailing and so on. It is a welcome change to have an office with no confined walls, ACs, Desktops and no bosses to report to. The monotonous black suits and ties have gone off my shelves and I am now down to my 'bare necessities'.
What are the areas/ destinations where you organize these outdoor activities?
Presently, we have start ups at Chakrata, Har Ki Dun, Kinnaur, Spiti, Rohru (HP), Leh and Zanskar areas. We now intend to slowly move on to the North East areas and further south towards  North Kerala by next year.
Coming back to Dehradun, where you have settled down, do you own a property of your own? Can you tell our readers about it?
We have taken a property on short term lease in Chakrata (Dehradun) and developed it into a base camp "Blue Canvas Resort" Chakrata. It offers luxury Swiss cottage tents, restaurant offering local cuisines, tourist information centre and an extension counter to sell local goods. Located next to Korwa , a typical jaunsari village it provides an excellent opportunity for showcasing rich jaunsari culture to the travellers through our village visits .
What is the present level of activity in the real estate sector of Dehradun?
Dehradun is today the first choice for many people who settle down near mother nature. Because there are many hill stations nearby like Mussoourie, Dhanolti, etc., the real estate market has seen a lot of developers coming up with projects offering budget to luxurious dwellings. The city has also good healthcare facilities now. Property prices have shot up considerably since the last couple of years.
What are the different localities in Dehradun? Where do you stay? What would you recommend to others? Where do you feel many young people can live and form a community in Dehradun?
Our office is in Defence Colony in Dehradun which is next to my residential place. Dehradun is primarily a hub of educational institutes and large number of industrial set ups recently being developed at Sela Qui on the outskirts. The demographic profile dominated by young people and the location of Dehradun which is right at the foothills gives it a distinct advantage for adventure based communities.
Who are the other people like yourself you hang out with? What do they do there?
There are a large number of environmental/ social activists  and adventure enthusiasts operating in the area who have left their high stress corporate jobs to pursue their own dreams. I have made good friends with quite a few of them.
How has being in Dehradun impacted your social life?
Dehradun is a small place where people are very caring and intimate. Social get-togethers are quite common and the social life has therefore been quite active.
How's the nightlife of Dehradun? Any good places in Dehradun where you can hang out in the evenings, or any good restaurants/ pubs?
Dehradun used to be  a sleepy town which is now waking up to the metro culture. A few malls and multiplexes have come up which has infused some night life in the town. There are few restaurants and pubs along Rajpur road which are good for hanging out with friends and families.