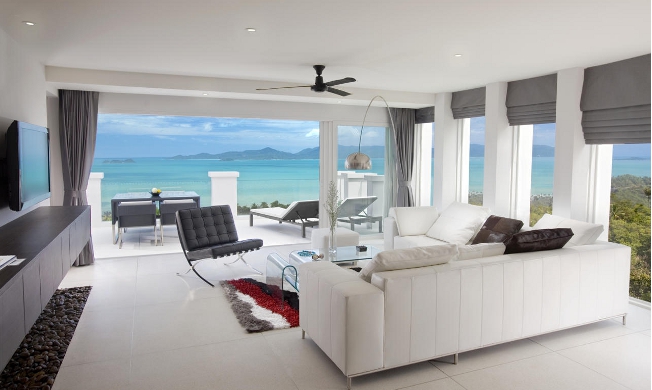 Buying a holiday home is a dream and aspiration for most upper Middle Class families today. We have seen numerous projects and continuous advertisements promoting the concept of weekend homes. However, until recently second homes used to lack one key component that made them unattractive to investors – Rental income.
Essentially a family owning a second home used to have to reconcile themselves to maintaining a 'white elephant' – a property that would need to be maintained for years, would be used sparingly and would serve as maybe a full-time residence for the owners once they retired. Vacation Renting has started to make a slight change to this and I'd like to outline below the top 10 things to consider before buying your Dream Holiday Home so that you can generate meaningful income from the same.
1. Joint Decision of the entire family: The first and most important aspect to consider is that the entire family is in agreement with the decision of buying your dream home. It will mean sacrifices and adjustments from all members and a commitment to spending significant time (at the expense of holidaying in other places) and resources in making the place a storehouse of happy memories. This is not possible by a unilateral decision by one member.
2. Accessibility: For you to enjoy your property as well as to attract Tourists to the same, the property needs to be accessible and a short drive away (max 6 hours) from a major city. It should be easily located by a first time visitor and in close proximity to some landmarks.
3. Weather: For your own use, buy a property that enjoys for most parts of the year weather that you enjoy and that is pleasant. If you are a beach person, buying in the mountains and likewise will mean you will not benefit from your own property. Having pleasant weather for most of the year will ensure that Travelers are able to visit your property for a longer window thus ensuring more income.
4. Tourist Attractions: It is always advisable to buy property in established tourist destinations. A good test is the number of hotels and resorts in the same locality as your property. Don't underestimate the amount of marketing and advertising these businesses will do to promote the destination and its benefit to you. In addition, you will always be able to do brisk business by offering families a discount to a hotel with comparable facilities. Pay special attention to attractions like pilgrimage spots, amusement parks, wildlife sanctuaries etc. in close proximity to your location.
5. Amenities: If you are buying in a 'compound' with multiple villas, pay keen attention to the common amenities that both you as well as anyone traveling to your property will enjoy. I would highly recommend buying in a location with a club house containing a restaurant and a swimming pool which is a big attraction for families with children.
6. Floor Plan: Avoid the floor plans that mimic city apartments with 3 bedrooms in descending order of sizes. It is best to have all bedrooms with attached bathrooms and of similar sizes. This will generate significantly more income as you will be able to offer comfort to larger joint families and couples travelling in groups.
7. Staff Quarters: It is advisable to have a full time caretaker staying at your Holiday home to avoid having to clean and do chores when on short visits. If you intend to have someone like this it is best to try and have a 'back of the villa' section comprising of quarters for a family and the main kitchen for your villa.
8. Legal Restrictions: It is important to research all legal matters surrounding the villa. You will need professional help for this and it is best to do two separate agreements – a land purchase agreement which will ensure immediate transfer of the land to your name and a construction agreement where the builder will get paid in installments based on work delivered. In addition to investigating the title also clarify if any restrictions will apply to letting out your villa to travelers or any such restrictions that will impact your ability to generate rental income from the property.
9. Language and other barriers: Buying in a cosmopolitan place or a location where the local population can speak one of the national languages will make life much easier and mean the place is more tourist friendly. Avoid places with law and order problems, history of communal violence or else a very strong anti-local sentiment.
10. Never lose sight of the budget: Always start your search with a budget in mind and do your calculations about the amount of income you could generate in an ultra conservative manner. Remember that getting many things done in a remote location will be more expensive than a big city and so you must budget for a significant amount in order to make the place hospitable.
Finally, there is a wealth of information on our website and I would encourage you to seek that out before making what could be one of the best decisions of your life. Making the right choice will mean your family will have a comfortable place to retreat to for every special occasion while also generating income that can be used to maintain the property, enhance the fittings and furniture with time. The Home will eventually be passed on to future generations so that memories continue to be built upon and the family bond remains strong and vibrant.
Please note: This is the first in a series of articles authored by Roshan D'Silva, founder of TripVillas.com that appeared in the Times Property – a supplement of Times of India – the largest selling English language newspaper in the world. This article appeared on October 30, 2010.
---
Want help finding a property overseas? We have listed the top destinations in Asia for retiring, investing, and buying right now. Our project reviews will help you make your dream of owning a holiday home a reality. Just click on the country, browse the properties we have featured and contact the developers directly:
---
To get more information & assistance, please submit the form below and our specialist will get in touch with you at the earliest.