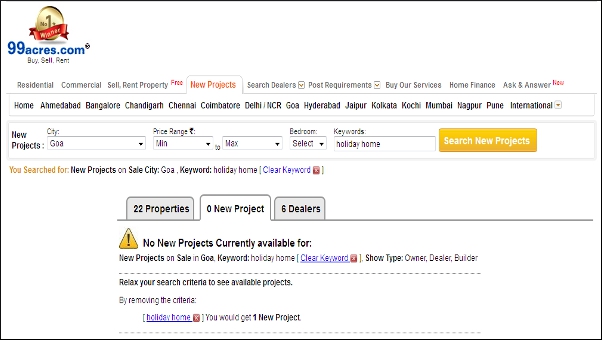 There may be several property listing and property classified websites in India like 99acres.com or Magic Bricks (Magicbricks.com), etc. but even with a host of property listing websites claiming to be using advanced technology it's not easy to find relevant, correct, and up-to-date information on holiday home projects in the country.
I tried going through the process of listing my property and what surprised me was the cost – 99acres charges 750Rs. for every 60 days listing. That means if I want to list my property for 6 months it would cost me about 2250 Rs. – a very expensive service indeed. No wonder most of the listings on the website are from professional brokers and real estate developers who create a listing and probably market 100 properties. This also causes many listings which are 'placeholder' listings for 2,3bHk apartments listed very cheaply and encouraging people to contact the advertiser who then – is willing to show you anything based on your budget choice, location preference etc.
When it comes to searching for new holiday/ vacation home projects in the country, I find these property classified portals have very limited or no options at all to choose from. I'm however not denying the fact that I did a get a couple of holiday home project listings in 99acres.com, but I had a tough time finding them because they were not segregated in the right group of listings.
It is surprising that considering the fact that there is great potential of the vacation home sector, there still remains a huge gap between the information query of a web user and relevant and accurate results that sites like 99acres or Magic Bricks show.
Today 99 acres.com, which is a part of the naukri.com group, claims to have 2,00,000 listings in its portal, but I seriously had a tough time finding a holiday home listing. The same was the case with Magic Bricks (magicbricks.com).
Considering the resources at the disposal of both 99acres and Magic Bricks and also with other property listing portals, I would definitely love to see a dedicated section for holiday/ vacation homes where users like me who wants to buy, sell or rent a holiday home can easily search and find the accurate results.
But till then I thought I would help you save your time in searching for holiday homes, by trying to list a couple of ongoing projects below, from which you can choose from.

HOLIDAY HOME PROJECTS YOU MIGHT BE INTERESTED IN:
I would be adding more projects as they are launched. So check this page from time to time.
To get more information & assistance, please submit the form below and our specialist will get in touch with you at the earliest.