The demand for second homes in India has escalated commendably in the last couple of years with buyers looking to invest in properties that offer the richness of nature and are easily accessible to the metros where they work. Second homes are gradually emerging as the new investment route that holds promise of higher returns. The development of second home projects plays a major role in contributing towards appreciation of land value. Interestingly, destinations closer to city limits are the most favoured.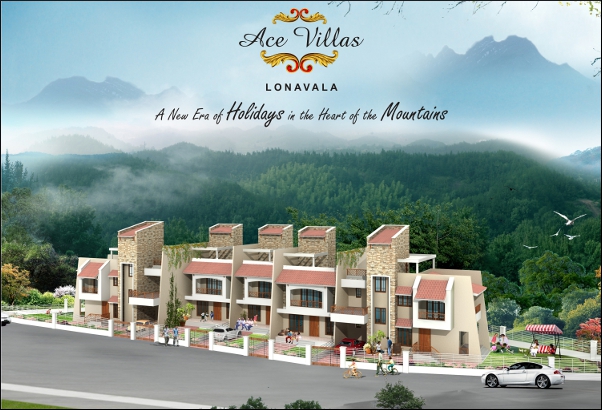 Once such destination is Lonavala, which has emerged as the most preferred destination to invest in a second home. Nestled amid the magnificent Sahyadri Mountains, this idyllic hill-station, boasts of fabulous weather all through the year. The lush green mountains, beautiful laid wide roads and its proximity Mumbai and Pune, and soon to be operational new International airport site in Panvel, have already made Lonavala a second home buyer's ultimate destination.
Today, we are featuring a new project located at the most-sought after address in Lonavala, the Old Khandala Road. This summer, this favourite weekend getaway for Mumbaikars will just get better with the latest offering from Ace Developers – the Ace Villas. Nestled in the lush-green hills of Lonavala and overlooking the Khandala Valley, the project houses five ready-to-move-in, fully furnished villas.
Next to the projects like Tata's Prive, and Peninsula's Nirvaan, the five villas of Ace Developers are just 3 minutes off the expressway leading to Mumbai. These 3 and 4 BHK villas are crafted from a choice of stone, glass, brick and wood, thus presenting an opportunity to live amidst the luxury the locality is known for. The villas are thoughtfully designed in two sizes to choose from – 2,754 square feet and 3,540 square feet areas. All the bedrooms breathe an atmosphere of privacy and solitude, overlooking the sprawling garden and the lush green mountains of Lonavala.
Amenities: These Villas are ready-to-move-in and you don't need to hassle yourself with setting up base from scratch. Air-conditioners in each bedroom, water heaters, Italian marble flooring, quality interior & exterior paintwork, and modular kitchens. Each Villa is tastefully designed with dual gardens, dedicated play areas, two terraces each, car parking, French windows which open up to beautiful postcard views right outside each villa. The lower gardens have a smart wooden deck so one can host parties in style. All villas are East-West facing so one can wake up to a beautiful sunrise, bask in natural daylight through the day and sip a favorite cuppa while watching the sun set in the horizon right from the villa.
VILLA SIZES:

Villa 1 & 5: Usable Carpet Area (excluding gardens, parking & terrace at roof level): 3,540 square feet.
Villas 2, 3 & 4: Usable Carpet Area (excluding gardens, parking & terrace at roof level): 2,754 square feet.
PRICING:
Considering the current property prices of Lonavala, Ace Developers have kept the prices of their villas very affordable.
For inquiries one can get in touch with Ace Developers directly; Call Pankaj at +91-9323543000 or Viram at +91-9930358544
Project Status:
This article was last updated on 30th October, 2020. The updated phone number is 9323543000 and the updated email is info@acevilla.in
To get more information & assistance on Ace Villas, Lonavala, please submit the form below and our specialist will get in touch with you at the earliest.