[wzslider]
Without doubt having a swimming pool can definitely increase the value of your holiday home. But if you have enough outdoor space, but do not have a swimming pool, don't get disheartened. An above the ground pool at your backyard can still make your holiday home the same fun place for guests as having a swimming pool! Still not sure how? Read on…
If your holiday home/ homestay has a lawn or a backyard, a pool can really add to the overall value of the property. However building a swimming pool is a costly proposition and requires lot of time and resources to maintain it. If it is not maintained on a regular basis, it may well turn out to be a big liability after a few years.
I would therefore like to recommend the use of above the ground pools, which are equally fun and requires very less maintenance. Today there are many companies that manufacture above the ground pools. But before I get to the product, here are some of the reasons why you should have an above the ground pool in your backyard:
Very Affordable: These above the ground pool costs less, but that does not mean they are of poor quality.
Durable: A good pool should last over 30 years.
Portable: Since an above the ground pool is removable, it is possible to disassemble it in the winter and put it back in the summer.
Options: More colours, shapes and sizes to choose from.
Installing: All you need is a water hose and some space in the lawn/ backyard and in an hour's time you are ready to use it.
Cleaning: Cleaning an above the ground pool is actually easier. Moreover, because it's above the ground, it does not get as full of flying debris as in a ground pool.
Now, I would here like to recommend two products, which can make your above ground/ inflatable/ instant pool experience real fun: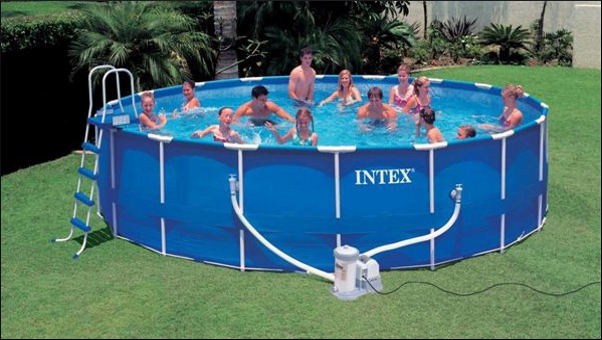 (i) Intex-Metal-Frame-Pool: This above the ground super tough pool has sidewalls of three separate layers of material which are strong and durable. Separate laminated band provides additional wall support, and the reinforced polypropylene rope round the bottom of the swimming pool liner keeps the legs firmly in position. This pool comes in two heights – 30 and 40 inches. The product includes a filter, pump, ladder and a surface skimmer. It costs around $130 and is a value-for-money purchase. For more information on this product click here…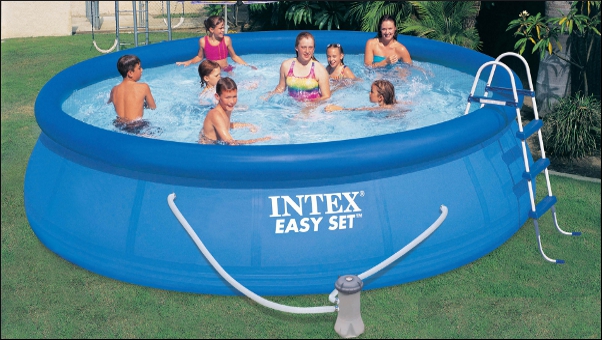 (ii) Intex easy-set air ring pool: When it comes to assembling, this is perhaps the most simplest of above the ground pools you will ever find in the market. All you need to do is simply spread out the pool liner on level ground, inflate the top ring, and fill it with water. It is also easy to put it away in the winter, and can easily be set up again in the summer. This pool comes in three heights – 30, 36 and 48 inches. The purchase will also include a filter pump. The cost of an Intex easy-set air ring pool starts at $65. For more information on this product click here…
To get more information & assistance, please submit the form below and our specialist will get in touch with you at the earliest.