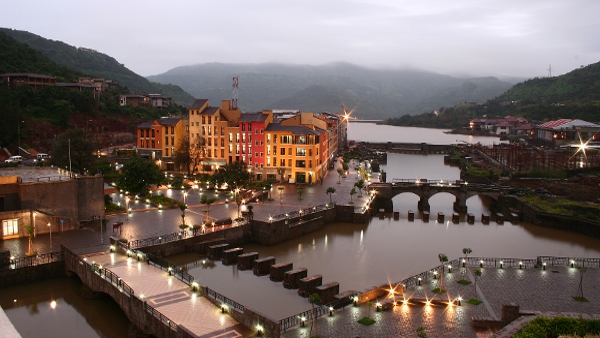 It's seems buyers of properties in Lavasa will have something to cheer about now! The chairman of Hindustan Construction Corporation (HCC), the company who is developing the project , Mr. Ajit Gulabchand today told The Economic Times newspaper that "Lavasa finally got environmental clearance from ministry of environment and forest."
"So you have a coming back to life in Lavasa and once the monsoon period is over we will look at a very rapid period of construction there," Gulabchand added.
ABOUT LAVASA:
Lavasa, the country's first hill station to come up post-independence, is located on the backwaters of Warasgaon dam on the Western Ghats, between Pune and Mumbai. Spread over 12,500 acres, it is unique in terms of its all-encompassing character and is a self-sufficient hill town.
Hindustan Construction Corporation (HCC) who is developing the project believes that, once complete, there will be 100,000 primary inhabitants and a floating population of a million. In other words, it's a vision of a self-sufficient hill town. Located at an hour's distance from Pune and three-and-a-half hours from Mumbai, Lavasa is a major hill city in the region encapsulated inside the mystic mountain ranges thus providing a perfect setting for a getaway for travelers and tourists. The hill city is blessed with pleasant year-round weather.
The development has won several awards for its plans and designs. In 2005 Dasve village in Lavasa won awards from the Congress for the New Urbanism and the American Society of Landscape Architects. In 2009 the St. Louis chapter of the American Society of Landscape Architects recognized the Lavasa landscape master plan with a merit award.
Sadly, the completion of Lavasa has be delayed hugely due to government red-tape and delay in giving the necessary clearances.
RESIDENTIAL PROPERTIES:
Lavasa has residential properties for people belonging to all economic groups — lower, middle and higher income groups. The hill town also provides contemporary and timeless architectural designs and multiple options for housing like rental housing and starter homes. The rates begin from Rs 10 lakh for a one-bedroom apartment and Rs 60 lakh to Rs 1.25 crore for a villa (around Rs 3,500 to 4,500 per sq ft approximately). Experts in the real estate segment opine that Lavasa provides exceptional value for money for an investor owing to its unique range of facilities and services, supported by world-class infrastructure.
Lavasa's wide range of residential properties include:
Studio and service apartments

Villas

Workforce housing

Retiree homes, etc.
For the benefit of the residents, the Lavasa Corporation has already signed an agreement with Oxford University of the UK to develop executive education facilities in the city. It will also have a school run by Girls Day School Trust to give international baccalaureate education. The company has also signed a joint venture pact with Apollo Hospitals for a healthcare centre. Lavasa has already started to host global leaders in hospitality, tourism, education, healthcare, business research and industry.

A TRAVELLER'S PARADISE:
Once completed Lavasa will also be a major tourist destination that will attract many people from neighboring cities because there are many recreational activities to attract tourists. Even today day-trippers frequent the city to be a part of the fun and amusement, the hill town has to offer.
The star attraction at Lavasa is the Warasgaon Lake waterfront and all development springs around it. According to locals, however, Warasgaon Lake dries up in the months leading up to the monsoon. HCC has taken care of the problem. It has built a mini dam that has created a reservoir holding of 1.8 million cubic meters of water.
While there are various accommodation options for travelers, it also has a variety of restaurants that offer different cuisines. Apart from these, travelers can experience thrills such as rock climbing, rappelling, trekking and team building camps, go kayaking, angling and other water sports for the entire family. Travelers can also try out a game of bowling, games console, NEOS wall and Electronic darts or explore the picturesque locales of Lavasa by a relaxing train ride. For kids Lavasa offers a designated play area which has been specially designed and fitted with equipment imported all the way from Europe to enable children to do what they love most –to play.
The hill city also has more than a dozen of restaurants offering continental, Indian, oriental and other mouth-watering cuisines. Travelers staying in Lavasa can also opt for a nature trail and take in the beautiful flora and fauna of this hill city.
Project Status:
This article was last updated on 30th October, 2020.
To get more information & assistance, please submit the form below and our specialist will get in touch with you at the earliest.