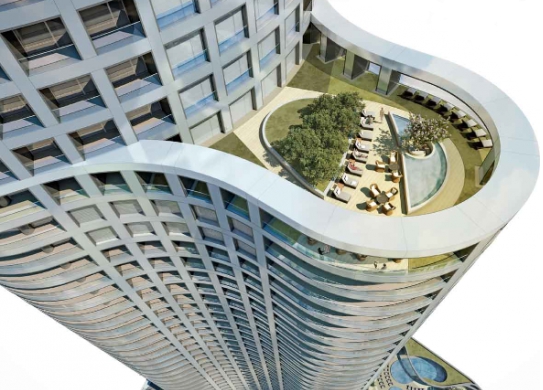 Mumbai-based luxury homes developer, Lodha, has partnered with iconic fashion designer Giorgio Armani's interior design studio, Armani Casa, for World Towers in Upper Worli in central Mumbai.
Armani, which has designed residences at iconic towers like Ginza in Tokyo and Burj Khalifa in Dubai, will do the interiors and décor in India for the first time, for World Towers, being built by Lodha. The World Towers project comprises World One, the world's tallest residential tower with 117 floors, and World Crest, another tall tower soaring over 700 feet.
The World Towers will have exclusive three and four bedroom World Residences, lavish World Villas, with a private pool and the luxurious duplex World Mansions with private pool, gym and personal elevator, and will flaunt a price tag of Rs 9.5 crore for apartments and up to Rs 100 crore for villas and mansions.
"The aim is to create an unique atmosphere where the combination of form, texture and colour is perfectly distributed in each room, and all is enveloped in a soft light," said a designer with Armani, who did not want to be named. She said they had already customised designs catering to India and to suit the Indian culture.
Abhisheck Lodha, managing director of the Lodha Group, said the company has got approval for World One for up to 90 floors only. A feasibility study is on for seeking permission for the remaining floors, he said.
On the partnership with Armani, Lodha said, "The Armani/Casa design perfectly expresses the concept of elegance while adding elements and values of the Indian culture."
Designer floor, tiles, ceiling and walls from Armani are quite a rage in upper class homes in India and Armani is all set to tap this demanding niche clientle through its first retail outlet in the next four to six months.
The designer from Armani also said the group has almost finalised on opening the first retail outlet of Armani-branded furnishings, tiles and bathroom fittings among other things, in Mumbai. "The first shipment is expected in the next four-six months. Once we set up a retail outlet, it will be open for those who can afford it," she added.
Giorgio Armani, president and chief executive officer of the Giorgio Armani Group, said in a statement that the World Towers is an all-encompassing undertaking that transforms their notions of architecture and technology, and is geared to create a new highest-possible aesthetic experience.
"It is the result of research with which I have been deeply involved, every solution from furniture to the finishes, has been designed to provide intimacy and create a sense of relaxation. These are qualities that the culture of the place has demonstrated to me. So I wanted to give this incredible city the style of Armani/Casa with a special quality: a play of light," said Armani, in the statement.
Project Status:
This article was last updated on 30th October, 2020.
To get more information & assistance, please submit the form below and our specialist will get in touch with you at the earliest.