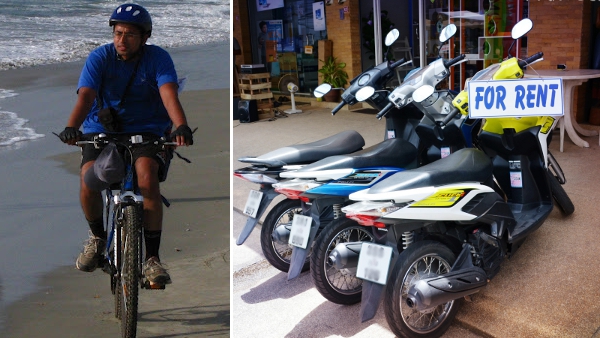 Most of the times as the owner of a vacation rental/ homestay you try to make things unique and different from your competitors to give guests something extra than just the room. However have you ever thought of providing a vehicle for guests to move around? Unless guests are driving down to your property, they always feel the need of a vehicle, which can actually increase their mobility. Guests ideally want to visit the various places of tourist interest in and near your area, but have to rely mostly on public transport which may not be reliable or may not ply near your vacation rental.
Providing a vehicle can not only add value to your property because guests would love it, but will also give owners an opportunity to earn more. You can charge for its usage and guests wouldn't mind. There are many properties who do offer vehicles for guests to use and they will tell you that they have indeed received more bookings solely because of this. So what can you do? Based on where your property is situated, you can actually go for the following:
(i) Bicycles: If yours is a beachfront property or in the mountains which see less traffic and suitable for people to cycle around keeping a couple of bicycles can be a good option. In many tourist destinations the places of tourist interest are situated nearby and cycling can be a good way to move around. Guests will definitely use the bicycles because it's a fun way to explore a new place. I still remember a vacation rental near a bird sanctuary offering bicycles to guests. It cost me just $2 for the entire day and I still remember it was real fun. Meanwhile, you can prepare a cycle tour of your area for guests too. Buying cycles are pretty inexpensive and require very little maintenance. Owners who have kept bicycles for guests with certainly tell you that it is a good investment and return on their investment too was good.
(ii) Bikes: Many owners in places like Goa, Phuket, Bali, etc. provide motorcycles for guests. They need to pay the rental, fill the fuel tank and they can go off for a ride to the beach or explore the area. In places like Phuket one can hire a bike for just 150 to 200 Baht ($4.8 to $6.4) for the day. If you are planning to keep a bike for guests make sure you take some precautions. First, if during booking the guest shows interest in renting a bike, ask him to send a copy of his driving license. In Goa you are required to submit your license with the owner, which you can pick up when you checkout – although I don't recommend keeping the license of the guests. The motive here should be to know whether the guest is legally permitted to ride a bike and that he is not a rookie. Bikes require a good capital investment, so making sure your investment is safe is justified and will definitely be appreciated by genuine guests. Moreover, make sure that you service it from time to time. You definitely don't want to get a call from a guest stranded somewhere because the bike broke down!
(iii) Car: Only a very small number of owners actually provide self-driven cars to guests because it requires a good investment and is also difficult oversee. However what one can do is contact a local cab service and ask them to provide one if guests require. Ask guests during the pre-payment conversation if they would require a car to move around. If they do, ask the cab service to send a car with a driver who knows the area well to your property. In case guests want to drive around themselves make sure you take a copy of their license and also advice the cab service to do the same.
Now looking at the benefits of providing guests a vehicle you might want to get one too. But before you do, here are some pointers to ensure that it does not become a headache for you:
1. Make sure you take a copy of the guest's license much before he arrives.
2. Make sure that he has at least a couple of years of driving experience.
3. Always keep a vehicle damage deposit so that you have something to fall back upon in case of damage to the bicycle or bike.
4. If there are teenage guests along with adults, make sure that you brief the parents/ adults on the dangers of giving the vehicle to the kids.
5. Make sure you put everything on the rental agreement, ask guests to read and sign it.
6. Also prepare a written document of the traffic rules on your locality and send it to them so that they are not caught unawares.
7. If you have made arrangements with a cab service, make sure you choose a reputed one. Tell the cab service that the driver should be friendly, experienced and cautious. Make sure they provide a clean and well-maintained vehicle.
To get more information & assistance, please submit the form below and our specialist will get in touch with you at the earliest.