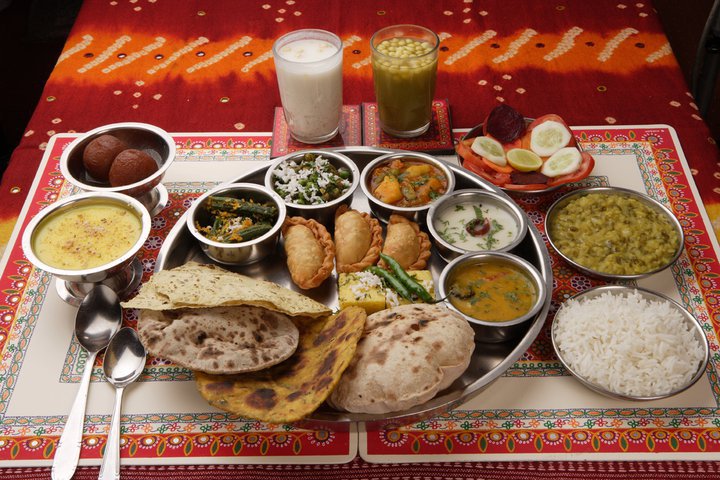 Rajasthani food is influenced by Marwari or warrior culture and also on the availability of ingredients in this water starved region. Food that last for several days was given more preference. Due to the scarcity of water, the cuisine involves use of milk, yogurt or buttermilk and ghee to wet the gravies. Most of the food is prepared in ghee and is predominately heavy in taste and texture. Besan or gram flour is used very often in the cuisine due to the scarcity of fresh vegetables. Lentil, bajra, chilies, corn and mango powder is very common in most of the dishes which are cooked in Rajasthan. Food is most often spicy and a lot of emphasis is given to vegetarian cooking. For a traditional Rajasthani, serving food is a formal event where the family sits down together and enjoys the piping hot food straight from the bhatti or choolah (wood fired open ovens).
The ancient princely state of Rajasthan gave rise to royal cuisine. The Rajas who went on hunting expeditions ate the meat or the fowl that they brought back. Even today, Rajasthani princely feasts flaunt meat cuisines that are incomparable. Though influenced by Mughal school of cooking, in essence their food remains uniquely local. Sula or Suda is a traditional meat preparation which is now slowly diminishing. It may be a search to find this dish but it can be all worth the effort. Traditionally, sula is made from meat of back of the goat leg. It is roasted over an open charcoal fire and once cooked hot ghee is poured over it. It is said that the resulting smoke is a source of flavour.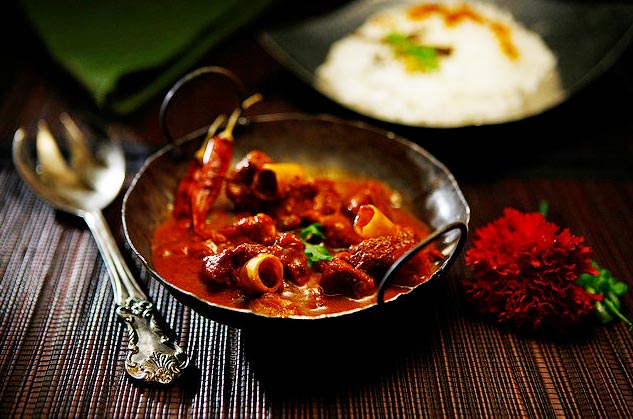 Rajasthani food is vast to explore and each region has something special to offer:
Rajput cuisine – Rajput food is rich, fiery and is predominately non-veg. Ghee, dry fruits and saffron are used in all their meat preparations. Rajput's eat biting hot fare in the blistering heat because they believe that to balance the heat of the exteriors; nippy food is the best bet for the body. Some of the traditional meat preparations are Mohan maas (meat cooked in milk), Laal maas (meat cooked in red chillies curry), Safed maas (meat cooked in pureed dry fruits and yogurt), Saanth ro achaar (wild boar meat pickled), Khad Khargosh (wild hare cooked and roasted underground). Laal mass is available in most of the places and I definitely recommend you to try it. Most of the meat preparation is had with bajra roti, slashed with generous amount of ghee.
Dal Baati Churma – Rajasthani food is incomplete without the mention of the famed dal baati churma. Baati is a wheat dumpling cooked in a tandoor. It can either be made plain or may have various kinds of fillings – onions, peas or mixed vegetables. It is accompanied with a dal and/or churma, a coarsely ground wheat crushed and cooked with ghee and sugar. This dish requires an acquired taste but I recommend it to taste the dish for its fame.
Pyaaz ki kachori – It is originated from jodhpur but it is available everywhere in Rajasthan. They are disk shaped, crisp and deep fried kachoris stuffed with lightly caramelized and seasoned onion filling. They are sold at most of the 'namkeen' shops in Rajasthan. It is served with mint and tamarind chutney.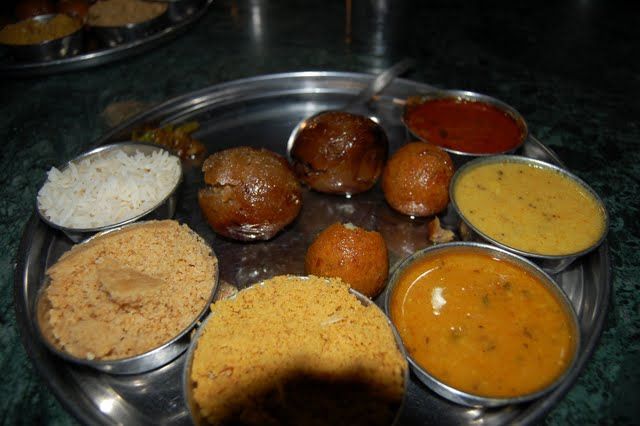 Sweets of Rajasthan – Sweets are an integral part of the Rajasthani food which are not merely used as desserts and are consumed before and even along with the meal. Besanchakki, Dilkhushaal, Churma, Balushahi, Motichoor ladoos, Ghevar are some of the popular sweets of Rajasthan.
Besides, each region is distinguished by its popular sweet – Mawa Kachori from Jodhpur, Malpuas from Pushkar, Papad and Rasogullas from Bikaner, Ghevar from Jaipur. Diljani from Udaipur, mishri mawa and ghever grom Jaipur, Sohan Halwa from Ajmer, Mawa from Alwar, kachora from Nasirabad, tilpatti from Beawar, the list is endless.
Rajasthan cuisine also supplements snacking items mirchi vada (green chilli fritters with or without stuffing), samosa, bhujiya, lassi are some of  of the items that are commonly seen in small shops.
Savoury snacks like daal-moth, mathri, bhujia, khatta-meetha sev and sweets like laddos, pedas and ghevar make a great take back home goodies. You can find these ready-to-eat munchies in hygienic, attractive packaging everywhere.
To get more information & assistance, please submit the form below and our specialist will get in touch with you at the earliest.