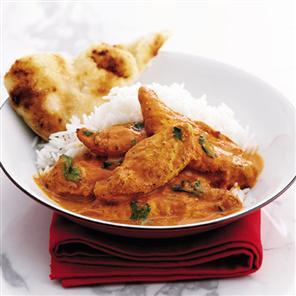 Punjabi food is the most popular Indian food not only in India but known globally. Punjabi food is known for its innovative cooking technique called tandoor; a hot clay oven cooks breads and dishes which are not only tasty but healthy too.
Chicken tikka masala is the most popular dish in UK and even renowned chefs like Jamie Oliver have tried their hands at making this dish. Punjab is truly a gastronomically delight for any foodie. Punjabi cuisine asks for a large appetite and as the locals suggest washing it down with a nice big glass of malia lassi (yogurt based drink topped with cream).
Wheat is the staple food of Punjabis; however, they do enjoy eating rice on festivities and other special occasions. Stuffed paranthas and milk products are consumed on daily basis by common people. In the preparation of Punjabi food, onion, ginger and garlic are used extensively to enhance the taste of the food. Chicken is used most popularly in many dishes. Lentils are also consumed very frequently. Fish is consumed only in parts of Punjab and the most famous or the popular fish dish is the Amritsari fish (deep fried fish flavoured with ajwain).
Traditional Punjabi thali consists of varied kinds of breads; some are baked in the tandoor such as tandoori roti, lachha paratha, naan and kulcha, while others are dry baked on tava like chapatti and jowar ki roti. There is another variety of roti called rumali roti, which is larger in size as compared to the normal one. Also, there are breads that are shallow fried such as parantha and deep fried such as puri and bhatoora.
Some of the must have dishes are:
Sarson ka saag: made from mustard leaves (sarson) and spices. This is typically a Punjabi dish tastes really delicious with makki ki Roti (Indian maize flat bread) and dollops of fresh butter or pure desi ghee (clarified butter). The fascinating mustard fields in the north during winters with hues of yellow and green are quite an exhilarating sight. This dish is available during winters.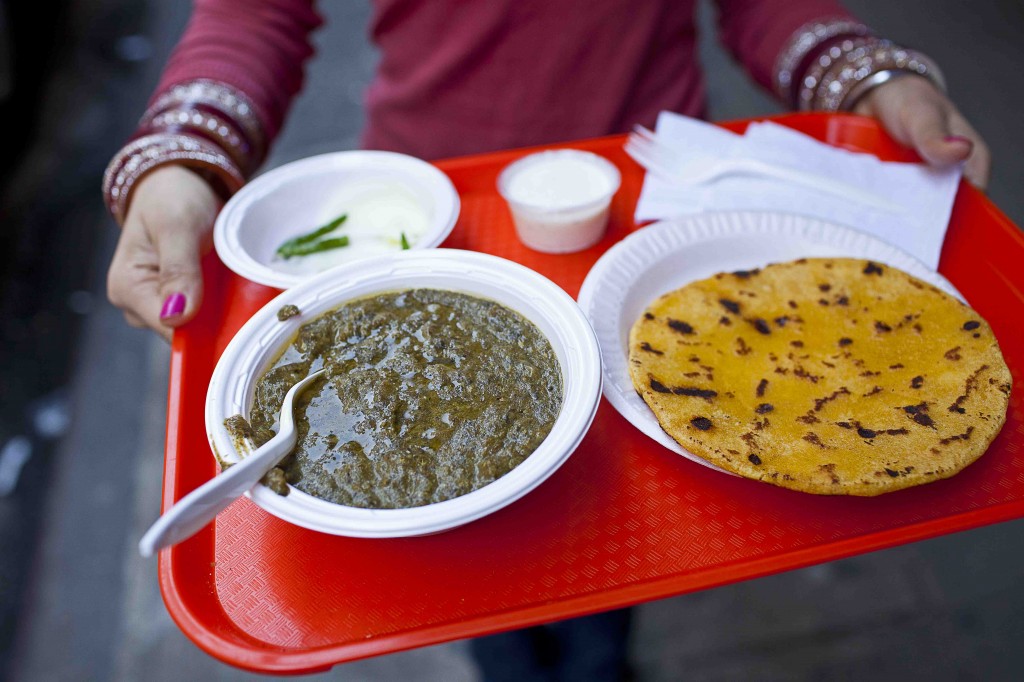 Tandoori dishes: tandoori dishes can be vegetarian or non-vegetarian but it is more popular for non-vegetarian dishes. Chicken or veggies are marinated and cooked in a clay oven called "tandoor" and hence most of the dishes served out of the tandoor are called tandoori dishes.
Tandoori chicken as a dish, has originated in the Punjab region of India/Pakistan, though tandoor cooked chicken dates back to as early as the Mughal era. This dish was invented by Kundan Lal Gujral, a man who ran a restaurant Moti Mahal in Peshawar. The tandoor in the restaurant was initially used to cook the Indian bread (naan, tandoori Roti).
The chicken or meat is marinated with yoghurt and a mixture of spices that form the tandoori masala. Apart from that, a mixture of ginger,garlic, green chillies paste and lemon juice is also applied. The marinating is kept for 6 to 8 hours to get a long lasting flavour and taste.
When the recipe is cooked with boneless chicken in smaller chunks, it is called Chicken Tikka. Tandoori Chicken pieces can be used to form other main dishes, such as using it in a rich butter flavoured tomato sauce, to get the famous dish called Butter Chicken.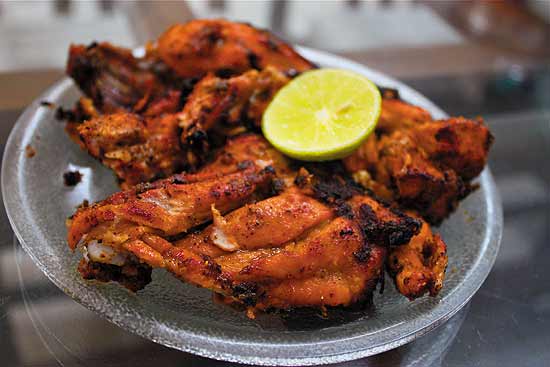 Mah ki daal/ Kali dal/ Dal Makhani: is a lentil slow cooked dish. Mah ki dal is made only with whole black gram, either spicy or bland. It is served with butter or ghee. Dal makhani is made with black gram and kidney beans. It is rich in taste with addition of cream and butter. It is served hot with parathas (plain) or tandoori rotis or naan or plain basmati rice with lots of salad and pickle.
Parathas: Observed as a traditional breakfast, parathas are eaten mostly in the mornings. Paratha shapes can be round, heptagonal, square or triangular. The round and square parathas are the most loved.
The word itself is a combination of two words – 'parat' and 'atta' (flour) which refer to layers dough that is cooked on a tava (iron griddle) with ghee or butter.
The sumptuous parathas are especially 'stuffed' parathas which contain a filling in addition to the butter inside. Popular fillings include cooked aloo (potatoes), gobi (cauliflower), mooli (white radish) or paneer (cheese). Other fillings include methi (fenugreek – added to the dough), keema, egg, daal, pyaaz (onions), peas or mix vegetables. Parathas are served with thick curds or yogurt and pickle.
Lassi is a very popular drink in Punjab. Lassi made by blending yogurt with water, sugar or salt or spices until frothy. Sweet lassi is served with butter and cream floating on the top.
Desserts like matka kulfi (is served in a matka, or earthern bowl with loads of saffron and pistas), kheer, atta ka sheera (a thickened porridge made from wheat flour, sugar, ghee and molasses) and jalebis are some of the popular sweets.
If you're up for a more traditional feast or experience then you must try "Langar ka khaana". Langar is the term used in the Sikh religion for the free, vegetarian food served in a Gurdwara and eaten by everyone sitting as equals. The food is normally served twice a day, every day of the year. Each week a family or several families volunteer to provide and prepare the Langar. The menu includes from chole puri to rajma chawal.
You can bring back various traditional packaged products like chole or tandoori masalas or Punjabi mixed pickle (with vegetables like carrot, beans and mango).
Note: If you're a vegan, it is advisable to check before you place your order as most of the dishes are served or cooked  with butter or ghee.