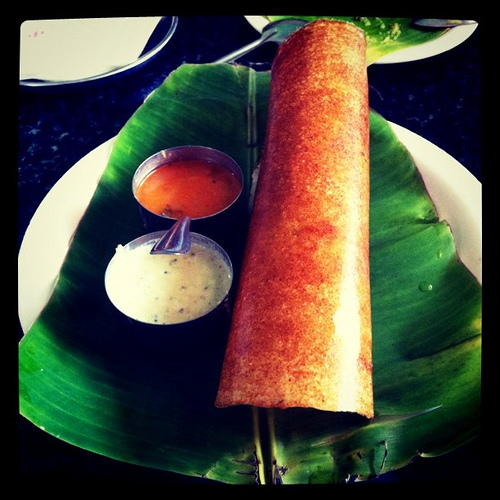 Karnataka cuisine mainly consists of vegetarian dishes and only few non-vegetarian dishes. The meal is served on a banana leaf. There are mainly three staple foods of Karnataka, rice, ragi and jowar. Every region of Karnataka has its own specialty and has been divided into different parts accordingly. Coastal regions of Karnataka take pride in their numerous and delectable varieties of sea food. And it has been found that dishes of Karnataka are not only rich in taste, they are highly nutritious as well.
Karnataka cuisine has been either influenced by plantation, region or lifestyle. Coastal peculiarities like the availability of coconut toddy- lead to delicacies like sannas. The arid region of north Karnataka which grows the bedki chilly gives a unique spice tone to the food. Karnataka population comprises of more farmers and hence the farmers carry food with them which could last through the day, this resulted in ragi mudde (millet balls eaten with saaru or gravy).
North Karnataka Cuisine
Bidar, Kalburgi, Vijayapura, Ballari and Belagaavi are the main districts of northern Karnataka. Main dishes of the region are rotis made of jowar and wheat. The rotis (breads) are served with different curries, which are mostly spicy. Rice too, like in other regions, is consumed highly with different side dishes like saaru, majjige (curds) and Huli.
South Karnataka Cuisine
Main dish of Southern Karnataka is ragi mudde which is taken with almost all three meals of the day. It is a round ball prepared by boiling millet in water. With rice, number of spicy curries like hurali saaru, bas saaru are taken. Hurali saaru is made up from horse grams mixed with various Indian spices whereas bas saaru is made from broth of lentils and spring beans. The rice here too is of different kinds. Kempanna is a different kind of rice red in color.
Various rice dishes like bisi bele bath (rice and lentils cooked together with spices), vaangi baath  (brijal rice with spices) and chitrana (rice dish) are used in all regions of Karnataka. Other dishes of main course that are common throughout Karnataka are ragi rotti, akki roti, kosambari (salad), and numerous saarus. Non vegetarian dishes in Karnataka are common to all places of the state. Koli bas saaru, Mutton chop curry, Meatball curry, Chicken pulao and Mutton pulao are the most favored non-veg dishes here. You can have a taste of this anywhere in the state. Although, to get the best of seafood, one should visit the coastal regions of Karnataka.
Udupi Cuisine
This is probably the most renowned cuisine to come out of South India. Dishes in Udupi cuisine are generally prepared from fruits, vegetables, grains and beans. The best dish of Udupi cuisine is without a doubt Masala Dosa that made it big not only in India but in other countries as well. Even today, Udupi cuisine follows the ingredients and method of preparation mentioned in the Vedas. No onion or garlic are in the dishes. Neither is any dish made from meat or fish.
Mangalorean cuisine is generally spicy and rice based. Fruits are an integral part of the Mangalorean menu. Fresh coconut and chillies are important ingredients used in this cuisine. Rice here is eaten in many forms like red grain rice, sannas (idli fluffed with toddy or yeast), pancakes, rice rotis, kori roti (a dry, crisp, almost wafer-thin rice roti which is served with chicken curry) and neer dosa. South Karnataka on its part is famous for its typical dishes like the bisibele bhat, ragi roti, akki roti, vangi bhat and kesri bhat. Malnad food is a blend of Coorgi and Mangalorean cuisine. The popular masala dosa is said to have originated from Udupi. Many other south Indian dishes are also named after this town. The cuisine of Udupi is strictly vegetarian, devoid of onions and garlic. Sambar, rasam, adyes (dumplings), ajadinas (dry curries), and chutneys are of the Udupi specialties. Some of the major ingredients used here are gourds, coconut, jackfruit, colocasia leaves, raw green bananas, mango pickle and red chillies. The cuisine of Coorg is quite different from other cuisines of Karnataka. The most popular dishes are pandi curry (pork curry) and kadumbuttu (rice dumplings). Apart from these, the koli curry (chicken curry), nool puttu (rice noodles), votti (rice roti), and bembla curry (bamboo shoot curry).
Some of the must have dishes:
Masala dosa – one of the most popular dish even known internationally is masala dosa. A crispy rice based crepe with potato filling served with chutney and sambar. It is easily available in any part of Karnataka. A great breakfast or an evening treat!
Bisibele bath – it is a rice based dish, cooked with lentils and vegetables along with some spices. It is served hot with some ghee and khaara bondi  (crispy savory snack)or fried chips.
Rasam – it is either eaten with rice (sarru) or ike a soup. Either way this tangy lentil based or vegetable based broth is a must have during monsoons or winters.
Koli saaru – means chicken curry. It is a coconut and tomato based curry mostly made with free range chicken (nati koli saaru). Gowdas from the South part of Karnataka eat it with ragi mudde and  the Coorgis eat it with kadambuttu.
Pandi curry  – A popular dish made with wild boar and local ingredients. A detailed write up on Coorg  and its dishes.
Like every cuisine, Karnataka cuisine also has a wide range of desserts. Some of the popular sweet dishes of Karnataka are chiroti (a light flaky pastry sprinkled with granulated sugar and soaked in almond milk), Mysore pak, obbattu or holige (a flat, thin wafer-like chappati filled with a mixture of jaggery, coconut or copra and sugar and fried gently on a skillet), Dharwad pedam and shavige payasa (made of milk, vermicelli, sugar and cardamom seed).
Masalas like sambar, rasam or bisibela bath etc are packaged and sold as homemade products. Some of the sweets like mysore pak and pedas are also easy to carry back home.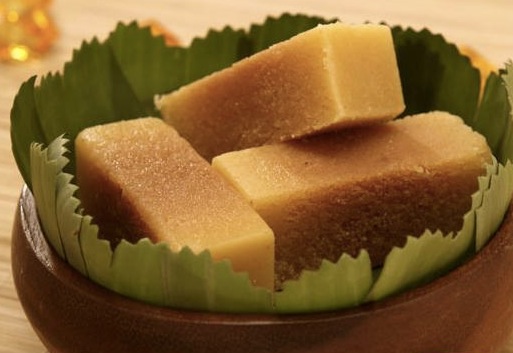 To get more information & assistance, please submit the form below and our specialist will get in touch with you at the earliest.