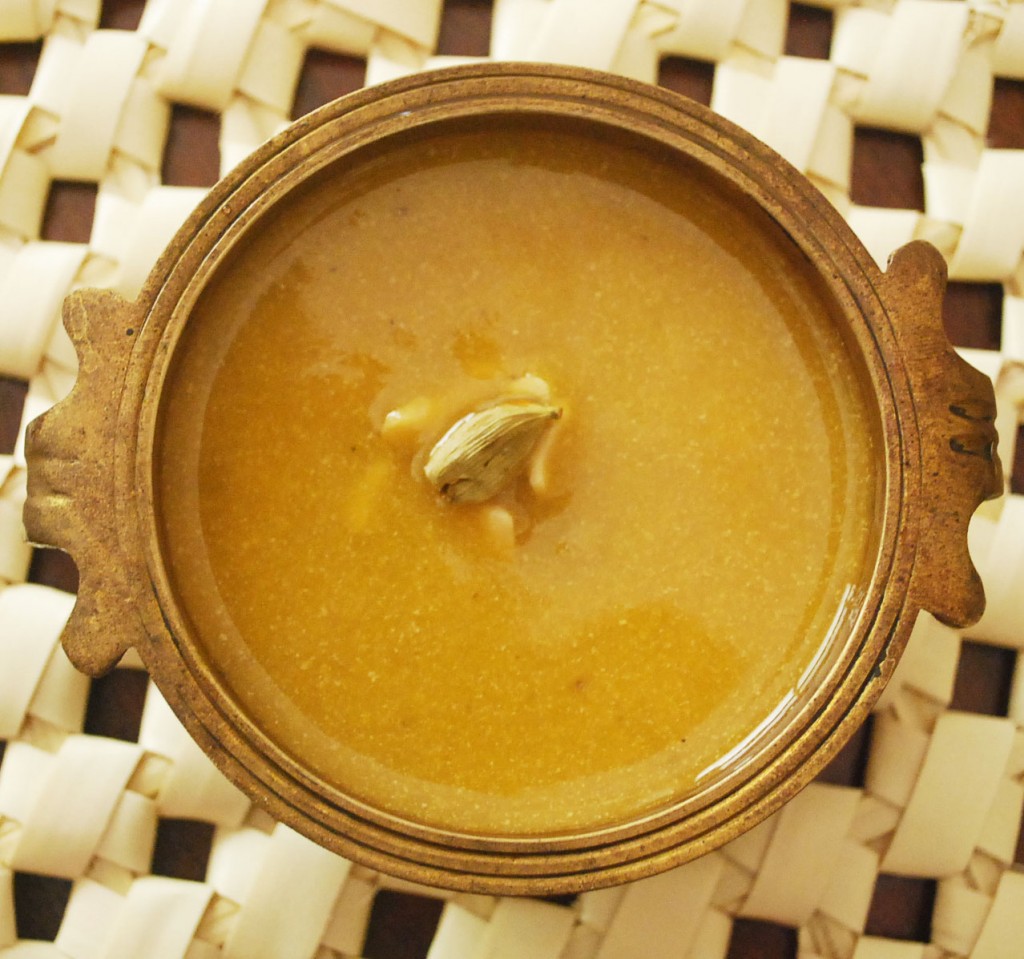 Kerala – God's own country and the land of coconuts is not only known for its nature but also for its distinct cuisine. Kerala's cuisine is hot, spicy and yet healthy. Natural herbs, spices, and coconut are extensively used while oil and sugar are limited. Artificial additives are hardly ever used. Most dishes are flavored with curry leaves and mustard seeds. The unique blend of coconut oil, coconut milk and tamarind gives the Keralite food a completely different taste.
The long coast line and the famous ports of Kerala have attracted many a seafarer to this land. Kerala is known to have several mythical as well as historical facts about its origin. In fact, the earliest written records are dated as back as the 2nd and the 4th century BC. Its strategic location at the southern tip of India, nestled very close to the Malabar Coast, has attracted several explorers to Kerala. Since the beginning of the last millennium, Kerala had trading relations with Arabian countries. Judaism and Islam also came via the sea. Over the years, voyagers from Greece, Italy, China, France and Africa came to the spice coast of Malabar. The meat rich cuisine of Kerala is a reminder of their influence.
Kerala's population is roughly equally divided among Christians, Hindus and Muslims. Cuisine of each community has its own flavors. Richly flavored biryani-made of mutton, chicken, egg or fish-are popular among the Muslims. The Arab influence is evident in the rich meat curries and desserts of the Muslim Community. With the Christians of the southern part of Kerala, stew, with appam is highly popular. Beef cutlets, chicken roast, fried mutton, beef or pork, meen moilee (a yellow fish curry), meen mulligattathu (a fiery red fish curry), and peera pattichathu (a dry fish dish of grated coconut) are other favorite dishes of Christians.
The typical meal will have rice, unpolished brown variety called chembavu. Rice is, in fact, the staple food of Kerala. Apart from being consumed boiled along with a variety of vegetarian and non-vegetarian dishes, rice is pounded into flour and used to make delicacies like puttu, idli, dosa, the round spongy vattayappam, the lacy-edged palappam, the pancake like kallappam, the sweet unniyappam, idiyappam that looks like fine noodles, and the stuffed ball called kozhukotta. And then, there is the pathiri, chapathi-like bread that comes in different size, shapes and tastes. There are also pathiris stuffed with beef, chicken, mutton and fish. Except from the Brahmins who are strict vegetarians, most Keralites eat meat and fish.
Various locally available vegetables such as tapioca, cassava and yam are available. Seasonal fruit such as papaya, jackfruit, mangoes and lime are eaten at different times of year. Bananas and coconut are available year round and is a staple of the Kerala diet.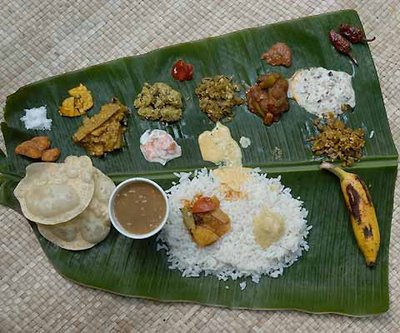 Must have dishes in Kerala:
Sadya: Sadya means a feast, usually served for lunch because of the variety of dishes. Many vegetable dishes are served along with rice on end section of the plantain leaf. Sadya means a feast. Many vegetable dishes are served along with rice on end section of the plantain leaf. A typical Sadya served on a plantain leaf is composed of boiled rice, sambar, parippu (lentil curry), aviyal (mixed vegetable gravy), kalaan (raw banana curry), poduthol, thoran (boiled vegetables like carrot, beans etc , seasoned and served with grated coconut), pulisherry, olan, pulinji (is a dark brown curry made of ginger, tamarind, jaggery and green chillies), pappadam, mooru (curds), Kaya upperi (chutney), Sharkara upperi (chutney) and for dessert payasam (sweet dish with vermicelli or rice and jaggery) and banana for digestion.
Keralite Breakfast: Kerala has a variety of breakfast dishes to offer apart from the regular dosas and idlies. Breakfast dishes like – Appam is the soft pancake made from toddy fermented rice batter, with a soft spongy middle, which is laced with crispy edges. It is generally consumed with either vegetable, chicken or mutton stew.
Puttu, a type of steam cake is made from rice flour and steamed in long hollow bamboo or metal cylinders. Depending on the taste preference, puttu can be had with steamed bananas and sugar or with a spicy curry.
Idiyappam is a popular breakfast dish in kerala. It is also called as noolappam. Made of rice flour, salt and water, it is one of the simplest breakfasts that can be made. Served with vegetable egg or meat dishes.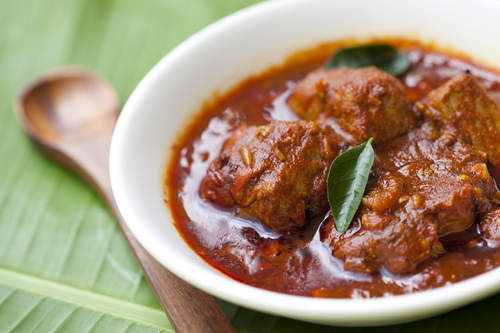 Seafood in Kerala: Seafood is very popular in Kerala and consumed with every meal. Various fish including sardines, mackerel, rays and shark, crabs, mussels and oysters. Karimeen is a popular fish.
Some of the prominent dishes are the Karemeen fry, Karemeen molly and Karemeen pollichathu. This fish is fairly expensive and is available throughout the year.
Another popular dish is fish curry called Fish Moilee or meen moilee is cooked in coconut milk and spices. The flavour is light, yet spicy with a good bit of green chillies in the mix. Each household in Kerala will have their own versions.
Kerala beef fry (Olathirachi): It is the most popular dish originated from the Christian community. Cooked in local spices, this dish is not to be missed if you love your meat. Beef fry is served with either dosa, idli or appam.
Coconut water is a great natural drink and can help you sustain in the heat. Banana Chips is the most favorite snack in Kerala. There are chips also made from yam, jack fruit and tapioca which are easy to carry back home.
To get more information & assistance, please submit the form below and our specialist will get in touch with you at the earliest.