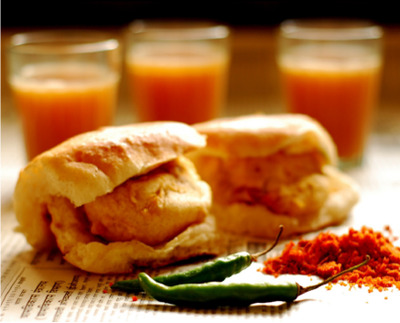 Maharashtrian cuisine ranges from being mild to spicy. Maharashtrian cuisine is divided into two, Konkani, and Varadi. Though quite different, both use a lot of seafood and coconut.Maharashtrian meals are scientifically planned and cooked-the golden rule being that the cooking medium must not be seen. The vegetables are more or less steamed and lightly seasoned so as to retain their nutritional value. There is almost no deep frying and roasting. Coconut is used in cooking and as an embellishment. As opposed to the coastal cuisine, where fresh coconut is added to the dishes, in the Vidarbha region, powdered coconut is used for cooking. Groundnut is widely used in many dishes and peanut oil is the main cooking ingredient. Another ingredient used widely is kokum, a deep purple berry that has a pleasing sweet and sour taste. Kokum, most commonly used in an appetizer-digestive called the sol kadhi (kokum syrup with coconut milk) and is served chilled. Jaggery and kokum are used in most vegetables or lentils so that the food has a sweet and sour flavor while the goda masala or kala masala (special blend of spices) is added to make the food piquant.
In the vegetarian fare, the most popular vegetable is brinjal. A popular style of cooking brinjal is bharlivangi or baby brinjals stuffed with coconut. Another typical dish is the Pachadi, which is tender brinjals cooked with green mangoes and flavored with coconut and jaggery. Besides, common vegetables are greatly relished by the Maharashtrians. A typical dish is the patal bhaji, which is a sweet and sour dish flavored with groundnuts.
Non-vegetarian dishes are mainly popular with the predominant Maratha – warrior community and those really are very popular amongst a lot of people. They are normally chicken or mutton dishes. The taambda rassa (red curry) and pandhra rassa (white curry) of Kolhapuri chicken dishes from the southern city of Kolhapur.
Amongst seafood, the most popular fish is bombil or the Bombay duck, which is normally, served batter fried and crisp. Bangda or mackerel is another popular fish in coastal Maharashtra. It is curried with red chilies, ginger and triphal. Pomfret is another popular fish eaten barbecued, stuffed, fried or curried. Pamphlet triphal ambat is a traditional dish in which fish is cooked in creamy coconut gravy that greatly enhances its taste.
Besides fish, crabs, prawns, shellfish and lobsters are also relished by the coastal Maharashtrians. A popular prawn dish is the sungtachi-hinga kodi, which consists of prawns in coconut gravy, blended with spices and asafoetida.
All non-vegetarian and vegetarian dishes are eaten with boiled rice or with bhakris, which are soft rotis made of rice flour or bajra (millet). Special rice puris called vada and amboli, which is a pancake made of fermented rice, urad dal, and semolina, are also eaten as a part of the main meal. Thalipeeth is another type of multi grained pancake.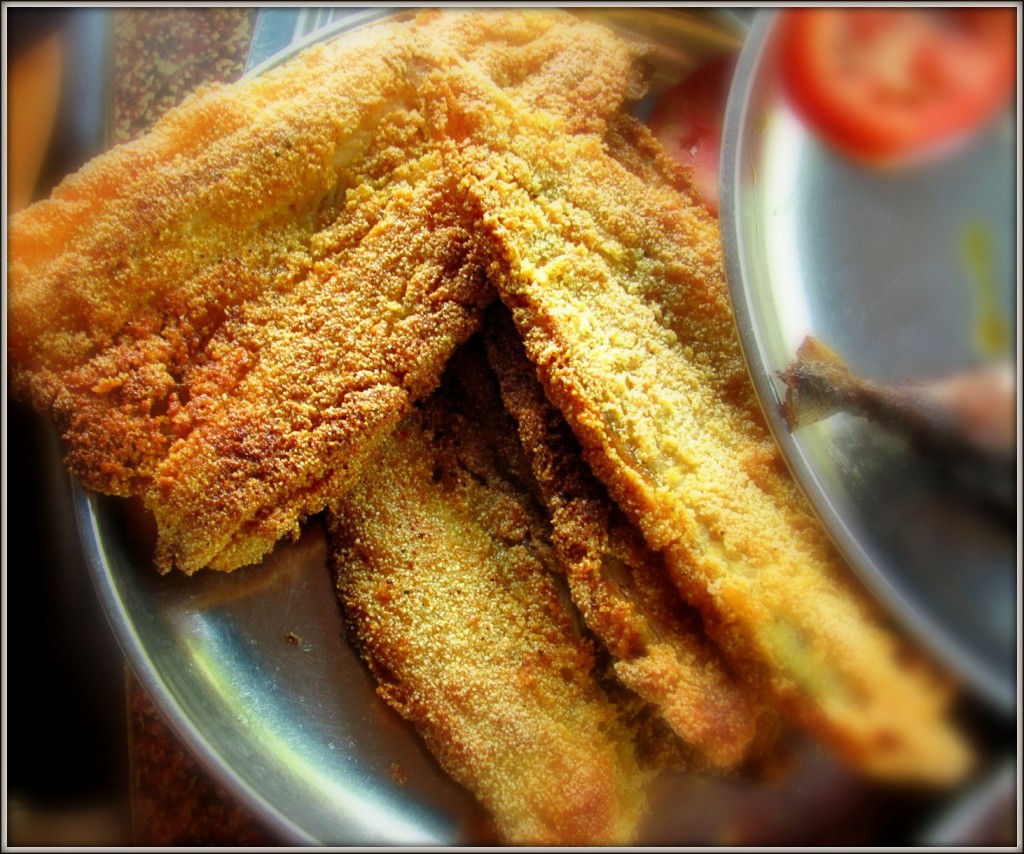 Maharashtrian breakfast: is light and very different. It is a must try for every traveler to kickstart his morning.
Misal pav: Misal is an extreme dish, both in flavor and texture.It's intense tangy taste comes from a spicy curry that is mixed with sprouted and whole lentils and pulses, garnished with a combination of crispy dried peas, chivda (chickpeas flour noodles) and flat rice topped with coriander, lemon, chopped onion and tomato. Misal is often served with pav (the local bread bun) to balance its sharpness.
Poha: is made from flattened, processed rice, roasted with chilies,  onions, mustard seeds, cumin seeds and curry leaves and topped with a squeeze of lime. Some poha recipes add sugar to the seasoning as well.
The soft tanginess of the lime gives the otherwise dryly flavored dish just the right kick and moisture to balance it out. There are varieties of pohas, from the classic onion to the hearty potato or a fresh and aromatic coconut poha.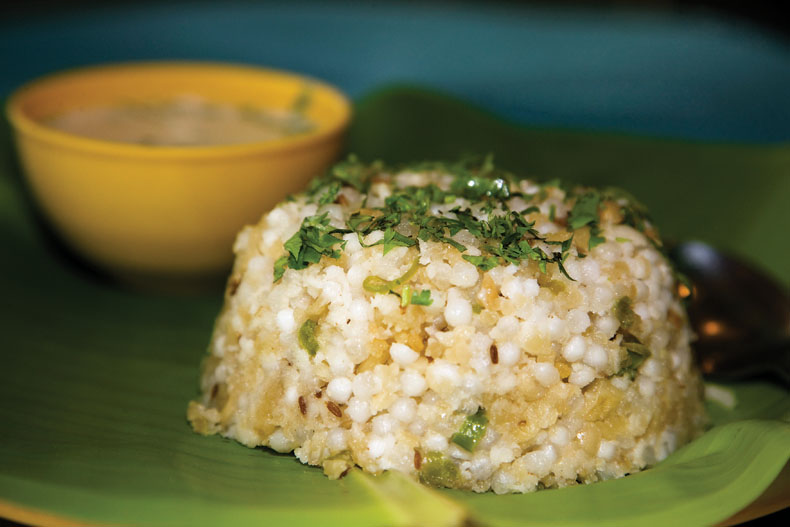 Sabudana vada/kichidi: is a spongy extract from tropical palm stems found in vast quantities in Maharashtra. It is a pure carbohydrate with very little nutritional value, but said to be cooling to the system and especially popular as a fasting food.
Sabudana kichidi is made by sautéing  potatoes, onions, peanuts, green chili, cumin powder, ginger and lemon or are all mixed together, rolled into balls and then fried to make sabudana vada. The crust of the vada is beautifully crisp while the inside remains soft and chewy.
Maharashtrian thali : A festive Maharashtrian meal can be very elaborate. A veg thali contains arrays of different vegetables, pulses, sweets and salads. From chutneys, pickles, vegetables (bhaaji), plain rice and amti (dal),  masala bhat (spicy rice), matta (buttermilk), fritters, papad and sweets like jalebi, modak, shrikhand, puranpoli etc.
A non-veg thali will consists of chicken or mutton or seafood curry, fried fish, sol kadi (kokum & coconut milks based drink), plain rice, bhajji (vegetable), salad, papad and sweet.
Maharashtrian snacks:  are available on streets or in any restaurants. They are sometimes consumed for lunch or dinner.
Vada pav : India's very own burger. The vada is made of a spicy potato filling deep fried in a gram flour batter. Along with hot and spicy garlic chutney, it is served inside small local bread called pav along with fired freen chilli. Best had with a cup of hot masala chai.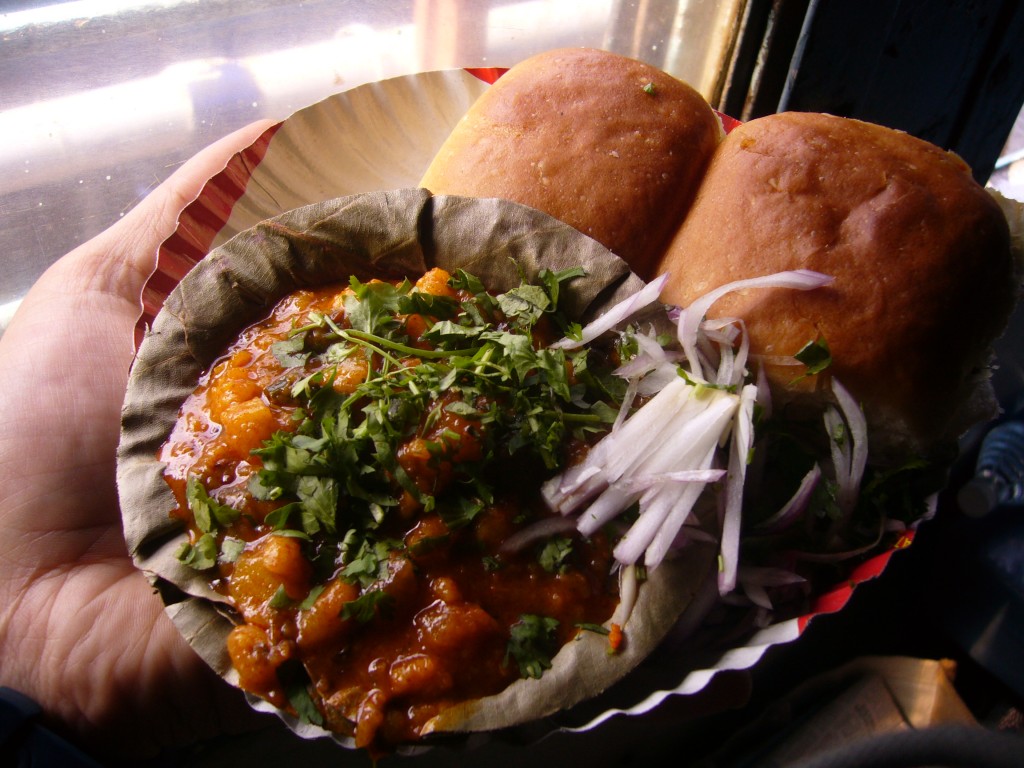 Pav bhaji : most popular snack – a mixture of various vegetables are boiled, mashed and cooked with a spicy masala and served with butter fried pav.
Ragda pattice: another popular snack mostly in Mumbai. Shallow fried cutlet or pattice is served  with the stew-like ragda as a sauce and garnished with finely chopped onions, coriander leaves, spicy chutney and sweet sauce.
Kothimbir vadi : is coriander and gram flour based fritter. The batter is first steamed and then fried. Very tasty and goes well with hot cup of masala tea.
Mumbai, the capital of Maharashtra is the also the food capital of the state. Some of the popular snacks that can be enjoyed here are chaat – pani puri, sev puri, bhelpuri, pav bhaji, dosa etc. These are mostly sold on the streets and on the beaches, where people gather in the evenings to unwind themselves.
Apart from vegetarian snacks, non-vegetarian snacks are also available like  kebabs, baida roti (an egg roti stuffed with minced meat), tandoori chicken, seekh kebabs, and fish koliwada.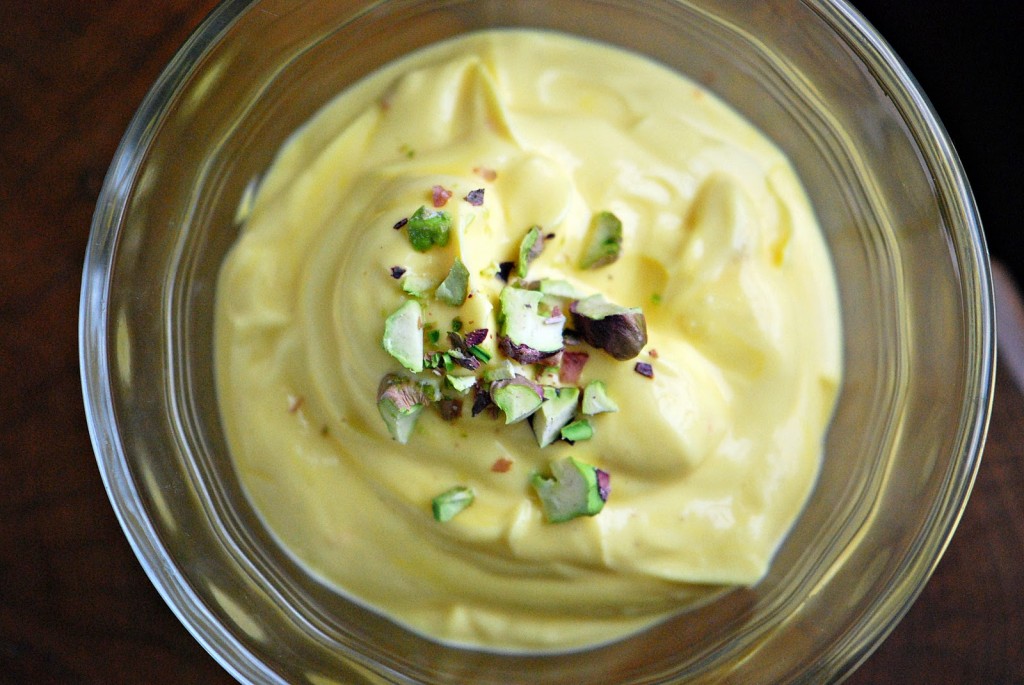 Maharashtrian desserts: The most popular desserts of Maharashtra are the puran poli, which is roti stuffed with a sweet mixture of jaggery and gram flour and shrikhand, which is sweetened curd flavored with cardamom and saffron. Shreekhand is best had with puri.
'Paan', a mouth freshener is enjoyed after a lavish meal. One of the popular variety of paan is the cold and sweet paan in which the sweet filling is chilled.
You can carry back chutneys like garlic or groundnut or even pure Maharashtrian masalas. If you like the taste of kokum, then kokum juice is easily available in bottles. Jaggery and a lot of Maharashtrian snacks, chikkis, laddos and nibbles are some of the stuff that you can carry back with you.  Maharashtra is the largest grape producing state, you can also carry back a bottle or two of wines which are compared to international standards.