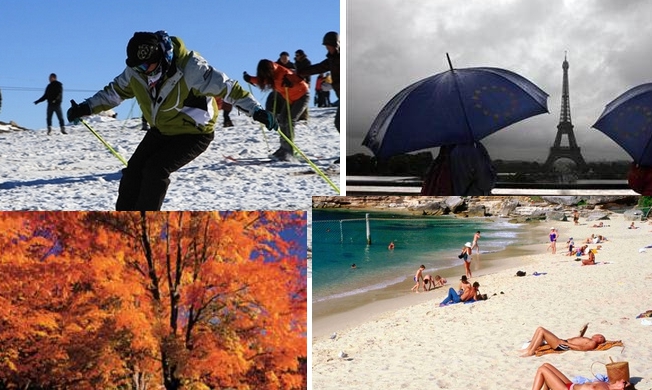 Now that you have decided to buy a second home which you will later use as a holiday home rental, one single most important factor to look at before you decide, is the tourist season length of the location. It goes without saying that longer the tourist season, more are your chances to earn.
When considering the location to buy your holiday home, it is important to remember what will appeal to the average holiday-maker. Since you intend to let your holiday home to other people, it is vital that you do your homework and research the most suitable areas. Just ask yourself: "Where do my friends enjoy going on holiday?"
Properties in different locations have different rental potential. Some areas have proved popular for many years with both domestic and overseas visitors. When you look at these locations you will probably notice that they have a lengthy tourist season or an extended tourist season. Thus investing in these areas means they have a good rental potential.
So where do you look for your second home? Although varied factors determine travelers' decision on short stay locations, the typical criteria travelers look at to decide on a location for a longer vacation are: warm weather in the vicinity of the sea/ ocean, pleasant summer in the mountains or by a lake, winters in the snow or snow-related sports, rivers that host adventure sports, etc.
So based on these criteria you should decide on where to buy your holiday home. For instance, a location with good sunshine almost throughout the year with the ocean nearby, a good nightlife and lots of outdoor activities to participate in means you will get bookings almost the entire year. It is therefore not a surprise why the tropical destinations of Asia like Phuket and Bali are hot favorites amongst holiday home buyers.
Meanwhile there are locations in the mountains which have pleasant summers and snow-filled winters which see tourists on all months. During the summer months some of the hill-stations in upper reaches of the Himalayan ranges of Himachal Pradesh in India like Manali get huge crowds of tourists escaping the intense heat of the plains, while in the winters the destination is filled with tourists wanting to enjoy the snow or participate in adventure sports like skiing, etc. So places like these have almost a year-long tourist season.
Now, back to the question: "How important is the tourist season length when deciding to buy a holiday home?" I would say it should be the first and foremost criteria. Even in many picturesque locations, the whole area turns into a ghost-town out of season. So even if it is not a 12-month peak season location, it is perhaps common sense that you should buy in an area that has at least 5-6 months of peak tourist season with a relatively OK season for the rest of the months.
To get more information & assistance, please submit the form below and our specialist will get in touch with you at the earliest.