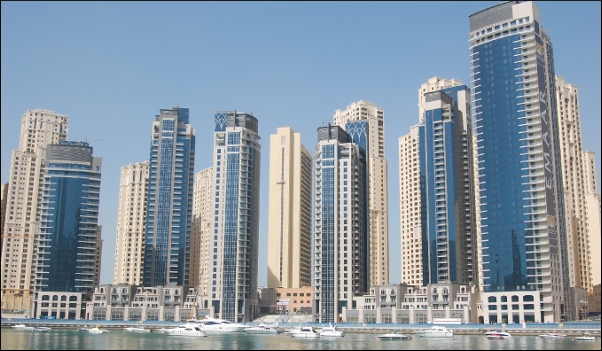 Dubai's cosmopolitan atmosphere and sub-tropical climate have always attracted second home buyers and retirees to settle here. But after the Dubai government's passing of the long-awaited law allowing foreign freehold ownership of properties in the emirate in March 2006, Dubai has seen a marked interest from foreign property buyers, particularly Europeans, as a major investment destination. Today a foreign national can buy a freehold property in the emirate in areas designated by the ruler. The freehold as set out under this law is a freehold in the international sense, whereby owners are deemed to have absolute rights in their property.
ABOUT DUBAI:
The UAE is a federation of seven emirates, each governed by a hereditary emir, with a single national president. The constituent emirates are Abu Dhabi, Ajman, Dubai, Fujairah, Ras al-Khaimah, Sharjah, and Umm al-Quwain.
Located south-east of the Persian Gulf on the Arabian Peninsula, Dubai is an emirate within the United Arab Emirates (UAE). A city within the emirate is also named Dubai which is located on the emirate's northern coastline. The city of Dubai can be divided into two main areas, Bur Dubai (the older part) and Deira, which faces it across Dubai Creek and is now the centre of the city. For long foreign nationals had preferred Jumeirah, which lies on the coast to the southwest of the city centre, and Al-Garhoud, situated on the northeastern side of the creek, near the airport. However, today most residential development is happening west of the city, with the majority of foreign and expatriate purchasers concentrated in an area of approximately 25 km within easy reach of the beaches and the city-centre facilities.
Like throughout UAE, Dubai has earmarked several free zones which are portions of the emirate clearly defined and isolated land or setting, with a special tax and custom benefits.
Another reason why it is hassle-free to acquire a property UAE is that all its emirates have uniform residency laws. This means that it does not matter if you obtain the residency of any of the emirates, because you can live in any part of UAE. For instance, you can obtain residency in Ras al-Khaimah and reside in Dubai.
DUBAI'S REAL ESTATE MARKET:
The 23 areas where expats can purchase freehold property in Dubai include Um Hurari II, Barsha South II, Barsha Sout III, Emirates Hills I, II & III, Jabal Ali, Al Jaddaf, World Islands, Ras Al Khour, Al Rawiya, Sheikh Zayed Road, Al Safouh I & II, Al Qouz III, Industrial Qouz II & III, Mardiff, Marsa Dubai, Jabal Ali Palm, Jumeira Palm, Nad Al Shiba, and Warsan I. The particular plot numbers in each area that offers freehold property in Dubai for purchase by foreign nationals are mentioned in the Regulation No.3 of 2006 of the Government of Dubai.
TAXES INVOLVED IN BUYING A PROPERTY IN DUBAI:
Dubai is categorised a 'no tax' emirate which means that taxes are almost non-existent. Dubai does not levy tax on income, including that derived from letting property owned there, nor does it charge Capital Gains Tax. There are no property taxes or stamp duty in Dubai too. Those buying freehold property in Dubai do not incur survey fees. The only significant cost, therefore, is a 1.5 percent land registry fee, payable on completion.
CONCLUSION:
Having said that, while, it is easy to buy a property in Dubai, it is close to impossible to gain UAE citizenship. You have to remember that buying property in Dubai does not entitle the owner to permanent residency status.
To get more information & assistance, please submit the form below and our specialist will get in touch with you at the earliest.