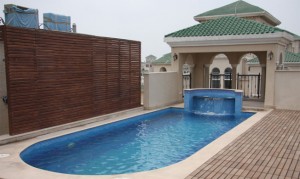 "Home owners usually have this misconception that having a swimming pool in one's home amounts to wastage of water," says Vivek Mishra, proprietor of Premium Pools and an active member of the Indian Plumbing Association. "On the contrary, a holiday home owner can construct a swimming pool and with a little intelligence can conserve a lot of water," Mishra says, in an exclusive interview to Holiday Home Times.
"Apart from employing rain water harvesting systems to feed one's swimming pool, home owners can successfully maintain their swimming pool and take care of most issues associated with the pool, by installing a modern day filtration system"
On the basics of constructing a swimming pool, Mishra says that for an average sized pool of dimensions 20ft x 8ft x 4ft (depth), around 20,000 to 30,000 litres of water is required.
It takes around 16 weeks to complete a swimming pool, right from constructing it to installing the filtration system and other equipment. "Actually it is construction of the pool that takes time. Installing the water filtration system takes just 2 weeks to 15 days."
According to Mishra, filtration systems can be broadly categorised into two types – pressure sand filters and cartridge filters.
"While cartridge filters are widespread and are simple to maintain, they are not the best for holiday homes where the owners do not live onsite, because one needs to regularly change the cartridge. Nowadays, a filter sand substitute containing zeolite is becoming popular. The pressure sand filtration system remains the best option for holiday home owners."
He further said that the cost of constructing a swimming pool along with the filtration system and other equipment would be approximately Rs 1.5 lakh.
Regarding the necessity of a filtration system , Mishra states, "Filtration is the mechanical system which removes visible matter from water. The filter medium is designed to remove hair, dirt, minute skin flakes, metal or calcium precipitates and other visible debris that would otherwise cause the water to be hazy and cloudy."
"It is of utmost necessity for every swimming pool owner to have a circulation pump and filter. The pool pump ensures that the water moves through the filter every day, thus removing unwanted pollutants and disinfected organic materials as quickly as possible."
"The swimming pool pump should ideally be run for at least 6 to 8 hours each day. There is usually a timer which ensures that the pool pump functions in "on and off" cycles to ensure constant filtration. The circulation of the pool water will remove all floating or suspended particles of dirt from the water. Owners should also take care of the pH level of pool water. The ideal pH level is within the range of 7.0-7.6," Mr Mishra added.
Premium Pools is a company that designs and constructs swimming pools for all budgets and lifestyles. For enquiries call +91-9811217106 or visit their website.
To get more information & assistance, please submit the form below and our specialist will get in touch with you at the earliest.