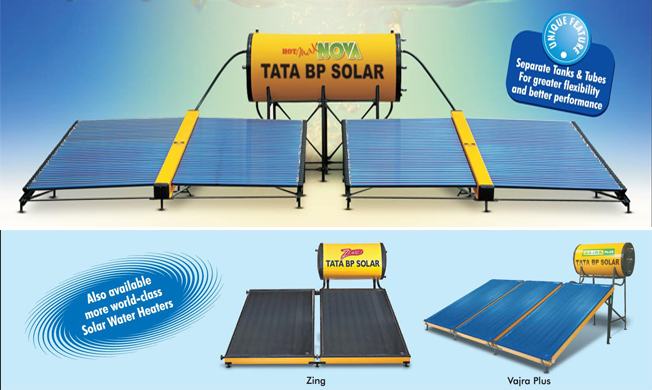 In an exclusive interview to Holiday Home Times, Mr Nitin Gupta, Solar Thermal Head (North) at Tata BP Solar India Ltd, says that holiday home owners can benefit immensely by installing solar water heaters in their vacation homes.
Excerpts of the interview…
Kindly explain in brief what solar water heaters are all about.
Nitin Gupta: Solar water heaters are a cost-effective way to generate hot water for one's home. They can be used in any climate, and the fuel they use is sunshine. Solar Water Heater consists of an absorber made of copper, a storage tank with PUF insulation, piping and a transparent cover. Solar energy heats the absorber surface, warming the water flowing through the tubes attached to it. The heated water is transferred to the insulated storage tank through thermo-syphon effect. A transparent glass cover is placed above the absorber to reduce heat loss through radiation and through wind. The absorber, cover and insulator are placed within a metal container. Cold water flows from the bottom of the storage tank to the collector. From here, the heated water rises to the top of the storage tank. To maintain the functioning of the system, a constant supply of cold water must be made available. For this purpose, an overhead storage tank on the roof is convenient.
You are a premier manufacturer of solar water heaters in the country. Are these heaters available for residential complexes/ homes, etc?
Nitin Gupta: Yes, today there are several kinds and makes of solar water heaters in the market which are specifically meant for residences. Because solar water heating systems are good economic payoff, and are easily manageable, both to install and maintain, more and more people are today using solar water heaters in their homes. If you look at Tata BP Solar, India's largest solar company, we have 3 types of solar water heating systems – Zing, Vajra Plus, and Hotmax Nova. These models are highly in demand in the market.
What are the advantages of solar water heaters vis-a-vis traditional electric water heaters? How can homes benefit from solar water heaters?
Nitin Gupta: The benefits of solar water heating are numerous and considerable. The first and foremost advantage or benefit of using a solar water heater vis-a-vis a traditional electric water heater is that it is very cost-effective. A typical Indian household will see its water-heating electricity use cut by at least half. For holiday home owners, installing solar energy can help them save considerably on energy costs without the maintenance overheads.
Secondly, for a holiday home owner who has guests coming to his house occasionally while he stays in a different city, solar water heaters can be very beneficial because once installed, it requires very little maintenance. Plus the owner doesn't need to get hassled when there is no electricity in the house. Guest too will enjoy this fact.
Thirdly, solar water heaters are environment friendly because they do not pollute. By installing one, a home owner will be avoiding carbon dioxide, nitrogen oxides, sulphur dioxide, and the other air pollution and wastes created when while generating electricity or when one burns fuel to heat one's household water.
In a nutshell, one can say that a solar water heater is a long-term investment that can save one's money and energy for many years. Like other renewable energy systems, solar water heaters minimize the environmental effects of enjoying a comfortable, modern lifestyle.
How cost-effective are solar water heaters?
Nitin Gupta: An average Indian household with an electric water heater spends about 25% of its home energy costs on heating water. So it makes economic sense to think beyond the initial purchase price and consider lifetime energy costs, or how much one will spend on energy to use the appliance over its lifetime. No doubt it involves an initial investment which is a little higher than electric geysers, but because it requires minimal maintenance, and there is no electricity or any other fuel consumption, on can get back the investment in less than three years. Sunlight is free, so once you've paid for the initial installation your hot water costs will be reduced considerably. Since solar water heaters last between 15 and 40 years, so after that initial payback period is up, zero energy cost essentially means having free hot water for years to come.
How big is the market for solar water heaters in the country?
Nitin Gupta: The market size for solar water heaters in India is more than Rs.120 crore. In the residential sector, there are 0.7 million solar water heater user households, of which more than half of the users are concentrated in Karnataka and Maharasthra. Household customers perceive it as a product suited for independent houses and not so much for apartment buildings. In the hotel sector, solar water heaters are demanded across regions and hotel/guest-house category, mostly owing to year-round demand for hot water by guests. The use of solar water heaters amongst industries was, till a couple of years limited and scattered. But today, industries across sectors are waking up to the benefits of solar water heaters. In the rural sector, households, primary health-centers, hostels and small-scale industries like silk-reeling, textile-dyeing, puffed rice-making are the main users of solar water heater.
What is the operational life of a typical solar water heater and how much maintenance is required?
Nitin Gupta: The operational life of solar water heaters differ from make, type, etc. The life expectancy of a typical Tata BP solar water heater is between 15 to 40 years, which is pretty good considering the investment made by a home owner.
What would it typically cost a home owner with 5-6 people to install a solar water heater?
Nitin Gupta: The cost of a solar water heater will depend basically on the size of the family to be served and type of roof upon which the panels are to be mounted. But ideally for a home with 5 to 6 people the cost of a solar water heater will start from Rs 45,000. The cost is just indicitive and can differ Pan-India, based on the location where the solar water heater needs to be installed.
How long does the water remain warm? What if a person wants to have a bath in the late evening or night? Would water still remain warm if the sun has gone down 2-3 hours ago?
Nitin Gupta: You will get hot water throughout the night. The storage tank is well insulated, so that water heated up during the day will still be hot during the night. A slight heat loss, say 2-3 degrees, is expected during night, but you will continue to get hot water throughout the night.
For all inquiries related to solar waters heaters one can contact:
Nitin Gupta, Solar Thermal Head (North)

Address: Tata BP Solar India Limited
First Floor, B – 38, Sector – 5, Noida 201301 (U.P.) Tel: 0120 4746100 to 4746160 Fax: 0120 4746111 Mobile: +919871594123 Email: nitin.gupta@tatabp.com
Tata BP Solar India Limited


Plot No. 78, Electronics City




Hosur Road


Bangalore 560 100
Tel: 080 4070 2000, 4070 2200
Fax: 080 28520 116
Email: tatabp@tatabp.com
OTHER SOLAR PRODUCTS FOR YOUR HOMESTAY/ HOLIDAY HOME:
If you believe in making a difference to the society by going eco-friendly, then solar lights are definitely the answer to the lighting options of your holiday home outdoors. Not only are outdoor solar lights easy on the wallet, they are a good way to ensure a life time of monetary saving in terms of electricity bills. Today outdoor solar […]
To get more information & assistance, please submit the form below and our specialist will get in touch with you at the earliest.