Unbeatable views of the valley and mountains, cooler climes, and a much quieter community – if these are things you are looking at when you are short listing your property location in Thailand then head north of the country where some the exotic locations and equally good properties await you! But don't be surprised by the lack of advertising for properties in this region if you are someone who is used to seeing large billboards in the southern part of Thailand promoting their projects which largely follow the same formula of decreasing unit sizes and western style architecture and fittings.
In this article we take a look at two locations in North Thailand where you can buy your home in the hills offering nothing but natural hospitality, something that we all yearn for.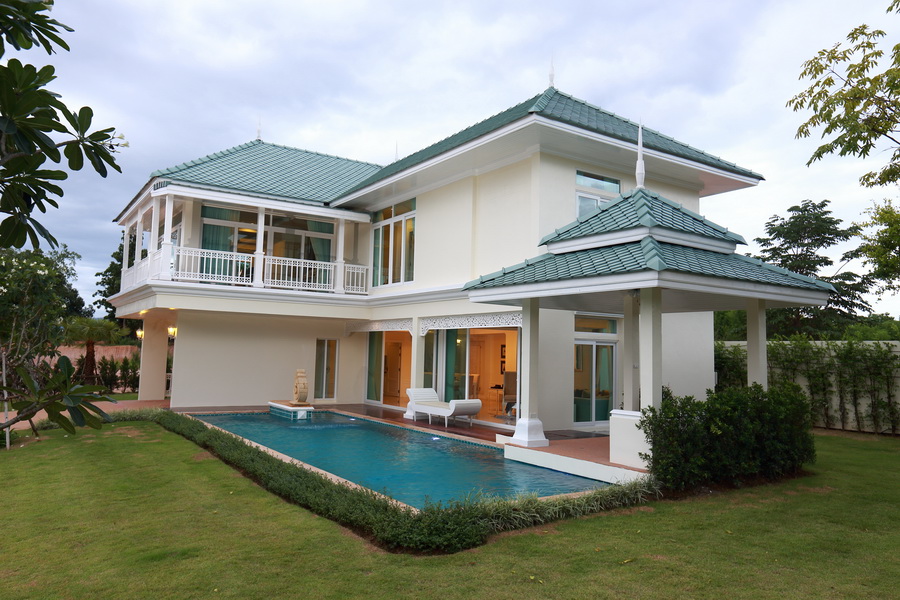 Chiang Mai: Anyone who describes Chiang Mai unmistakably talks about its sleepy, narrow alleys, delightful teakwood houses, and splendid Buddhist temples. It has long been a destination for people who want to retreat from the beachside parties and enjoy the peace and tranquility of the Thai mountainside. The town has grown and now has some modern luxuries, whilst retaining its relaxed and simple lifestyle and atmosphere. Now a sizeable urban center, Chiang Mai remains one of the most livable places in Asia and sees a sizeable number of expats settling here – mostly retirees. Their main reasons for choosing Chiang Mai being a relaxed lifestyle among a friendly local population, a vibrant expatriate community, low crime rate, cool winters, varied activities and services, excellent medical care, and a low cost of living.
Chiang Rai: Meanwhile Chiang Rai is in the Golden Triangle region bordering Laos and Burma, is fast become increasingly popular for those wishing to escape the overdeveloped South of the country, either as a place to settle down or for a vacation home. In many ways it combines the best of city and country living. Some of the advantages of buying a property here are the lush greenery, hills and temperate climate, making it ideal for retirees who want to stay away from the daily evening beachside parties but all the same not far away from a warm tropical climate and occasional trip to the beach.
What makes Chiang Rai a good holiday/ retirement home buyer's destination is its good connectivity with eight daily flights to Bangkok from its very own airport. A second airport in Chiang Mai, a high-speed railway from Bangkok to Chiang Mai, and a motorway between Chiang Mai and Chiang Rai make it a lucrative location for property hunters.
Apart from these, Chiang Rai offers a good deal for property buyers – prices are nowhere near those of South Thailand beach towns and it's a feast for those who are looking at traditional Lanna architecture (known for intricate wood carvings), something which is visible in the real estate on offer here in stark contrast to the modern architecture of the properties of the south.
Property Trends in Chiang Mai, Chiang Rai:
Chiang Mai's real estate market is more developed than that of Chiang Rai, which has only in the last five to six years have seen a marked change with expats being the driving force.
Buying condos in both Chiang Mai and Chiang Rai is the most popular option among foreigners who have no legal avenue to own land with several luxury or well managed buildings seeing almost 50 percent occupancy by foreigners.
In Chiang Mai alone, more than 1,640 units were completed and registered at the Land Department during the first five months of this year with about 18,640 units in the market; a record number in the last 17 years, which is a testimony to Chiang Mai's growing popularity. The most popular location for condominium development in Chiang Mai is along Khan Klong Chonlapathan Road, in the northwest of the city.
During the past one to two years, the Chiang Mai-Lampang Road has become a new residential area. This is due to many local developers launching condominium and housing projects in this area, said Collier International.
Though on a lower scale, Chiang Rai has seen interest from some big names in the last few years with developers like the Absolute group, the Sansiri Group from Bangkok launching their condo projects here.
To get more information & assistance, please submit the form below and our specialist will get in touch with you at the earliest.