[wzslider]
At its very heart, hospitality is about a good bed for the night. Our luxury resorts of today trace their roots back to wayside inns in the days when travel meant hard walking for most people. Even today, a related word, travail, means "to toil, labour". After the dangers and physical hardship of a day on the road, all the weary traveller wanted was a comfortable bed.
Of late, large hotel chains have been recognizing this need, and have paid special attention to the quality of their beds. Some hotels have even branded their sleep experiences.
As a homestay owner, the quality of sleep your guests get is very important to you. Well-rested guests will wake up feeling much better about themselves, and are less likely to be fussy or complain about minor issues. In this article, I look at the components that make up a bed, and how you can ensure that your guests get a great night's sleep.
01. The bed base / bed foundation
The bed base is that part of the bed that supports the mattress. In India, we use cots as bed bases. While cots are perfectly acceptable, have you noticed that hotels never use cots? Bed bases are specifically designed to support the mattress. If you use a foam mattress, a sprung bed base will support it well. For internally-sprung mattresses, a firm bed base gives it the right amount of support. Also, bed bases are designed to be lightweight, with castors for easy removal and cleaning.
If you use a padded bedbase, be sure to get bed skirts to cover the sides.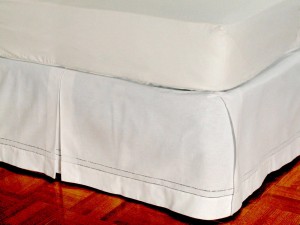 02. The mattress
This is easily the most expensive component of your bed. As such, choosing the mattress is perhaps the most important decision you'll take about your bedroom. As a general rule, the best quality mattresses last a long time, so don't compromise on quality. While the choice of mattress material is subjective – you'll have to try traditional (pocketed) inner-spring mattresses, memory foam mattresses and latex foam mattresses for yourself – I'd recommend the pocketed spring mattress with a memory foam top layer. The springs provide the right amount of "give" and the memory foam gives spinal support. Most importantly, the memory foam absorbs motion, so that the partner is not disturbed by one person's movements.
As for the size, I'm personally partial to deep mattresses, such as the 10″ thick spring and foam combinations. Buy a good brand with warranty.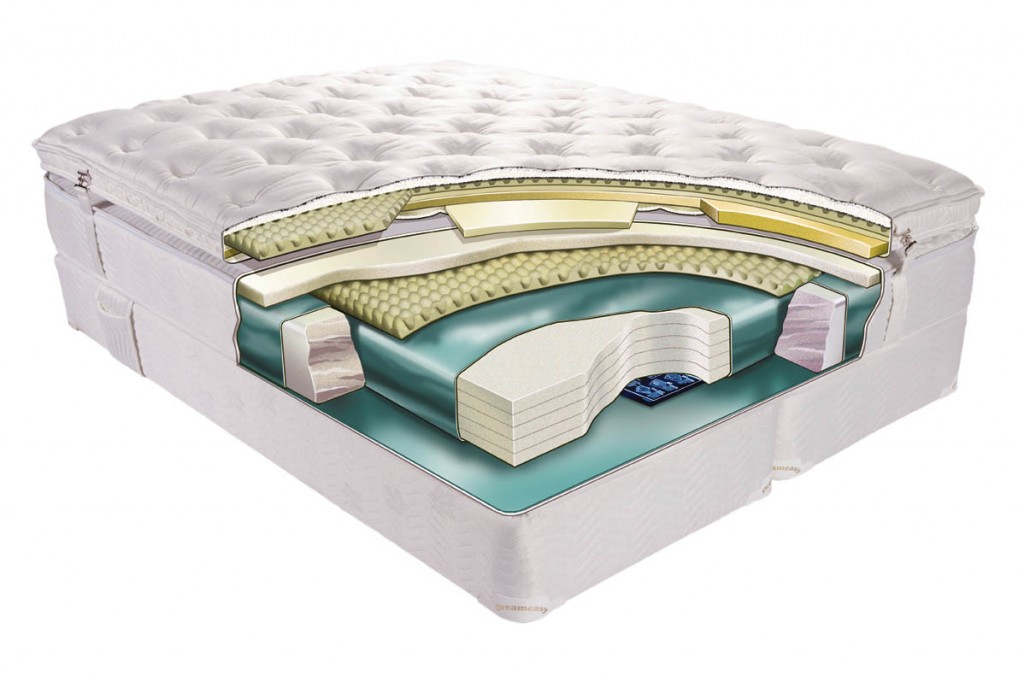 Clean the mattress periodically with a vacuum cleaner.
03. The mattress pad / protector
Now that you have an expensive mattress, you've to ensure that it doesn't get damaged. The most common damage to mattresses is staining, from sweat and other spills. A waterproof mattress protector will protect the mattress from these. Don't use plastic sheets – they feel very uncomfortable. Special mattress protectors, made of breathable rubberised flannel, are comfortable as well as functional. Get the ones that come as fitted sheets. These fit snugly onto the mattress and protect the top as well as the sides. Mattress pads have the same function as mattress protectors, but they have a few layers of memory foam for better guest comfort.
If your homestay is in an area that's known for allergies, you can even protect your guests from common bedborne allergens and asthma attack inducers such as dust mites, by using allery reducing mattress protectors.
04. Bottom bed sheet
The bottom bedsheet covers the mattress or mattress protector, and is what your guests will lie on. Getting good quality cotton bedlinen with a high thread count is the stuff good dreams are made of, so again, get the best quality you can. When choosing sheets, think about what colours and patterns you'd like to see when you're staying in a homestay. The reason hotels use white bedlinen is to reassure their guests that their properties have a high standard of cleanliness – nothing impresses people as such as pristine crisp white sheets. However, as a homestay, you have more leeway to use colours. Avoid chaotic patterns and colours which don't show stains or dirt.
For homestays, fitted bottom bed sheets, as opposed to flat bed sheets, make it easier when servicing the room, and they look better as well.
05. Top bed sheet
The top bed sheet is what separates your guest from the duvet. It serves two purposes. A sheet feels more comfortable against the skin compared to a duvet, and it also protects the duvet from sweat and stains. Top bed sheets can only be flat sheets.
06. Duvet with duvet cover
Depending on where your homestay is, and if it's air-conditioned, you would need to choose a duvet. Colder locations and air-conditioned rooms need warmer duvets, and warm locations may make do with a light weight duvet or quilt. Never use a duvet without a cover.
That concludes the anatomy of a bed. Next week, we'll look at the art of making beds.
To get more information & assistance, please submit the form below and our specialist will get in touch with you at the earliest.