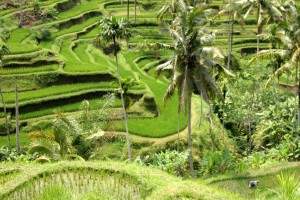 What could sound better than owning a small piece of heaven in Bali. As some savvy investors have known for years, Bali offers great value for money particularly when compared to other popular holiday spots in nearby Australia and New Zealand. In particular, villas have really taken off here, combining the privacy and comfort of a holiday home with the luxury of a resort.
The Balinese property market has seen rapid capital growth over the past decade, with no signs of it slowing down, but still represents good value for investors. Whilst purchasing property in Indonesia is not entirely straightforward, it certainly is possible.
Some of the hotspots worth considering for your holiday home are outlined below.
Seminyak
If you like to be close to the action than Seminyak is for you. Right in the heart of Bali's best restaurant and bar precinct, there is plenty going on right outside your doorstep here. This is one of the most popular places to purchase a villa in Bali, and also a great place to find continuous tenants, with thousands of holiday makers converging on Seminyak every week.
At the lower end of the market, you can purchase a two bedroom villa with pool in the heart of Seminyak for US$160,000 with long-term rentals at approximately USD17,000 per annum. Prices vary considerably in this area, so it is worthwhile seeing quite a few before making your decision. This market has been growing for several years, so it is likely that capital growth will slow down in Seminyak in the future.
Jimbaran Bay
If your idea of a perfect property is perched high on a cliff-top over-looking the sea, than Jimbaran is for you. This region is booming because of its pure beauty, and is considered to be home to one of the best beaches in Bali. It is estimated that prices in this region have grown over 30% in recent years. Just south of the airport, it is easy to reach, you can even be sitting at your terrace watching the waves within an hour of leaving the airport.
A brand new 2 bedroom villa with pool can be purchased from US$220,000 and will rent from US$200 per night. There are also several luxury places coming up, which can sell from US$425,000.
Tabanan
With land in the south becoming harder to come by, people are heading north to the region of Tabanan which includes the gorgeous area of Tanah Lot. The coast here has black sandy beaches and some fantastic surfing. Infrastructure development is planned to improve access and it is home to some famous tourist attractions such as the Tanah Lot Temple.
For US$175,000 you can purchase a 2 bedroom villa in a small complex which can be rented for approximately US$20,500, making the income returns very attractive and the potential for capital growth significant, particularly when compared to areas like Semniyak.
North Bali
The Indonesian government has plans to construct a new airport in North Bali, which will inevitably increase property values in that area. Compared to the rest of Bali, prices in the North are lower, and there are some beautiful places to set up home here such as Lovina Beach. You can go dolphin watching, snorkelling, scuba diving and see some specatcular waterfalls and historic sites. Given the pending infrastructure developments, it is a good time to get in whilst property prices are still low.
Properties vary considerably here, a small 2 bedroom village house can be purchased for as low as US$62,000 or a luxury 5 bedroom beach front villa for the bargain price of US$370,000. Comparable prices can't be find anywhere else in Bali or in nearby Australia or New Zealand, making this region definitely worth considering. Rental prices are lower than other parts of Bali, starting from US$130 per night, but the returns on capital investment can make this a very lucrative investment.
Bali really is a paradise for holiday makers and offers a relaxed, peaceful lifestyle with access to some of the comforts of modern life as well. It has long been the destination of choice for many Australian and New Zealand holiday makers, and the rest of world is also now coming to this little peace of heaven in Indonesia. If you want to own your little slice of heaven, then now is the time to get in whilst capital growth is still promising, rental returns are strong and prices are comparatively low.
To get more information & assistance, please submit the form below and our specialist will get in touch with you at the earliest.