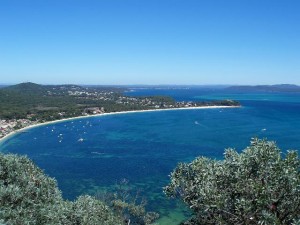 New South Wales is Australia's most populous State and has a wide diversity of towns to suit anyone, from the wine region of the Hunter Valley to the surf beaches of the South Coast, there are some great places to both holiday and perhaps even retire.
One of the most popular holiday and retirement destinations in New South Wales, the Central Coast is sought after for its great weather and close proximity to Sydney. Stretching from Woy Woy to Lake Macquarie, this region has experienced some decline in house prices, particularly due to mortgagee sales. However this has opened up the opportunity for savvy investors to snap up bargains, with the marketing now being primarily being driven by first home buyers and investors.
With prices remaining relatively stable and abundant rental opportunities, this gorgeous coastline is still an attractive place to look for a long-term investment. Median house prices in Port Macquarie are less than $400,000 and a large 5 bedroom home can be purchased for $595,000.
The Riverina region is primarily an agricultural one, for anyone who has dreamt of living on the land in the Australian countryside, this region may be just what you are looking for. Located about halfway between Sydney and Melbourne, it is easily accessible by both road and rail to both cities. Wagga Wagga is a large town by Australian standards (population approximately 65,000) which is currently undergoing a development boom.
Targeting retirees and those seeking a tree-change, the region has good infrastructure, benefiting from a resource boom. With the upwardly mobile entering the region, it is also becoming a hub for great food and the arts as well, creating a cosmopolitan feel to the town. Much of the development is focused on units and townhouses, providing affordable but quality housing. Prices remain stable, with median house prices at $250,000 and continued industrial investment in the region shows promise for long term sustainability. Located on the Murrumbidgee River, there is also plenty to do outdoors in this temperate climate all year round.
Whilst the coast of NSW has been part of a development boom for many years, there seems to still be some opportunity for shrewd investors in this region. With many early adopters paying premium prices, only to find that they now can't sell, the region is seeing a drop in prices of up to 50% in some instances. As sellers become more desperate, the opportunity to pick up a great coastal property from Eden to Kiama is increasing. A new 3 bedroom unit in Kiama can be purchased for $479,000, with prices for units are significantly lower.
With its fabulous beaches, this region is still very popular with holiday makers, with rental opportunities high particularly during the warmer months. Even if capital growth has slowed down, there is still opportunity to make good investments in a beachside shack that will provide years of joy for you and your family.
Orana:
The regional hubs of the Central and Mid West New South Wales have been performing solidly in recent years with prices continuing to grow steadily at between 7-10%. With capital growth looking positive and value for money, it is hard to look past this region for an investment. Some of the best places to consider here include the growing town of Dubbo. With significant government and private investment in infrastructure, this town is supported by some large resource projects. Prices are affordable (a 3 bedroom house can be purchased for $200,000) and rental returns are also quite good, making it a good investment option.
Similarly the Mudgee region is also being held up by the mining boom, making it a high potential investment region. It is also one of Australia's premier wine growing districts, making it a popular holiday destination for weekend trippers and hobbyists all year around.
Another region that has been booming in recent years is the Hunter Valley and Newcastle. Far from being just an industrial region anymore, it is now seen as a destination for tourists and tree changers alike. However, it is still the mining boom that is boosting the economy with demand for rental accommodation high and low vacancy rates for year round leases. Whilst the price of property has grown steadily in recent years, there is still believed to be room for capital growth in the region, just be sure to do your homework before jumping into an investment purchase here.
This region may not be suited to investors who also want to visit the property for a few weeks or months in the year, as it may limit your rental opportunities in the long-term, as most of demand is driven by long-term contracts for those working in the region. Whilst also home to the Hunter Valley Wine Region, the best opportunities for capital growth and rental returns are in the regional centers such as Newcastle and Wollongong. In Newcastle a two bedroom unit can be purchased for $415,000, or upwards of $1 million for a luxury property.

Regardless of whether you prefer the beach, mountains of outback, there are plenty of great investment and holiday opportunities to be had in New South Wales. If you are not sure about which region you would like to invest in, why not go for a holiday for a few weeks and get a feel for the place. You can find some holiday homes in New South Wales available for a short-term rental at this link.
To get more information & assistance, please submit the form below and our specialist will get in touch with you at the earliest.